What is liquidity?
When a trader starts his trading journey, one of the things he finds most attractive is the amount of liquidity offered by the forex market. The latest figures suggest that the daily trading volume of forex is close to $5.1 trillion.
Liquidity is the ability to trade a currency pair on demand. In simple terms, it is the measure of how easily a currency can be exchanged. When you are trading major currency pairs, you have an exceedingly high amount of liquidity. This liquidity is provided by financial institutions, big businesses, and retail traders as well. However, not all the currency pairs are liquid; liquidity depends on whether a currency pair is major, minor, or exotic. Major pairs typically have high liquidity compared to the other currency pairs. In the next section, we will look at some of the money management principles in trading with respect to liquidity.
Liquidity and Risk
A market with low liquidity has chaotic moves and gaps because of the absence of buyers and sellers at any given point of time. These gaps occur when news announcements are made over the weekend or if an event happens at the same time. The chart below depicts such a gap after a news release.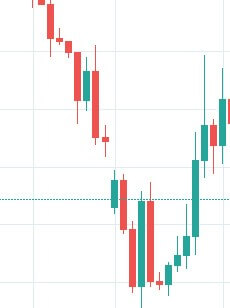 According to money management principles, when you know that there will be a change in liquidity levels between Friday to Monday, it is not advised to carry huge positions on Friday. The risk drastically increases, if the price opens above your stop loss on Monday, it will become a market order, and this loss will be much higher than the predefined loss (determined using stop-loss). A conservative trader especially should not take any positions during times of news releases.
Retail forex traders need to manage liquidity risk by lowering their leverage and putting stop losses based on higher time frames. In this way, you would be safe from any kind of gaps that happen at the beginning of the week.
Volatility
Volatility refers to the currency fluctuations in the global exchange market. Price movements can vary from hour to hour, minute to minute, and second to second, depending on many factors. A lot of forex traders enjoy volatility, but it comes with a risk. Therefore it is important to manage volatility and do plenty of research before placing a trade.
Eliminating the risk of volatility
In order to make the most out of volatility, follow the below-mentioned techniques:
Volatility strategies
Money management, in relation to volatility, essentially suggests traders invest in strategies that can perform in different market conditions. Some of the strategies that can be used to turn the volatility in your favor include widening your targets, placing tight stop-losses, and analyzing the higher timeframes.
Stay diversified
Don't rely too much on any asset class or forex pair. If one investment performs poorly, other investments may perform better over that same period and thereby reducing your overall losses. This happens due to the difference in volatility across various asset classes. A balanced portfolio protects from losses and provides a high return on investment.
Money management should always be a top priority for every trader, as these principles guide us while taking trading decisions. A lot more concepts related to money management will be discussed in the upcoming articles.