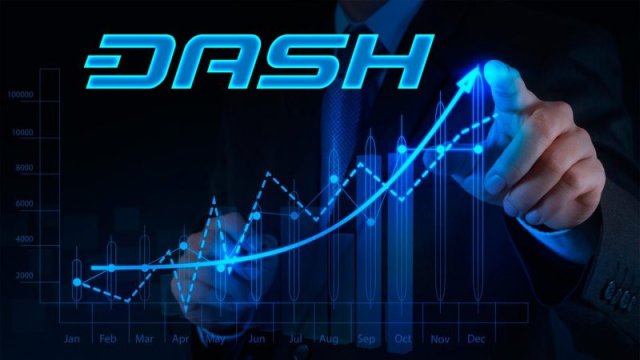 Dash was developed with privacy in mind and to overcome the shortfalls that Bitcoin was facing. Originally introduced as Xcoin in 2014, the crypto has rebranded twice – first as Darkcoin then as Dash. Speculation that Xcoin was a pump-and-dump scheme were rife and likely contributed to the name change. As the altcoin was being renamed to Darkcoin, it received press, which pushed its adoption among darknet markets. Ever since, Dash has had a somewhat controversial reputation to the effect that even some governments pushed for their delisting. 
Arguably, Dash offers the best privacy guarantee in the entire cryptoverse – and this can be proven by how authorities get all fidgety at the mention of the crypto. Just recently, the US Internal Revenue Service announced a mega reward for anyone who can help them break Dash's privacy and find the origin of transactions.
Despite Dash appearing like privacy is all it offers, it's hard to deny that the altcoin is a worthy competitor to the likes of Bitcoin, Ethereum, and Litecoin, which are darlings to many investors. The crypto features prominently among the top 30 cryptocurrencies by market cap. It has significant daily trading volumes and can be exchanged with most major currencies – both fiat and crypto.
But wait, considering the reputational and potential availability challenges the cryptocurrency is facing, should you invest in it? Well, read on to find out what makes Dash a worthy investment.
Performance in 2020 
When choosing a good crypto investment, financial performance is among the key metrics to look out for. Throughout 2020, dash has shown rather erratic performance – call it volatility. Opening the year at around $20, Dash quickly rallied to peak $140 within weeks. Those who took advantage of this bull run undoubtedly tripled their investment. 
But it wasn't long before the bears came calling and sent the crypto back to $40 at the beginning of April. In the subsequent months until June, Dash traded at between $60 and $80. This was the least volatile period for the crypto in the year. Still, these fluctuations were significantly high by crypto market standards.
After a brief rally in August followed by a correction in October, Dash seemed to stabilize in December, trading at roughly between $90 and $100. 
As to whether the crypto has enough volatility to challenge investors, the answer is an unwavering yes.
24-hour trading volumes have consistently declined over the year, which could imply two things: either, investors are HODLing their coins or just not buying as much. Usually, declining trading volumes are associated with falling prices. As for Dash, this has not been the case, not at least in 2020. One conclusion we can draw from this observation is that Dash has a rare element of resilience, and we can expect it to remain afloat in both good and bad times. 
Does Dash Have a Future?
Dash's performance in 2020 leaves little doubt about its potential for short-term profitability, particularly with reference to its volatility. Volatility in crypto trading, just like in forex, allows investors to take advantage of price changes to make their cuts. In 2020, Dash showed price changes of up to 500%, which implies massive trading potential.
Trading Dash seems lucrative in the short run, but if you choose to invest in it for the long-term, are returns promised? Well, the indicators below give more insights on the direction the crypto is likely to take in the future.
#1 Dash development is funded 
Worth noting is that Dash is a next-generation crypto and a decentralized autonomous organization (DAO). The DAO is a collection of privileged nodes (masternodes) that invest back 10% of gains earned from mining. Well, this is not their primary function, but the dedication of a tithe to the network's development promises sustainability, for instance, by building integrations fast and reliably. Unlike other cryptos, the continuous development of Dash does not entirely rely on a vibrant user community.
#2 The crypto responds to bull runs
In 2017 when a majority of crypto joined the historic bull run, Dash gained over 8,000%. Launched only 3 years before and trading at $0.12, the crypto had rallied to trade at $1,494 by the end of 2017. Dash entered 2018 with pride, flying as high as $1,000 – at a time when other cryptocurrencies were also flourishing. The entry into 2019 was not as flamboyant given the bubble had long burst, and most cryptos were heading for a correction. Even so, Dash maintained an impressive $100-$170 exchange rate. During past bull runs, the crypto's behavior gives hopes that it will keep rising as other cryptocurrencies gain adoption.
#3 Crypto users are demanding more privacy
The demand for privacy across the globe is just increasing, and if there were a merchant trading this commodity, this would be the best time for them to cash in. From anonymous donations to buying what the government doesn't want you to, privacy is increasingly becoming a selling point, and Dash takes care of this demand. To no one's surprise, Alternative 36, Inc., an American e-commerce company, started accepting Dash payments for legal cannabis trade in the US.
#4 Dash offers superior performance 
Compared to Bitcoin and Ethereum, Dash payments are fast. As cryptocurrencies continue to gain adoption in the retail industry, Dash might become a more favorable option for payments than its mightier siblings.
#6 Dash's 'InstantSend' and 'PrivateSend' 
Dash offers some transaction versatility. You can choose to send money instantly or wait for miners to work at their pace. Similarly, you can decide to send money anonymously or leave traces. This versatility makes Dash suitable for use in a wider range of applications, and hence, increases its utility. To guarantee the future of a cryptocurrency, the utility is everything. 
Regulators Have Their Eyes Fixed on Dash. Will That Affect You?
Regulators are clearly unhappy with the level of anonymity that Dash provides. In Japan, they pushed exchanges such as Coincheck to delist Dash and other anonymity-focused cryptocurrencies. The US Department of Internal Revenue also made clear its intention to crack Dash's privacy and other anonymity cryptos. You probably have fears that you may become a victim of such heightened surveillance. While such an event is possible, it is worth noting that the crypto is used for many legitimate trades, and there's no earthly reason why you would be victimized solely for investing in Dash. 
Final Thoughts
Dash is one of the best-known anonymity altcoins, and this reputation might have blinded investors from seeing the crypto's investment potential. For short-term ventures, we have seen that Dash offers unmatched volatility, where investors can walk in and walk out with huge profits within months. In the long term, Dash is equally promising – based on past performance, support for network development, increasing demand for privacy, and its utility, which is likely to increase. While there might be concerns about the surveillance authorities have on Dash, overall, its prospects for profitability overshadow these concerns.