---
General overview
---
Market Cap: $348,018,621,395 
24h Vol: $18,262,368,943 
BTC Dominance: 38.8%
In the last 24 hours, cryptocurrency market capitalization dropped from $383B to $342B, which is a decrease of 41 billion dollars in the evaluation.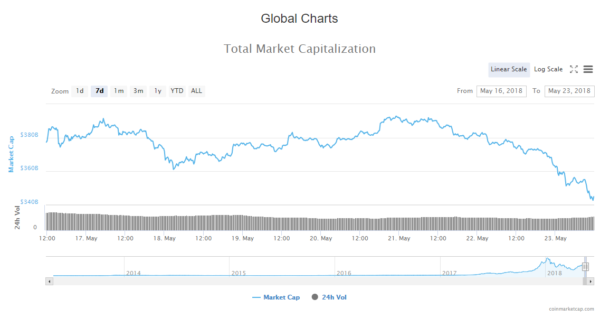 The market is currently in red, with an average decrease in the price of 10%. Biggest losers among top 100 are Verge -14,7%, 0x -14,3%, Bitcoin Diamond 15,6%, and the only one crypto that's in green is Bitcoin Private +7%.
---
News
---
Top stories that came out in the last 24 hours are mostly about blockchain tech adoption and acceptance, however, after the big drop in the evaluation, there is much analytical news as well.
These are some of the significant headlines:
Mitsubishi, MUFG Conduct Successful Pilot Payment With Major Thai Bank's Blockchain

Several major global banks have successfully completed a cross-border payment pilot test using Thai bank Krungsri's (Bank of Ayudhya) Blockchain Interledger, according to a press release May 22.
Bitcoin Price Is Struggling After Blockchain Week, Possible New Regulatory Pressure

Cryptocurrencies continue to slow down today as all major coins are in the red on Tuesday. Bitcoin (BTC) price is struggling for gains above $8,500 following concerns over increased regulation according to Naeem Aslam, chief market analyst at Think Markets:

"The recent selloff has come from the news out of China that the ICO [initial coin offering] market is still very active and there are fears that China will further increase the strict regulation."
Russian State Duma Almost Unanimously Approves First Reading of Crypto Industry Bill

Russia's parliament the State Duma approved the first reading of new laws regulating the crypto industry Tuesday, May 22. The laws define cryptocurrencies and tokens as property, and lay out specifications for interacting with crypto and blockchain-related technologies.  
US: Crypto Could Pose a Problem for Candidates Seeking Security Clearances
The recognition of Bitcoin as a form of foreign currency could potentially have an impact on decisions in recruiting new employees to the US Department of Defence (DoD), Bloomberg reported May 22. The Pentagon's chief concern is whether investment in cryptocurrencies indicates criminal intent or constitutes an increased predisposition toward risky personal behavior. This could detrimentally affect a job candidate's profile should the DoD be considering them for a security clearance.
Argentinian Bank Now Using Bitcoin for Cross-Border Transactions

Argentinian Banco Masventas (BMV), has announced a partnership Bitex to enable clients to use Bitcoin for international payments as an alternative to SWIFT, according to a Facebook post May 21. Bitex is a blockchain-based financial services provider based in Latin America.
Nobel Prize Economist Says That Crypto the Latest in a Pattern of Alternative Currencies

In a May 21 article entitled "The Old Allure of New Money," the 2013 Nobel laureate of Economics Robert Shiller calls crypto the newest iteration of alternative currency ideas.
---
Analysis
---
BTC/USD
In the last 24 hours, the price of Bitcoin has dropped by 6,7% coming from 8400$ to 7847$ where it is currently sitting.
Looking at the daily chart, we can see that the price of Bitcoin is back in the wedge pattern, as I predicted in my weekly forecast. The drop in price has to find new support, and the 0.236 Fibo level will serve as support at least temporarily, so watch out what happens at these levels.
Looking at the hourly chart we can see that last 4 candles are dojis, meaning that the price is experiencing a lot of buying and selling pressure and considering the proximity of the 0.236 Fibonacci level we can conclude that price is struggling and looking for support there.
---
Market sentiment
Bitcoin hourly chart technicals signal a sell.

Oscillators signal a sell and moving averages a strong one.
---
Pivot points
S3 6427.8 
S2 7387.3 
S1 7809.2 
P 8346.8 
R1 8768.7 
R2 9306.3
R3 10265.8
---
ETH/USD
From yesterday's open the price of Ethereum has dropped by 10%, coming from 693$ to 621$ where it is currently.
On the daily chart, things are looking very bearish. The price is currently at the levels of prior resistance, looking for support, and it's near the 0.382 Fibonacci retracement level, but we haven't seen the interaction with it just yet.
On the hourly chart, we can see that the price is struggling for support, as indicated by the wicks we are seeing on the candles. The price is likely going to bounce back quickly after this massive and fast drop occurred, before continuing to go down further.
---
Market sentiment
Hourly chart technicals signal a sell.

Oscillators are on neutral, and moving averages on a strong sell.
---
Pivot points
S3 539.11 
S2 598.95 
S1 619.48 

P 658.79 

R1 679.32 
R2 718.63 
R3 778.47
---
XRP/USD
In the last 24 hours, the price of Ripple has dropped by 8,86% coming from 0,676$ to 0,617$ where it is now.
On the daily chart, we can see that the price of Ripple has fallen below the 0.236 Fibonacci level. From there on the only significant level, I see stopping this momentum is at the close of the candle before one that broke that level from the upside, which is at 0,54$.
Hourly chart shows us the interaction with the Fibo level, and as you can see it was broken with a strong momentum, and the current situation is similar to that of Bitcoin and Ethereum in a sense that there is a lot of wick on the current candles.
---
Market sentimet
Ripple is in a sell zone.

Oscillators are on sell, and moving averages a strong one.
---
Pivot points
S3 0.56621
S2 0.60802
S1 0.62285

P 0.64983

R1 0.66466
R2 0.69164
R3 0.73345
---
Conclusion
---
The price is struggling to find support after a massive and quick drop in price. I expect the prices to quickly bounce to the 0.5 levels of prior highs before another drop in price. We are going to see a lot of sideways price action today, as indecision is taking over, and reactions from participants are unclear.