After an explosive gain cryptocurrency industry had yesterday, the past 24 hours have been quite stagnant in price. Many cryptocurrencies just tried to consolidate and form respect towards support/resistance lines. If we take a look at today's prices, Bitcoin went down2.15%, and it is now trading at $7,107. Ethereum lost 1.5%, while XRP went down 1..51%.
Of the top100 cryptocurrencies by market cap, the biggest gainer is LINA, with 67.55% daily gain. The biggest loser of the day was Digitex Futures, which lost 8.10% of its value.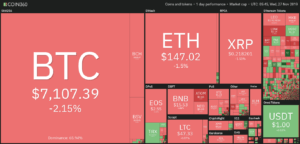 Bitcoin's dominance has stayed on virtually the same spot when compared to its value from the past 24 hours. Its dominance now sits at 65.94%.
Note: At the moment of this publication, Bitcoin drops below $6,900 on the news of a $50 million hack of Ethereum in the Korean exchange Upbit. All cryptos are currently losing their close supports.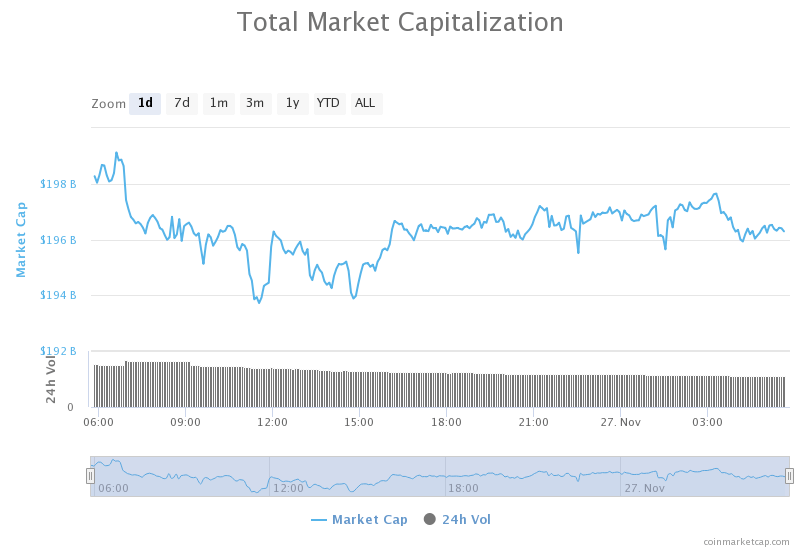 The cryptocurrency market as a whole now has a market capitalization of $1195.19 billion, which represents a significant increase (around $9 billion) when compared to the value it had yesterday.
What happened in the past 24 hours
Even though the price doesn't show it, Bitcoin and other cryptocurrencies are slowly getting more and more adoption. A cryptocurrency-friendly travel booking platform has partnered with the online travel agency giant Booking.com therefor making cryptocurrencies available to people using Booking.com. This deal will allow Travala users to book their accommodation listed on Booking.com with cryptocurrencies.
While this is a great thing, there are no changes to Booking.com as a platform, so this info will impact just the Travala platform users.
_______________________________________________________________________
Technical analysis
_______________________________________________________________________
Bitcoin
After yesterday, when Bitcoin bulls rallied and managed to pull the price back above the $7,000 threshold, Bitcoin started consolidating. Once the price even pushed to break its key level of $7,415 but failed to do so, Bitcoin has been on a slight decline, but contained within two key levels.
Bitcoin's volume started to drop after the failed attempt to break $7,415. Its RSI level broke the oversold territory once the movement up started.
Key levels to the upside                   Key levels to the downside
1:  $7,415                                        1: $6,620
2: $8,000
3: $8,425                                
---
Ethereum
Ethereum had a terrible weekend as well as its price plummeted almost $50. After the big drop, it rallied back up along with most cryptocurrencies. However, unlike Bitcoin, Ethereum did not manage to stay contained within its "safe zone." It is now trading at around $145, which is just below the support zone, which now turned resistance.
Ethereum's RSI is now above the oversold territory, while its volume has decreased heavily when compared to the past couple of days.
Key levels to the upside                    Key levels to the downside
1: $167.8                                            1: $127
2: $178.6
3: $185
---
XRP
XRP has not yet decided on what price to anchor to, meaning its s support levels are still unclear. Its price seems to be consolidating as well, which means that support and resistance lines will be revealed soon. XRP did not break any resistance levels and stayed in the price limbo that it was at after the bear move. Its price is now somewhere around $0.219.
XRP's RSI barely moved above the oversold territory, while its volume is still on very high levels.
Key levels to the upside                   Key levels to the downside
1: $0.235                                           1:  still unclear
2: $0.245
3: $0.266