If we take a look at Bitcoin, Ethereum, and Ripple, we would conclude that the cryptocurrency market did not move much in the past 24 hours. However, while the top3 did not move as much, some altcoins were gaining over 10% on the day. Bitcoin's price went down 0.44% on the day. It is currently trading for $8,613. Meanwhile, Ethereum gained 0.83% on the day, while XRP went up 1.51%.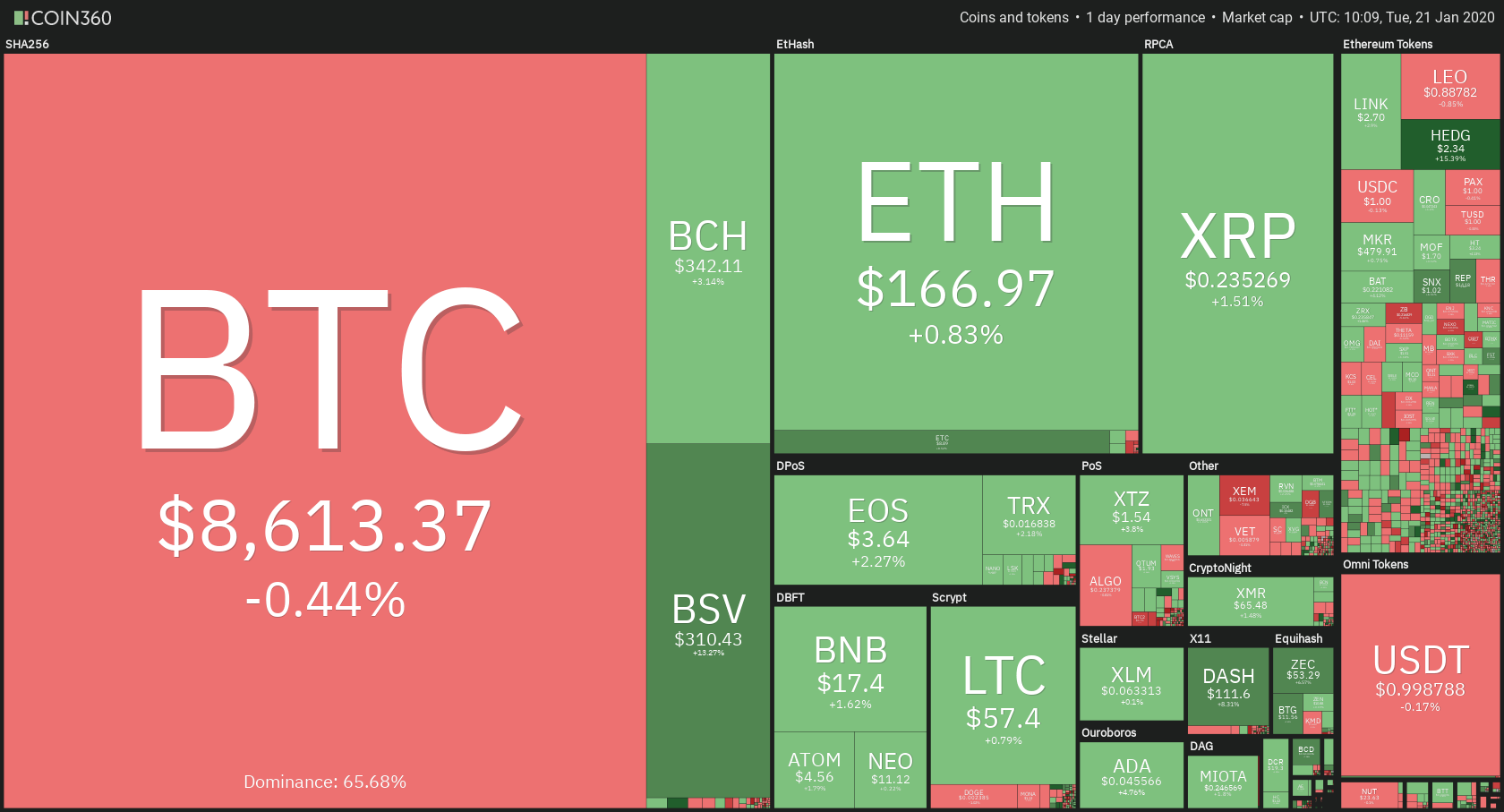 The past 24 hours had quite a few prominent gainers. HedgeTrade and Bitcoin SV gained 12.52% and 12.35% on the day, respectively. On the other side, Centrality lost 14.52% on the day, which makes it the biggest daily loser.
Bitcoin's dominance took a hit today, as altcoins moved while bitcoin did not. It is now at 65.68%, which represents a decrease of 0.63% when compared to the value it had yesterday.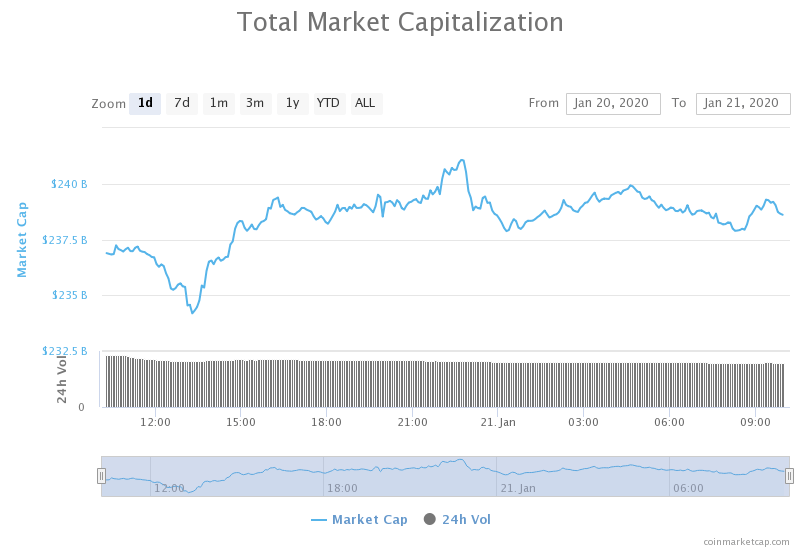 The cryptocurrency market capitalization did not move today. It is currently valued at $238.53 billion, which represents an increase of $1.27 billion when compared to the value it had on Friday.
What happened in the past 24 hours
CME group's Bitcoin options had their traded volume doubled (and some more) in the first week after going live. Data provided by the CME group itself shows that the Bitcoin options volumes simply skyrocketed since they went live on Jan. 13.
As of Friday, Jan. 17, the traded volume was 122 contracts, which is worth 610 BTC or $5.27 million. To compare, the first day's trading volume was 55 contracts, which is 275 BTC or $2.37 million.
Honorable mention
Bitcoin SV
Most of the cryptocurrency industry started in 2020 with some great price increases. However, one cryptocurrency performed far better than the rest. Bitcoin SV (BSV) started the year under $100 and now trades for over $300. Even in the past 24 hours, when most cryptos are stagnating, BSV is gaining in price.
CTO of CoinText, Vin Armani, has a theory that accuses Calvin Ayre, one of the biggest proponents of BSV of operating a wash trading scheme. Armani alleges that the failed deal to sell mining devices with Squire Mining LTD. left Ayre with quite a lot of SHA-256 miners.
However, instead of mining BSV (as Armani also said that Ayre is one of the only miners of BSV and adding hash rate wouldn't grant him bigger profits), the theory is that Ayre is deploying the hardware to mine BCH. He then sells the Bitcoin Cash generated for US Dollar Tether and uses this to wash trade Bitcoin SV's price up.
_______________________________________________________________________
Technical analysis
_______________________________________________________________________
Bitcoin
Bitcoin is pretty much exactly where it was 24 hours ago. The largest cryptocurrency traded sideways for over 24 hours in an attempt to consolidate. Its consolidation price is bound by an immediate (though not so well-respected) level of resistance, sitting at $8,460. It has recovered since and is currently trading right above the $8,650 level.
Bitcoin's volume is decreasing, and the volume chart (if zoomed in) looks like it is descending. Its RSI is in the lower part of the value range.
Key levels to the upside                    Key levels to the downside
1: $8,815                                           1: $8,650
2: $8,905                                           2: $8,436
3: $9,115                                           3: $8,130
---
Ethereum
Ethereum also took the pas 24 hours to consolidate. However, it did end up gaining almost a percent on yesterday's price, while Bitcoin lost a fraction of a percent. As with Bitcoin, Ethereum is bound to the upside by an immediate resistance level of $167.8. It has a bit more leeway on the downside, where its next support level is standing at $163.5.
Ethereum's volume currently on the lower end of the spectrum, while its RSI level is exactly in the middle of the range.
Key levels to the upside                    Key levels to the downside
1: $167.8                                             1: $163.5
2: $178.65                                          2: $160
3: $185                                               3: $154.2
---
Ripple
While XRP performed a bit better than BTC and ETH over the past 24 hours, it followed the same guidelines. Its price was trying to consolidate and trade sideways during the whole day. The only difference was that XRP managed to gain over 1.5% on the day while doing that. XRP is currently just above $0.234, which it passed since the last time we reported. However, this level got less important and less respected as of lately.
XRP's volume is on the lower end of the spectrum, while its RSI is just slightly above the middle of the value range.
Key levels to the upside                    Key levels to the downside
1: $0.24545                                        1: $0.234
2: $0.253                                           2: $0.227
3: $0.266                                           3: $0.221