Bulls have retaken the crypto market after quite a few red days. Most cryptocurrencies gained some value on the day, with some growing in value exponentially. Bitcoin gained 6.37%, and it is trading for $7060 at the time of writing. Meanwhile, Ethereum increased its price by 1.88%, while XRP gained 1.65%.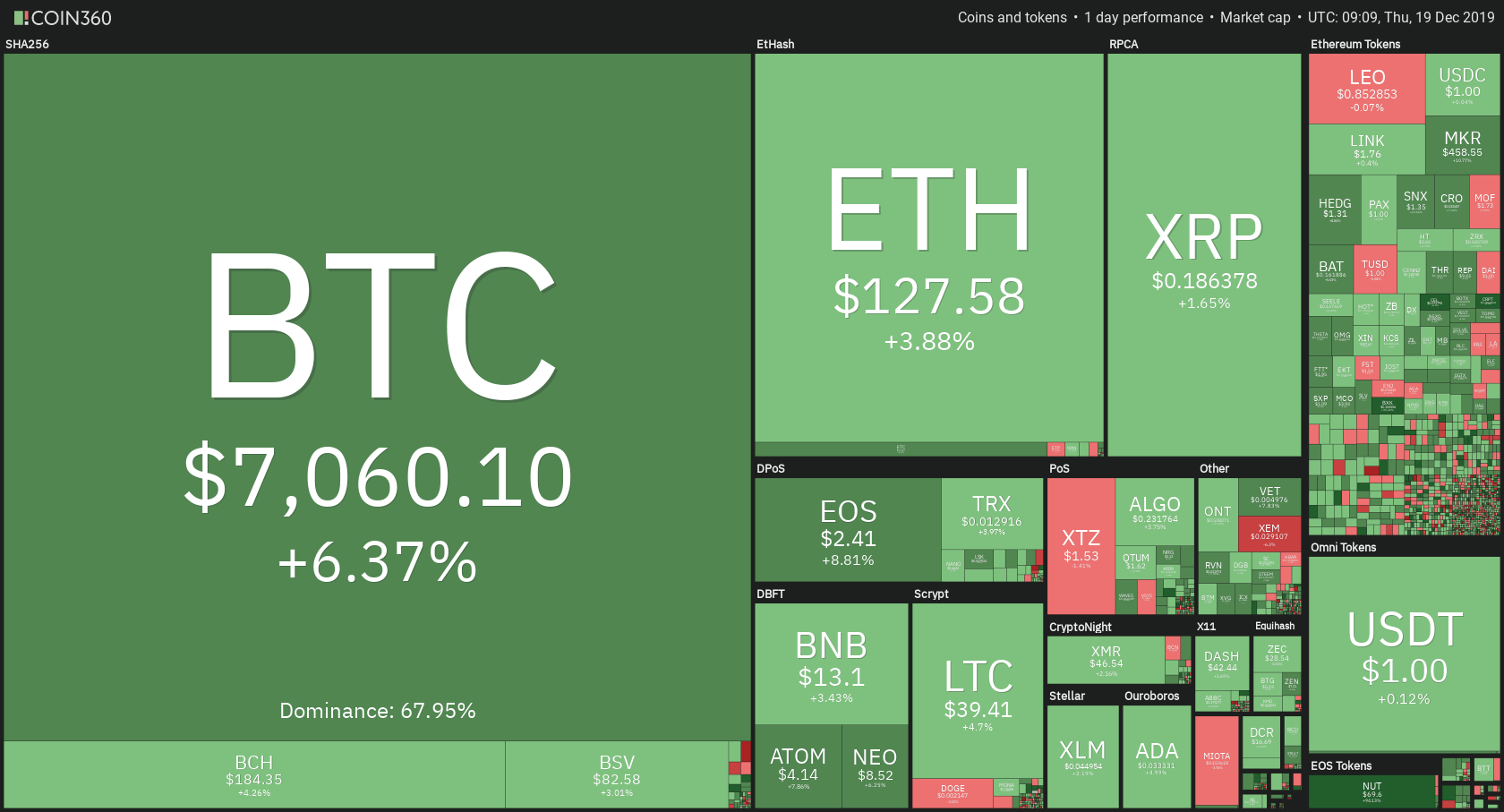 Aidos Kuneen, on the other hand, gained 50.04% on the day, making it the biggest daily gainer. Out of the cryptos that ended up in the red, the biggest loser was Centrality, which lost 4.71% of its value on the day.
Bitcoin's dominance increased yet again in the past 24 hours, as cryptocurrencies (on average) gained less value than it did. Its dominance in percentage is currently 67.95%, which represents an increase of 0.36% when compared to the value it had yesterday.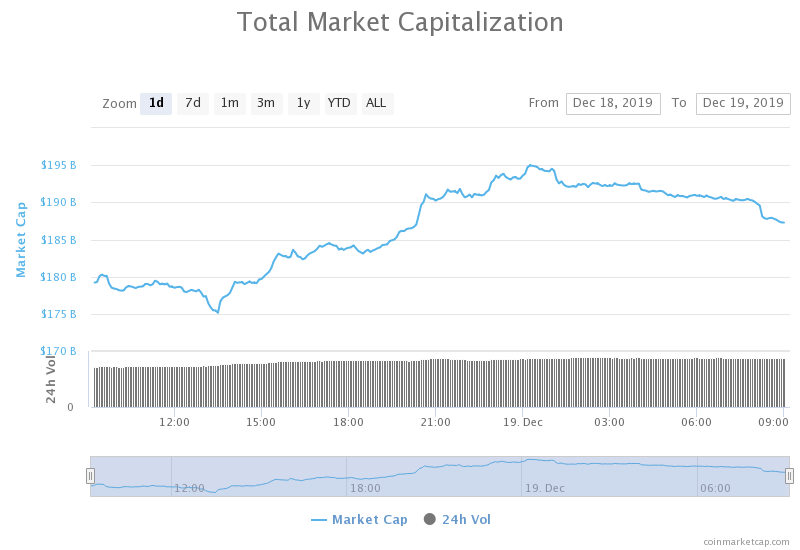 The cryptocurrency market capitalization rose in the past 24 hours as the individual cryptocurrencies gained. Its total market value is currently $187.39 billion. This value represents a decrease of $7.39 when compared to the value it had yesterday.
What happened in the past 24 hours
Recent statistics show that 14.4% of Americans own at least some cryptocurrency. The cryptocurrency accounting firm Lukka announced its "do-it-yourself" cryptocurrency tax preparation software that is suited for retail investors. The product will come live just in time for the 2019 tax season.
Lukka's main focus was providing institutional-grade solutions to crypto funds in the past. However, the company decided to expand to the retail investor market.
_______________________________________________________________________
Technical analysis
_______________________________________________________________________
Bitcoin
After almost a week of its price continously falling, Bitcoin finally had a decent green day. In fact, the past 24 hours were amazing for Bitcoin price-wise. Its price went from $6,400 all the way to $7,500 before settling at around $7,050 for now. Many analysts show that Bitcoin is now bullish in the short-term.
Bitcoin's volume has currently increased, while its RSI was dangerously approaching overbought territory. However, that quickly ended, and its RSI is now approaching the middle of the value range.
Key levels to the upside                    Key levels to the downside
1: $7,260                                           1: $6,940
2: $7,415                                           2: $6,410
3: $7,525
---
Ethereum
Ethereum has had a great day as well, though not as good in terms of the price increase as Bitcoin. Ethereum spent the past couple of days repeating the same price pattern over and over. Its price dropped severely during a short period, following by it trying to consolidate just above its lows for the day. Similar to yesterday and the day before, Ethereum started losing value extremely quickly.  However, the $117 line held up quite well, and Ethereum bounced off of it to $135. However, Ethereum's direction is still unknown as the price fell back down to $128 at the time of writing.
If Ethereum falls under $117, new support levels will have to form naturally as Ethereum does not have any "prepared" ones yet.
Key levels to the upside                    Key levels to the downside
1: $120.35                                            1: $117
2: $128.1
3: $130
---
Ripple
XRP did not have a bad day, either. Its price gained some value today, too, while the gains were quite marginal compared to Bitcoin's gains. XRP's price found support in the $0.176 level, which propelled it to $0.2. However, that was just a short-term gain as XRP started going down almost as quickly as it went up. With the current price of $0.1865, XRP has not broken any resistance lines since the price started rising.
Unlike Bitcoin, which had its RSI almost reach overbought levels during the price spike, XRP has its RSI still walking on the edge of being oversold.
Key levels to the upside                    Key levels to the downside
1: $0.19                                              1: $0.176
2: $0.198                                            2: $0.16
3: $0.2045