CEO Trading is a forex broker based in Belize, there isn't much information about the company as a whole on the website so there isn't too much to go by. We will be using this review to look at the services that are being offered to hopefully help you decide if they are the right broker for you.
Account Types
CEO Trading has four different accounts on offer, we will be looking at the different requirements and features of each one.
All Accounts:
All accounts come with the following features, MetaTrader 4 as a trading platform, tradable assets of Forex, CFDs, and Metals, base currency as USD, unlimited maximum lot sizes and number of trades, floating (variable) spreads, margin call at 150% and stop out level at 50%, swap charges and the allowance for both scalping and hedging.
Mini Account:
The minimum deposit for this account is $1,000 and the maximum balance you can have is $9,999. The maximum leverage is set at 1:500 and The minimum lot size is 0.01 lots and the trade sizes go up in increments of 0.01 lots.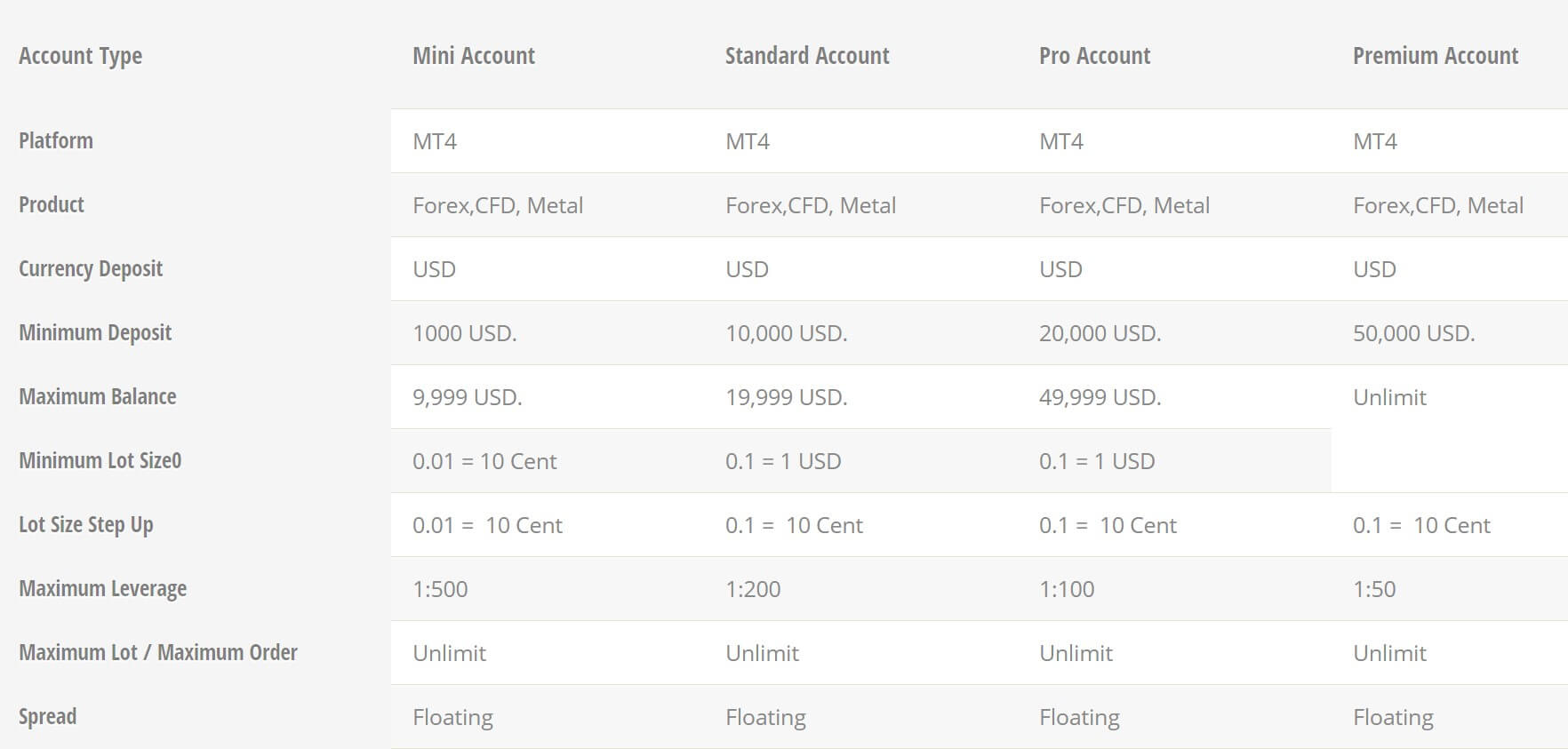 Standard Account:
The standard account increases the minimum deposit to $10,000 which is a lot and could price out a lot of newer traders, it has a maximum balance of $19,999 and the minimum lot size is 0.1 lots which goes up in increments of 0.1 lots. The maximum leverage for this account is currently set at 1:200.
Pro Account:
The pro account further increases the minimum deposit to $20,000 with a maximum balance of $49,999. The minimum lot size remains at 0.1 lots and increases in increments of 0.1 lots. The leverage is further reduced down to 1:100.
Premium Account:
The top tire account from CEO Trading requires an opening balance of $50,000 and has an unlimited maximum balance. The site doesn't state what the minimum trade size is but as it goes up in increments of 0.1 lots we would assume it sticks to 0.1 lots. Leverage is further reduced and the maximum allowed is set at 1:50.
Platforms
Just the singular trading platform available, the good news is that the one platform is MetaTrader 4.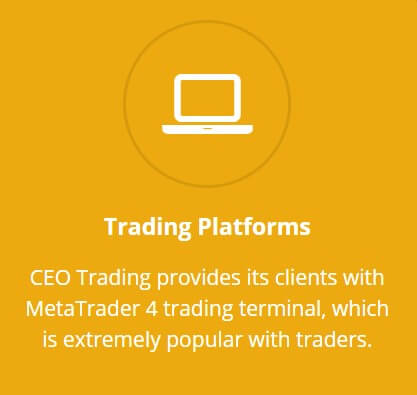 MetaTrader 4 (MT4):
MetaTrader 4 (MT4) is one of the world's most popular trading platforms and for good reason. Released in 2005 by MetaQuotes Software, it has been around a while, it is stable customizable and full of features to help with your trading and analysis. MT4 is compatible with hundreds and thousands of different indicators, expert advisors, signal providers and more. Millions of people use MT4 for its interactive charts, multiple timeframes, one-click trading, trade copying and more. In terms of accessibility, MT4 is second to none, available as a desktop download, an app for Android and iOS devices and as a WebTrader where you can trade from within your internet browser. MetaTrader 4 is a great trading solution to have.
Leverage
The maximum leverage allowed is dependant on what account you have, the maximums are as follows:
Mini Account: 1:400
Standard Account: 1:200
Pro Account: 1:100
Premium Account: 1:50
Leverage can be selected when opening an account and a number of different levels can be selected. If you wish to change the leverage once an account is already active you will need to get in contact with the customer service team and the request needs to be made when there are no open trades.
Trade Sizes
Trade sizes are also dependent on the account that you have, if you have a mini account then your minimum trade size will be 0.01 lots (also known as a micro lot) and will go up in increments of 0.01 lots so the next available trade would be 0.02 lots and then 0.03 lots. If you have any other account then the minimum trade size is 0.1 lots (also known as a mini lot) and goes up in increment of 0.1 lots so the next trade would be 0.2 lots and then 0.3 lots.
There is no maximum on any account, however, we would not recommend using trades larger than 50 lots because it becomes increasingly difficult for liquidity providers and the market to execute larger trades quickly and without any slippage.
Trading Costs
There isn't any mention on the website in regards to any added commissions to trades so it appears that the accounts are using a spread based payment structure which we will look at later in this review.
Swap fees are present, they are an interest that is paid for holding trades overnight, they can be both positive and negative. These fees can be viewed directly within the MetaTrader 4 trading platform.
Assets
The only information regarding what assets or instruments are available is in the accounts comparison take which simply states Forex, CFDs, and Metals. There is no indication of how many or examples of which ones which is a surprise, many brokers are actively promoting how many assets they have available as a way to encourage people to sign up. We can only assume that there isn't a large selection based on the lack of information.
Spreads
Similarly to the assets, there isn't really any information on the site regarding this, the accounts section states that the spreads are floating, which means that they move with the markets, when the markets are especially volatile then the spreads tend to widen and get a lot higher. We do not know what the minimum trade is and how competitive they are which is a shame, these sorts of trading costs are vital to new potential clients. It is also important to note that different instruments and assets will have different starting spreads.
Minimum Deposit
The minimum amount to deposit in order to open an account is $1,000 which is a little high if trying to bring in new clients., There is no mention as to whether or not this amount decreases for any subsequent deposits after an account is already open, having said that, it does state that the minimum deposit for bank transfers is $500 so it may drop down to that amount.
Deposit Methods & Costs
It seems that the only method for depositing is via bank transfers. This can only be done in USD and thankfully there is a 0% fee for depositing. It can take a few days for your deposit to be processed which is a little concern as the majority of people wants to start trading immediately. It is also a shame that only one method seems to be available and this could potentially alienate a lot of potential clients.

Withdrawal Methods & Costs
Just like depositing, the only withdrawal method available is via bank transfer. This must be done in USD and unfortunately, there is now a $30 withdrawal fee. It is also worth noting that there is a minimum withdrawal amount of $30. Please also make sure to check with your own bank just in case they add a fee of their own.
Withdrawal Processing & Wait Time
The CEO Trading site states that the lead time (processing time) for withdrawal requests is 2 to 5 hours which is very quick, as the only method of withdrawing is bank transfer, this means that your withdrawal will take another 2 to 5 working days to clear in your bank account due to bank processing times.

Bonuses & Promotions
We could not locate any information on the website that indicated that there were any active promotions or bonuses, this does not mean that there won't be in the future so if you are looking for bonuses be sure to check back regularly.
Educational & Trading Tools
Nothing that we could find would be classified as an educational resource. As for trading tools, those would be limited to what the platform itself provides. Those tools are listed below.

Customer Service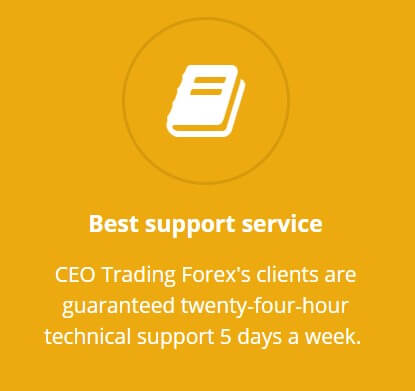 The contact us page offers a few different ways to get in contact with CEO Trading, you can use the usual online submission form to fill in your query to be sent off, you should then receive a reply via email. There are also three email addresses available, one for the Admin, one for Finance and one for Support, so you can email the department that you desire.
The support department is open Monday to Friday between 10 am and 9 pm, it is closed at the same time as the markets on Saturday and Sunday.
Demo Account
We could not locate a way to open up a demo account, nor is there any mention of them on the website so we do not think that they are available which is a shame as many people like to test their strategies and test out the trading servers before signing up or using their strategies on live accounts. CEO Trading should really look at making demo accounts available.
Countries Accepted
No information on the website to indicate who can and who can not open up an account, so if you want to know if you are eligible you will either need to try signing up or to be safe, get in contact with the customer service team to find out.
Conclusion
Not too much to say about CEO Trading as there is too much information missing, information that is often vital for new clients to see before deciding to sign up somewhere. Things like commissions, spreads, and tradable assets should be available to potential clients, but with CEO Trading they are missing, due to all the missing information, it is hard for us to recommend them as a broker to use.