Bittrex exchange in-depth review – part 2/2
This part of the Bittrex exchange in-depth review will explain how the platform operates, the fees as well as the overall security of the platform.
Bittrex Chart view

Different exchanges often have their proprietary charts. However, all the user interfaces usually have a few things in common: they all show the order book, the price chart of the chosen asset as well as the order history. They also have buy and sell boxes. Before choosing an exchange, try to look at the user interface and determine if it will suit you.
Bittrex Fees
Bittrex has two types of fees! Trading fees and Withdrawal fees.
Trading fees
Bittrex is one of the exchanges that doesn't charge different fees for market takers and makers. This type of fee structure is usually called "flat fees." Bittrex offers its customer base a flat trading fee of 0.25%. Investors who prefer to take the orders from the market rather than set the orders themselves might prefer this fee model. The fees, however, do scale with trading size. The fees are divided between market taker fees and maker fees once the trading volume exceeds $200,000.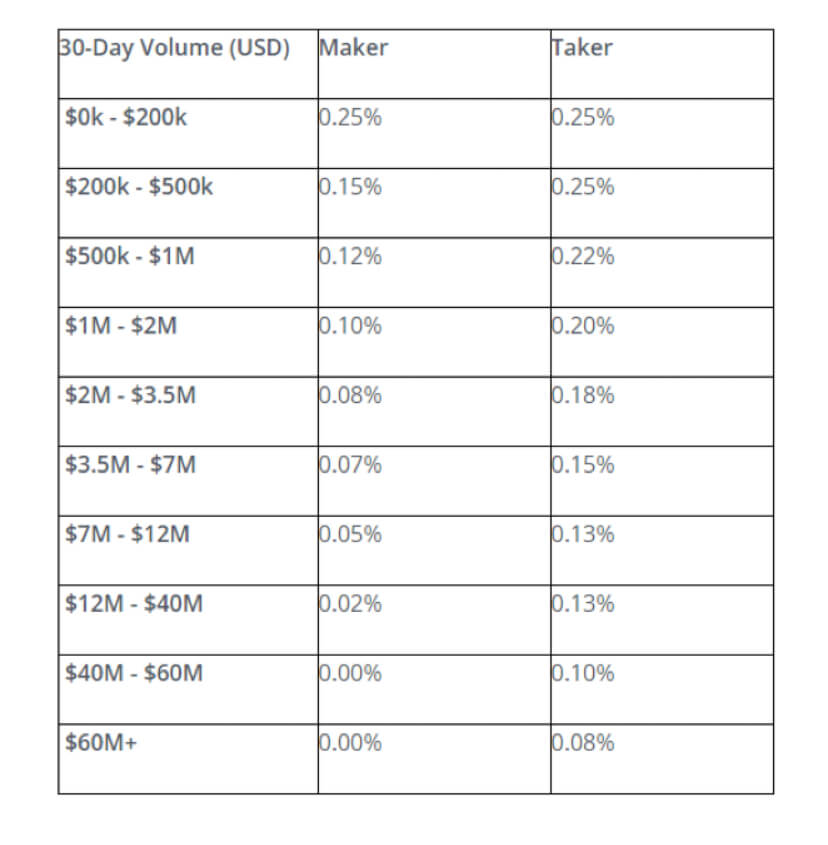 Bittrex's flat fees the same as the majority of the industry that uses flat fees. However, more and more exchanges are now shifting to lower trading fees, ranging between 0.10%-0.15%. It is quite reasonable to believe that the 0.10% fee will be the new industry average.
Withdrawal fees
While many exchanges have competitive trading fees, they often have extremely high withdrawal fees to compensate. Bittrex does not do that. This exchange's withdrawal fee is set at 0.0005 BTC when withdrawing BTC. This is either in line with or lower than the global industry average.
Deposit Methods
Bittrex, along with Poloniex, has been criticized for not providing fiat currency support to its customers. If you have money in a bank account and would like to start trading crypto, Bittrex is not a suitable exchange. However, this rule is not quite as strict and has an exception. If you want to deposit a sum of over $100,000, you could do that on Bittrex. The exchange decided to allow corporate clients to deposit fiat currency on 31 May 2018. When the news of partnering with the New York Signature Bank news broke out, Bittrex also announced that they would soon enable fiat currency deposits for all traders as well.
Bittrex Security

As exchanges store a massive amount of valuable personal info as well as assets, they need to have stellar security. The info they store can be anything, including names and addresses, government ID details, tax ID numbers, etc.
Bittrex's hit a security score of B when performing a security test at Observatory by Mozilla. This is considered a very strong security score. When crypto exchanges go, it is far above average.
Bittrex also seems to be very committed to providing strong security to its customer base. They are stating that they "incorporate multiple layers of protection, using the most reliable and effective security technologies available."
The exchange has a 99.95% uptime rate, which is quite an amazing proof of the trading engine reliability.