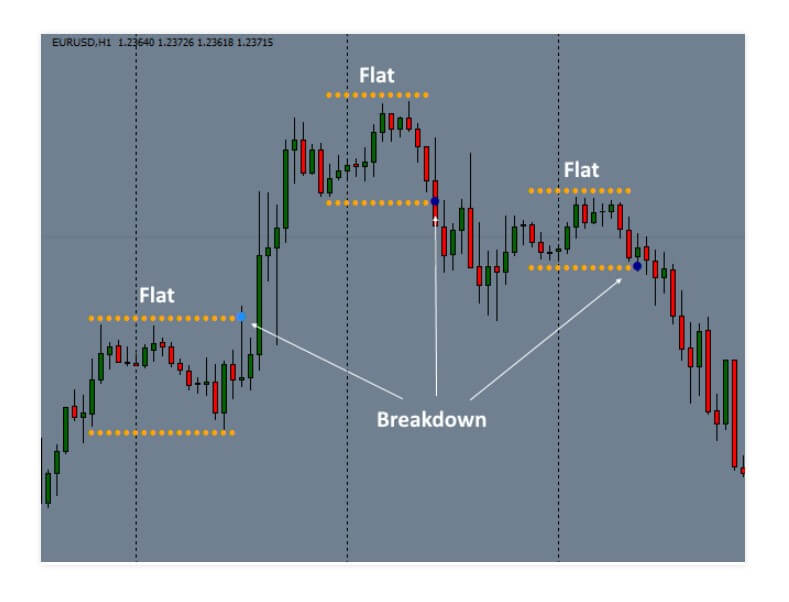 Breakdown Flat is a trading indicator that was published to the mql5 marketplace by independent author Dmitrii Suslonov in April of 2018. It was updated to version 1.1 about four months after the initial launch date in order to upgrade alert settings.
Overview
Breakdown Flat was designed to indicate the breakout (any price movement outside a defined support & resistance area) of flat (neither rising nor declining) prices in the market. The indicator draws a channel of the flat and signals breakouts based on the comparison of the Average True Range indicator and the maximum swing for 'n' periods. This indicator does not redraw and can be used effectively with custom trading strategies. It can be helpful on its own or in combination with other products that are also compatible with MT4.
Service Cost
Traders can either rent the indicator for $10 USD for a one-month period or $20 for a three-month period, otherwise, one can purchase the product for the standard $30 price with 5 activations. Free demo accounts are also available to be used for testing without risking any funds.
Conclusion
The Breakdown Flat System is an indicator of flat and its breakout. The system can be rented or bought for $30 and works great in combination with other indicators or on its own. Its 5-star rating is based on 3 reviews, but the demo account seems to be more popular at 500+ downloads. Here's what some traders are saying about this product:
"This Indicator is amazing. It allows you to identify consolidation and then the "move" follows. With other Indicators, it really does a great job!" -Marko
"This indicator can increase your win rate if you know how to use it. It is a good indicator. Far more useful than many of the indicators sold in the market." -cvdestyfx
We agree with the above trader: this indicator can certainly be helpful for those that know what they're doing. It's impossible to guarantee profits with any type of indicator, but using risk-management skills and an effective trading strategy can certainly help one's chances.
This Forex service can be found at the following web address: https://www.mql5.com/en/market/product/29044