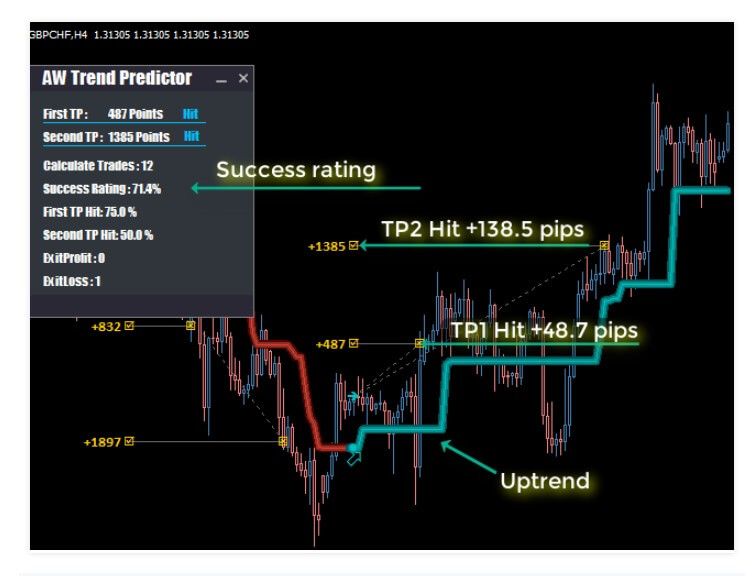 AW Trend Predictor is a trading indicator that was published to the mql5 marketplace in November of 2019 by the author Alexander Nechaev. He last updated it to version 1.20 just a few weeks after the initial launch date.
Overview
As you likely guessed, AW Trend Predictor is an indicator that follows an advanced algorithm in order to provide traders with buy signals based on predicted future trends. The algorithm determines the trend, filters out market noise, and determines entry & exit levels. Traders would then receive a buy signal when the indicator determines that the success rating is more than 70%. Signals are also recorded within the statistics module so that traders can select suitable tools that would work effectively based on signal history.
Service Cost
Traders can choose between renting the indicator for $45 for one month, or buying it outright for $85 USD. The developer includes 15 activations with the purchase. Free demo accounts are additionally provided as a more cost-effective way to test the product before deciding whether renting or buying is the better avenue.
Conclusion
AW Trend Predictor takes multiple factors into account when predicting future trends and sends buy signals when the success rating is above 70%. It hasn't received a ton of feedback, but we did find a handful of comments from verified users.
For example:
"I'm testing – review again after a few weeks but signals over 70% are pretty solid." -Lorant
"Very useful indicator." -Fabrizio
You'll find that the indicator has a 5-star rating, but this is only based on 6 reviews. Since we don't have much feedback to work with, we'd suggest testing out the demo account before buying the full version. Price is another factor in that recommendation, as the overall cost is somewhat expensive. Still, this indicator seems to provide a simple, yet effective experience and it could help traders to profit as long as it is used wisely.
This Forex service can be found at the following web address: https://www.mql5.com/en/market/product/43299