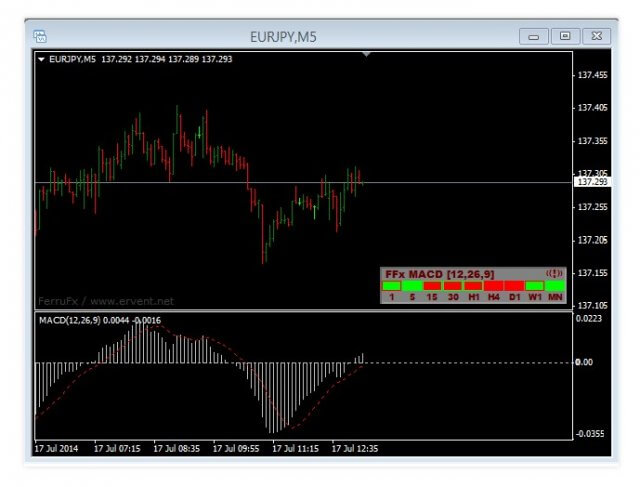 FFx MACD Dashboard MTF Alerter is currently found within the indicators section of the MQL5 marketplace. We have added a link to the exact indicator that we are looking at below. The indicator was created bt Eric Venturi-Bloxs and was first uploaded on the 28th of July 2014, it was then updated on the 1st of September 2014 and is now at version 1.1.
Overview
FFx MACD Dashboard MTF Alerter is an indicator for the MetaTrader 4 trading platform, it was created to show you on a single chart, all the timeframes with their own statuses within the indicator.
There are two different alert options, the single timeframe option will mean that each timeframe will be selected individually and alerts will be sent separately when a signal is generated. The multiple timeframes options mean that all selected timeframes must agree with the signal before an alert is sent.
There are a few different options available:
Select the timeframes to trigger the alerts
Alert pop up/sound/email/push
Activate/deactivate the alert directly on the chart
Position on the chart
And, all usual settings of the standard indicator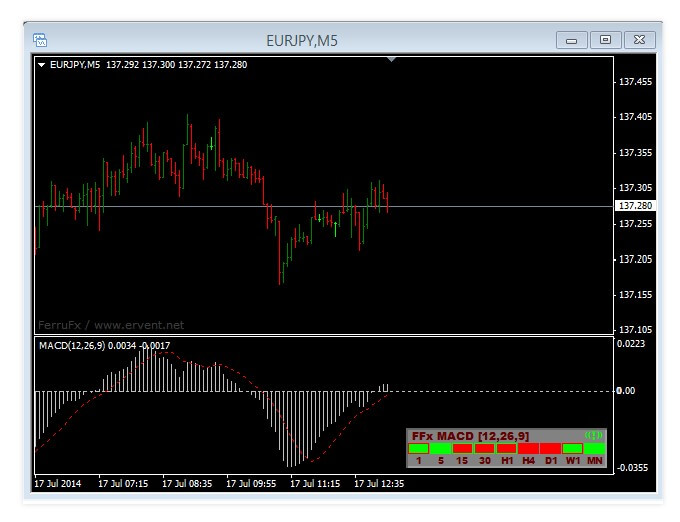 Service Cost
The indicator can currently be purchased for $10, this will give you unlimited access to it with no added limitations, there is not an option to rent the indicator so purchasing it is the only option available. There is a free demo version, but the limitations are not known or stated on the site, it may still be worth downloading it to try out.
Conclusion
There are currently 5 reviews available, they are all positive and have given the indicator a rating of 5 out of 5.
"This is a great tool! It saves so much time. Eric, you have so many very useful indicators, I really appreciate the other ones I have purchased also." – A 5-star review.
"I should say the developer is very helpful and he will answer all your questions. wonderful indicator, Thanks a lot" – A 5-star review.
"I am a real Fan of FFx tools and its a pleasure to communicate with Ferru… you feel never alone… FFx MACD Dashboard works great and even when adjusted to all TF… around 10 very good and strong entry signals per day.." – No rating is given.
So the reviews are all very positive which is a good sign, there are also over 20 comments, the developer has been responding to them in a prompt manner which shows that he is still actively supporting the indicator which also shows us that you will receive good quality customer support should you decide to purchase it. We would suggest trying out the free version, it may give you an idea as to whether it does what you need it to or not.
This Forex Indicator is currently available in the MQL5 marketplace: https://www.mql5.com/en/market/product/5351