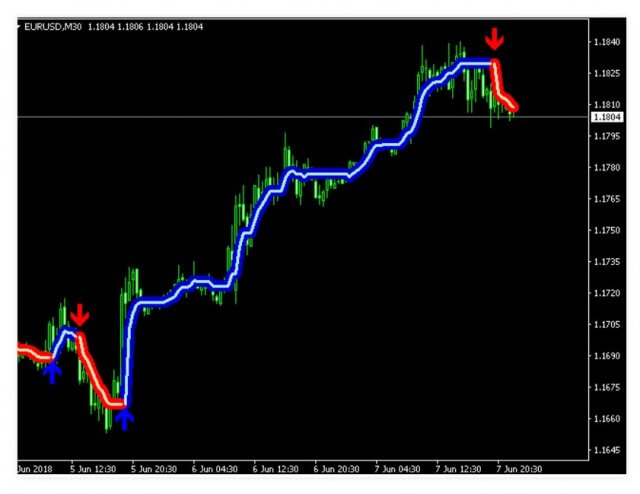 Forex Gump Scalping can be found within the indicators section of the MQL5 marketplace, it was first uploaded on the 18th of June 2018 by Andrey Kozak, it was then given a few different updates, the most recent updates were on the 16th of February 2020 and it is currently at version 2.0.
Overview
Forex Gump Scalping is an indicator that was created to be used with the MetaTrader 4 trading platform, the indicator was designed with a brand new algorithm which is used for calculating the price direction. It will use this algorithm to predict any further movements of the price and will then provide a buy or sell signal. The indicator was developers for intraday scalping, it is most efficient on the M1, M5, M15, M30, and H1 timeframes.
Some of the advantages of the indicator:
No signal repainting
Works on all currency pairs
Suitable for intraday scalping
There are also some parameters that come with the indicator, these can be altered and include the operation period, fast MA period, slow MA period, signal MA period, averaging period, the width of the thick line, signal notifications, and more.
Service Cost
Forex Gump Scalping can be purchased with a one-off payment of $157, this gets you 977 activations and no further limitations. Unlike many indicators in the MQL5 marketplace, there is no option to rent it. There is a free demo version that can be sued with the strategy tester within the MT4 platform.
Conclusion
There are only two reviews but they are both positive giving the indicator an overall rating of 5 out of 5.
"Very happy. I've been using it for several weeks with great success. Thank You" – A 5-star review.
There are also two comments but the developer has not replied to them, since the indicator was updated in February 2020 it would seem that it is still being supported, but we would suggest that you send your questions to the creator to ensure that they are still supplying and offering active support before making a purchase.
This Forex Indicator is currently available in the MQL5 marketplace: https://www.mql5.com/en/market/product/29910