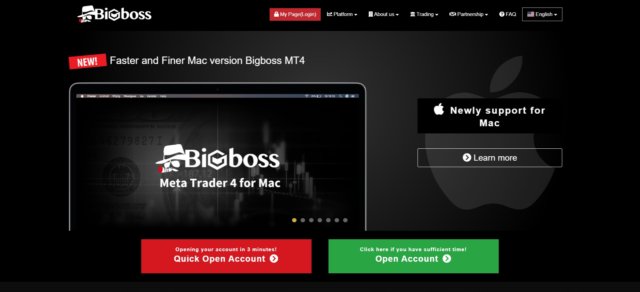 Big Boss Financial is a forex broker based in Saint Vincent and the Grenadines. They have a mission statement of "Reliability, Innovation, Enhancement, and Challenges are all the elements we put in our heart when we deliver service." During this review we will be looking at what is on offer and if they manage to live up to their own expectation.
Account Types
There are three account types on offer from Big Boss, two of them are focused on trading as a whole, while one is designed specifically for cryptocurrency trading, we will take a look at the requirements and features of each account.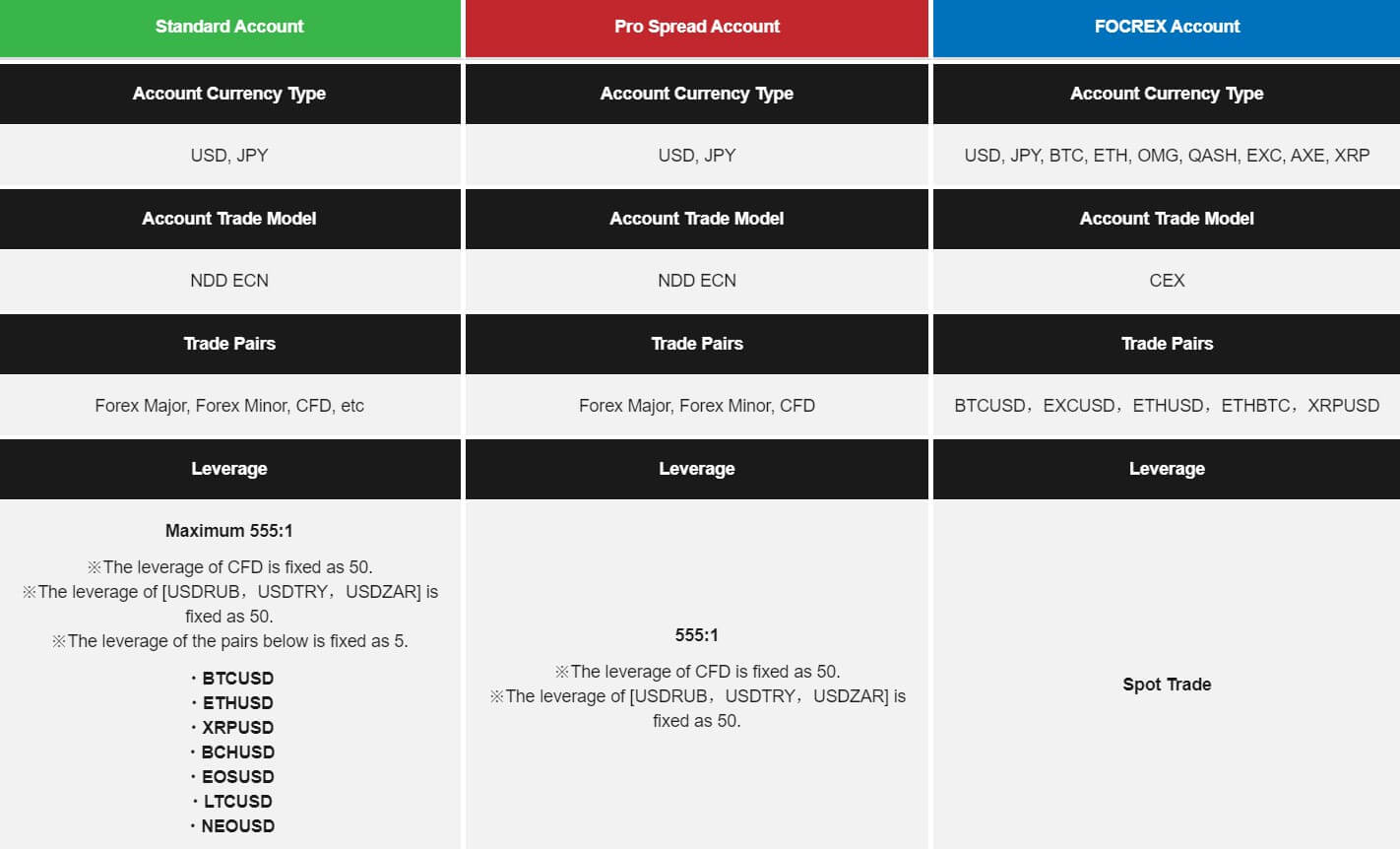 Standard Account:
The standard account which is the entry-level account for Big Boss does not require a minimum deposit and can be opened with any amount (subject to payment method minimum). The base currency can be in USD or JPY and has forex leverage up to 1:555 (varies with different instruments). There is no added commission when trading with this account, margin calls are set at 50% and stop out at 20%.
Pro Spread Account:
The pro spreads account has a lot of similarities with the standard account, it also has no minimum deposit and leverage can also be as high as 1:555 (varies by instrument). This account, however, has a commission of $4.5 per lot traded which is reasonable depending on what the spreads are like. Margin call and stop out levels remain unchanged.
FOCREX Account:
This account is designed for people who only want to trade cryptocurrencies, it can have a base currency of USD, JPY, BTC, ETH, OMG, QASH, EXC, AXE, XRP, no minimum deposit just like the other accounts but this account does not have a margin call or stop out level. The markets will remain open 24/7 365 days a year as opposed to the other accounts closing on weekends.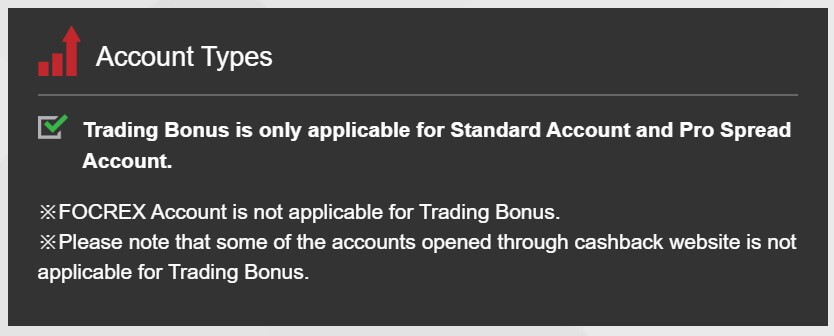 Platforms
Big Boss currently only offers one trading platform, luckily that platform is MetaTrader 4, here is a brief little outline of what MT4 offers.
MetaTrader 4 (MT4) is one of the world's most popular trading platforms and for good reason. Released in 2005 by MetaQuotes Software, it has been around a while, it is stable customizable and full of features to help with your trading and analysis. MT4 is compatible with hundreds and thousands of different indicators, expert advisors, signal providers and more. Millions of people use MT4 for its interactive charts, multiple timeframes, one-click trading, trade copying and more. In terms of accessibility, MT4 is second to none, available as a desktop download, an app for Android and iOS devices and as a WebTrader where you can trade from within your internet browser. MetaTrader 4 is a great trading solution to have.
Leverage
There are a few different aspects that affect the leverage that you will receive, we have listed out the leverages below for convenience. When creating an account you can select the leverage that you desire, should you wish to change the leverage once the account is open, you will need to get in contact with the support team and there must be no open trades during the request.
Forex: 1:555
CFD: 1:50
Forex Minor (USD/RUB, USD/TRY, USD/ZAR): 1:50
Crypto: 1:5
Crypto on the FOCREX account may have higher leverages.
Trade Sizes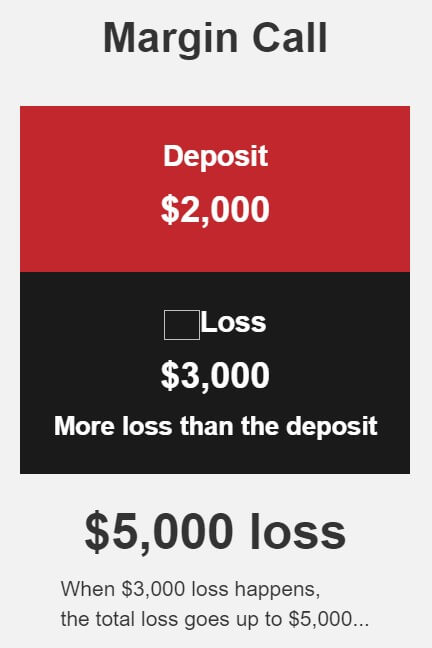 Trade sizes are another aspect that depends on the account that you are trading with and also the instrument or asset that you are trading.
Forex on all accounts has minimum trade size of 0.01 lots which is also known as a micro lot. For the standard account, all CFDs will have a minimum lot size of 0.1 lots and all others will have 0.01 lots except for ETH/USD and NEO/USD which will have a lot size of 0.02 lots. For the pro spread account, some CFDs have a minimum lot size of 0.01 lots while others will have a size of 0.1 lots.
We could not locate any information in regards to the maximum trade sizes, no matter what they are, we do not recommend trading lot sizes greater than 50 lots as it can make it harder for the liquidity providers and the market to execute the trade quickly.
Trading Costs
The standard account uses a spread based system instead of any additional costs, we will look into the spreads later in this review. The pro spread account has an additional commission added to each trade of $4.5 per lot traded which is reasonable as the industry standard seems to be around $6 per lot. There are also swap charges which are either paid or received for holding trades overnight and can be viewed from within the trading platform (MetaTrader 4).
Assets
There is not a full breakdown od which assets and instruments are actually available to trade, instead, there is just a mention of a few and the categories that they fall into. It is clear that there are forex majors, forex minors, CFDs and cryptocurrencies available but not much more info than that. It does state that there is currently Bitcoin, Ethereum, Ripple and a couple more crypt coins, but other than that it is hard to ascertain exactly which assets are available for trading.
Spreads
There is not a full breakdown of what the spreads are, instead there is a snapshot of a few different forex pairs and their live spreads. If we look at EUR/USD the spreads are around 1.6 on the standard account and 0.7 on the pro spread account, GBP/USD is around 2.3 on the standard account and 1.2 on the pro spread account. The standard account has pretty normal spreads however the pro spread account has quite high spreads when comparing it to other commission-based accounts.
It is also worth noting that the spreads are variable (floating) which means that they do not remain the same and will often be seen higher when there is a lot of volatility in the markets.
Minimum Deposit
There is no set minimum deposit which means you can deposit with any amount hat you want, the only possible limit is the limits imposed by the method that you are using to deposit, for instance, some cards won't let you deposit less than $5.
Deposit Methods & Costs
Bib Boss currently allow you to deposit using all major credit and debit cards including Visa and MasterCard, they also accept bank wire transfers and bitcoin, it does not appear that e-wallets such as Skrill or Neteller are available to deposit with. We could not locate any information regarding any additional fees or if the deposits are fee-free so we can not comment on that aspect of depositing.
Withdrawal Methods & Costs
The same methods for depositing are available for withdrawing, similarly to depositing with Big Boss it is unclear if there are any additional fees for withdrawing.
Withdrawal Processing & Wait Time
Big Boss state that they will aim to process any deposits within 48 hours, after this processing time it will take bitcoin as long as it takes for there to be enough confirmations, for bank transfers it will take between 3 to 5 business days and card transfers will take between 1 to 7 business days.
Bonuses & Promotions
The bonuses and promotions on Big Boss seem to be related to upcoming events, at the time of writing this review there is one bonus on offer and it is a Christmas one. You can get a 100% bonus of up to $5,000. While there is information in the terms about how your funds could be forfeited, there is no information on how to convert them into real funds which is a little suspicious to us.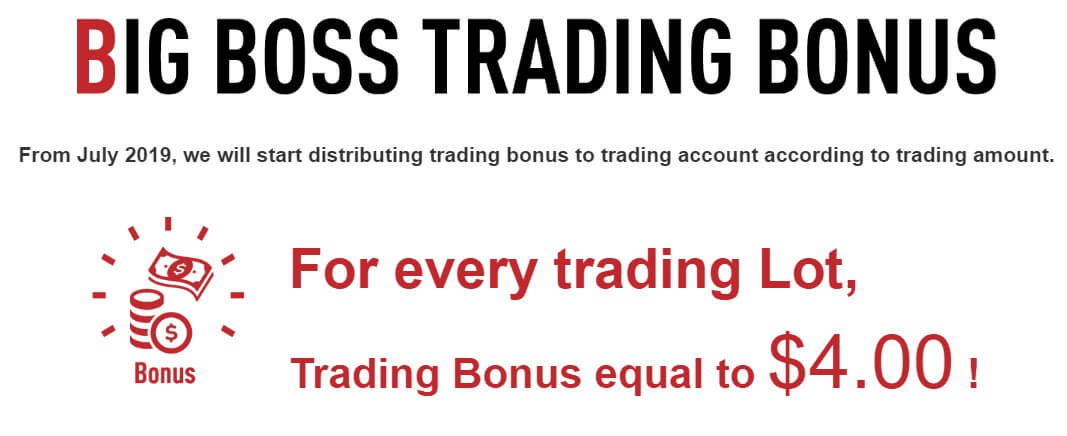 It seems that there have been other bonuses in the past so be sure to keep an eye out if you are after a bonus for upcoming bonuses.
Educational & Trading Tools
Looking through the website it does not appear that there are any educational information or trading tools to help you with your trading.

Customer Service
It seems like there is only one way to get in contact with Big Boss and that is through an online form where you fill in your query and submit the form, you should then receive an email within the next couple days.
Big Boss states that they aim to respond to queries within 1 working day. It would have been nice to have more ways to get in touch with Big Boss as sometime sit is nice to actually speak to an actual person.
Demo Account
Demo accounts are available, you can select to open a demo account on the MetaTrader 4 platform and can be for either the standard account or the pro spread account. The full details of the demo account are not listed on the website in regards to how many you can have or how long they last but it is good to know that they are available and nice that you can choose to have the conditions similar to multiple account types.

Countries Accepted
The following statement is on the BigBoss website: "Bigboss does not provide Contracts for Difference to residents to certain jurisdictions, such as USA and Iran. This website is for reference purposes only and not intended to target residents of Malaysia or Japan. In principle, we do not accept applications from Malaysian or Japanese residents."
If you are unsure, get in contact with the customer service team to get confirmation as to whether you are eligible for an account or not.

Conclusion
It can be a little hard to find the information that you want with Big Boss, most notable is the lack of information regarding deposit and withdrawals it is such a major part of a broker for many clients, knowing exactly how you can deposit and withdraw as well as any costs are vital. It is nice having no minimum deposit but this does not make up for other shortcomings such as the lack of methods to get in contact with the customer service team. At this time, it is hard for us to recommend Big Boss over some of the other more established brokers out there.