Introduction
The U.S. Dollar Smile Theory is a popular notion that illustrates that the U.S. Dollar stays positive in good as well as bad market conditions. This theory was created by a former economist and strategist Morgan Stanley, and it became popular in 2007.
This was the time when the U.S. dollar witnessed a significant boost amidst the global recession. Many times, looking at the market conditions, people would think the U.S. dollar would fall, but surprisingly it continues to grow.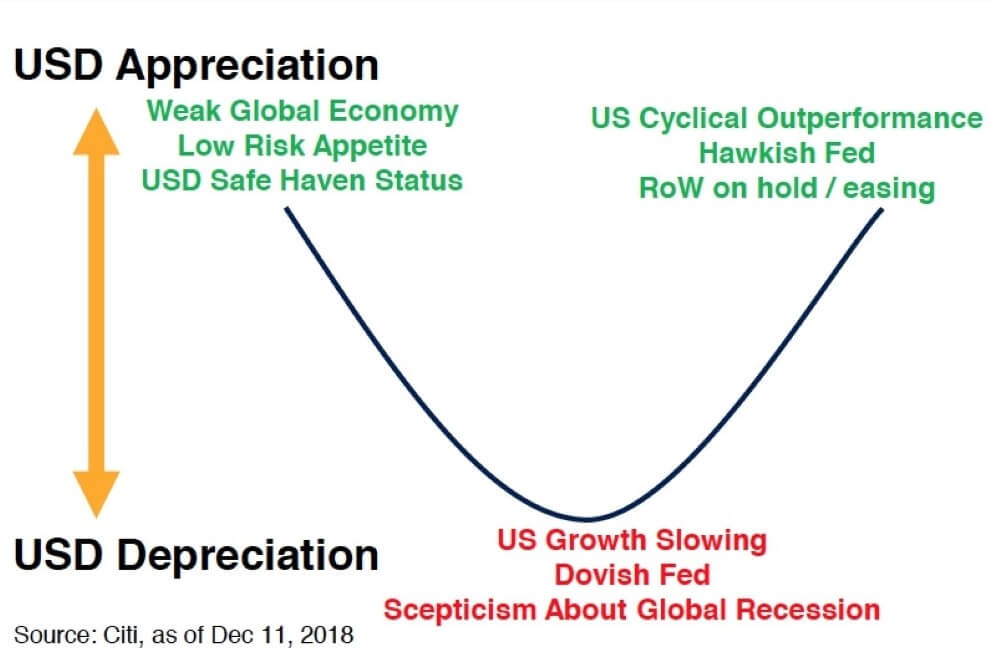 Source: here.
Why does that happen?
The Dollar Smile Theory answers this question.
Following are the three scenarios that Morgan Stanley put forward to explain the positive growth of the U.S. Dollar.
The Strength Due To Risk Aversion
The first reason that the U.S. dollar rise is due to risk aversion. This is a situation where investors rely more on safe-haven currencies such as the dollar, yen, etc. During this period, investors consider the global economy in an unstable position. Hence, they are less likely to invest in the risky asset; instead, they put their cash on U.S. dollars.
The Dollar Weakens to New Low – Economic Recession and Slowdown
Under this scenario, the US dollar falls to a new low. The bottom of the smile indicates the dull performance of the currency as the economy struggles with weak fundamentals. Additionally, the possibility of falling interest rates also impacts the position of the U.S. Dollar. This results in the market participants steering clear from the dollar.
Subsequently, the primary motto of the U.S. Dollar becomes to Sell. Investors move from buying the currency to selling it and moving towards currencies that are providing higher yields.
The Strength Of The U.S. Economy Helps
The U.S. dollar continues to grow because of the strong economy of the country. After the low, a new smile emerges as the economy sees its light at the end of the tunnel. With the signs of the recovery of the economy, a sense of optimism spreads through the market.
This increases the sentiments towards the dollar again. With the US economy enjoying higher GDP growth, the greenback continues to appreciate. This increases the interest rate in the international market.
Though the theory is quite relevant and backed by some logic, the economy is extremely volatile. So only time will tell how definite the Dollar Smile theory is in the future.
[wp_quiz id="97467″]