Alongside access to different forex pairs and trading tools, this broker offers plenty of money management services, including overseeing clients' portfolios and providing investment advice. As a straight-through processing (STP) broker, xPartners works with multiple liquidity providers to ensure that account holders can quickly execute orders and buy/sell at desired prices.
While the broker is registered in Cyprus, its offerings are available across Europe and the world. Whether or not xPartners suits your needs depends on the type of trader that you are. For example, if you are looking for access to all types of forex pairs (including exotics), then this brokerage firm has plenty to offer. The list of their other financial instruments is just as expansive as their currency selection.
Similarly, if you want to trade through utilizing a state-of-the-art platform, then xPartners excels in that area. Their partnership program and educational content can also be appreciated. Having said that, traders that rely on buying power and low spreads may think twice about xPartners, but that doesn't necessarily mean that the broker's positive aspects don't outweigh its cons. To help you make an evaluation, we put together all the important details and information that traders who are considering xPartners need to know.
Account Types
XPartners offers one account type. Meanwhile, there isn't information about whether or not you have the option of opening a swap-free Islamic Account.
Minimum Deposit: $250
Spreads: From 3 pips
Commission: NA
When you first fund your account, the transaction must be sent as a wire transfer. However, after that, traders can choose between several payment options that we will discuss in this review.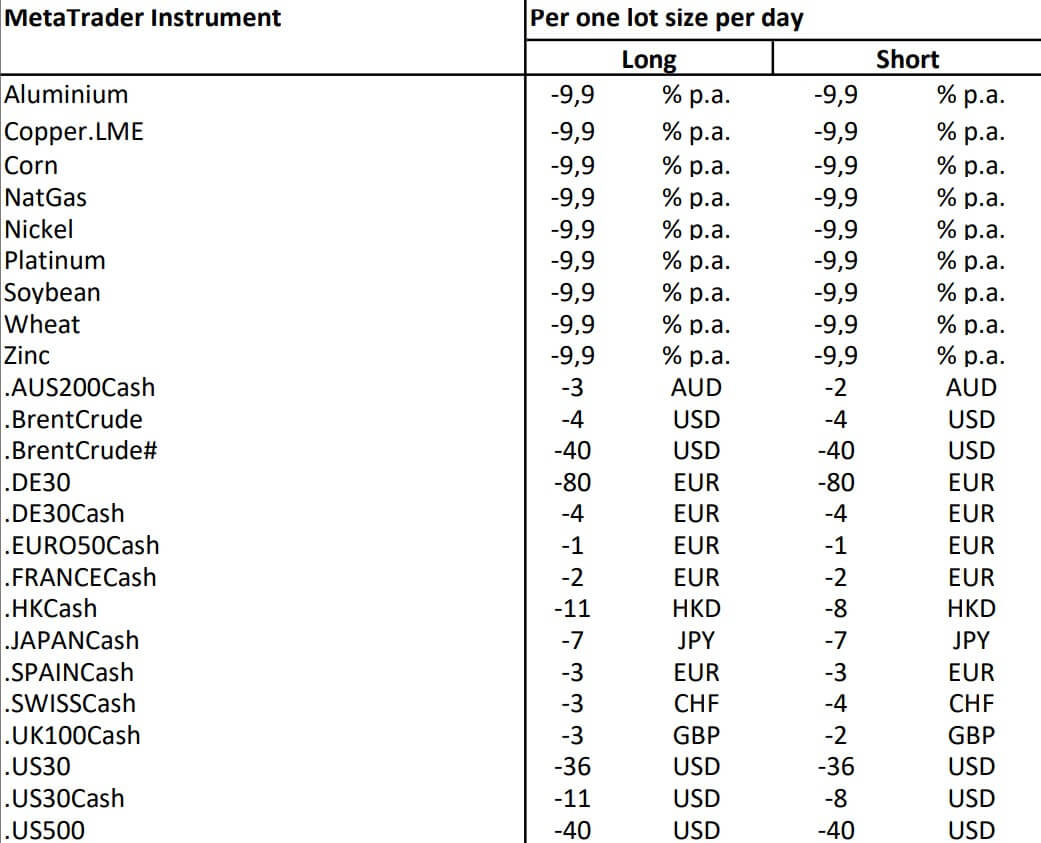 Platforms
Through this broker, account holders trade on the MetaTrader 5 (MT5) platform. It is available on all devices, including desktops (MacBooks and Windows) and smartphones (iOS and Android). MT5's main advantages include fast order execution times, user-friendly tools, a large selection of technical indicators, and live news updates. Additionally, every trader can work with a dedicated account manager on an individual level. This includes beginners who need guidance and experienced traders that are trying to learn how to best use MT5's different tools and order placement methods.

Leverage
xPartners main downside is their very restrictive buying power of 30:1. In general, brokerage firms' leverage can reach up to 500:1, some will even give traders 1000:1 in buying power. Even though xPartners leverage is very small, account holders can request to increase it. In turn, this broker will award experienced and risk-averse traders with 100:1, but no more than that in buying power.
Trade Sizes
The standard trade sizes, where 1 lot equals 1,000 of the base currency, are available on xPartners.
Margin Call: 100%
Stop-Out: 50%
This broker doesn't automatically liquidate your positions at the margin call. In fact, they take no action apart from sending you a notification that your balance is below the margin call level. When it hits the 50% stop-out point, on the other hand, xPartners automatically closes all your trades. Just as importantly, when a margin call is issued, traders can only access it through their MT5 dashboard.

Trading Costs
On their website, xPartners doesn't specify what their commissions are. They may even be nonexistent. Either way, this broker still charges you other trading fees. First, their relatively wide spreads can be hefty. Second, there are overnight interest fees on positions that aren't closed at the end of the trading day. The swap amount depends on the currency that you trade, the economic conditions in its country, and what the central bank's interest rate is. Keep in mind that xPartners will triple their swaps on Wednesday to account for weekends (where the fees aren't incurred because the markets are closed). Tripling the rate on Wednesday is a standard practice that many brokers follow.


Assets
xPartners provides you with access to forex pairs, commodities, indexes, and stocks. They have over 60 currencies, including exotics like the Polish Zloty, Swedish Krona, and South African Rand. This broker also offers 25 commodities, putting them ahead of most of their competitors in this aspect. Undoubtedly, commodity traders will appreciate the fact that, alongside gold, silver, and oil, they can access aluminum, coffee, corn, nickel, and soybean CFDs (and more). xPartners's indices are also very competitive, with about 15 available. The list includes the US indexes, alongside those of major European and Asian countries. Furthermore, this broker offers stocks from different markets across the world.

Spreads
While xPartners's asset selection is one of their strongest features, the spreads aren't. The average, industry-wide, is between 1 and 3 pips, but this broker's spreads start from 3 pips. Some major pairs, such as the AUD.CAD and AUD.NZD, are at 20 pips. However, keep in mind that xPartners likely doesn't charge any commissions, which may outweigh the large spread (depending on your trading style).

Minimum Deposit
To open an account, traders must fund their portfolio with $250 or more. After that, they can deposit a minimum of between $100 to $250 (based on their preferred method) per transaction.
Deposit Methods & Costs
The three options are bank transfer, credit or debit card, and Dotpay. Bank wires have a minimum of $250 in a single transfer, while each of the debit or credit card and Dotpay transactions must be $100 or more. There is no maximum, apart from a $10,000 cap on debit/credit cards. Perhaps most importantly, there are no fees on any transfers, both deposits, and withdrawals.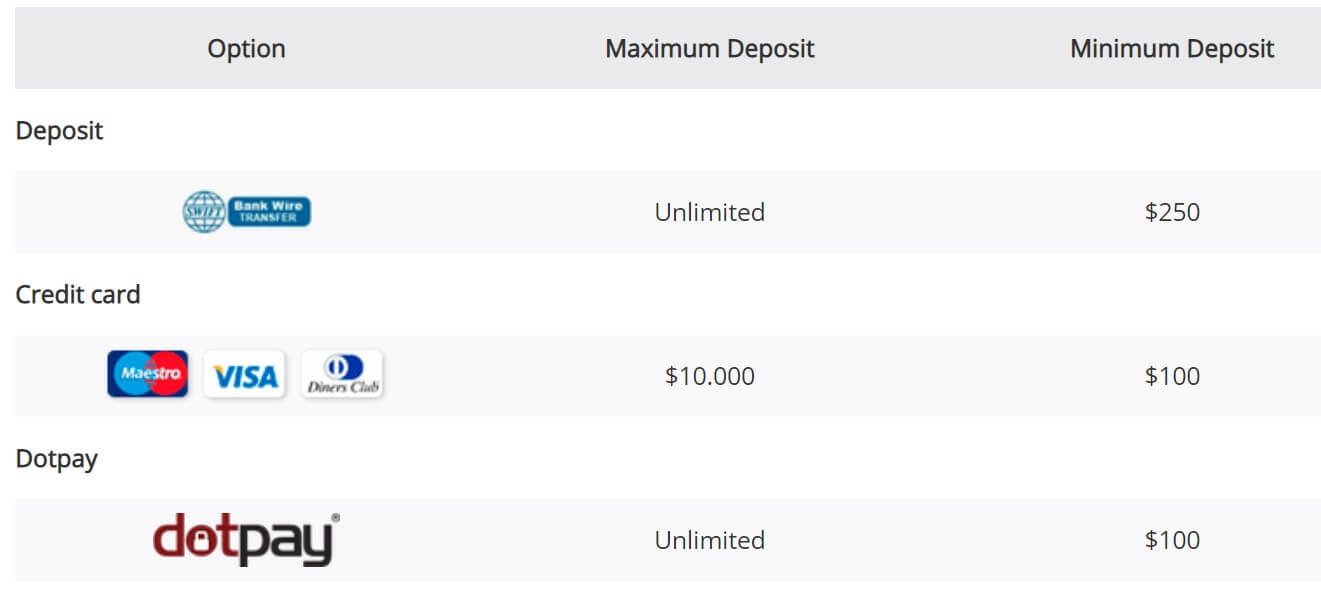 Withdrawal Methods & Costs
Traders can only withdraw money through a bank wire transfer. The same $250 minimum applies to outbound transfers.
Withdrawal Processing & Wait Time
Unfortunately, no information about transaction times is available on the website. This applies to both withdrawals and deposits. In most cases across the industry, debit and credit card transactions, as well as electronic payments, are transferred instantly or on the same day. Bank wires, on the other hand, may take between 1 to 3 days or more. However, interested traders should inquire about this by contacting the broker due to the lack of details online.
Bonuses & Promotions
xPartners has a 'Tied Agent' promotion that is available to traders in the EU. More specifically, the Tied Agent program is tailored towards investment advisors and firms that manage money on behalf of their clients. As a Tied Agent, your role is to refer potential account holders to xPartners and help them get registered. After that, Tied Agents would make trades and execute orders through this broker. The purpose of the promotion is to enable traders to offer the same competitive features and services that xPartners has.

In turn, a Tied Agent's clients will access the fast order processing timeframes, different trading tools, and advanced charting features that both the broker and MT5 provide. Meanwhile, the Tied Agents, themselves, will receive support 24 hours a day and they may utilize the in-depth analytical content that xPartners's experts prepare.
Educational & Trading Tools
Under each asset class page, xPartners's website provides introductory guidelines about how these financial instruments are exchanged and the available tools that enable you to enjoy an efficient trading experience through this broker. Equally as important, xPartners offers tutorial webinars that cover essential aspects that traders need to master, regardless of their level of experience. The webinars go over psychological management, price analysis techniques, the best ways to read technical signals, and more. Traders who are interested in these webinars or would like to get additional information are encouraged by xPartners to contact customer service.
Customer Service
This broker's team can be reached via phone calls, emails, and live chat.
Phone: +357 2505 5701 (general inquiries) and +357 25056498 (webinars and tutorials).
Email: info@xpartners.com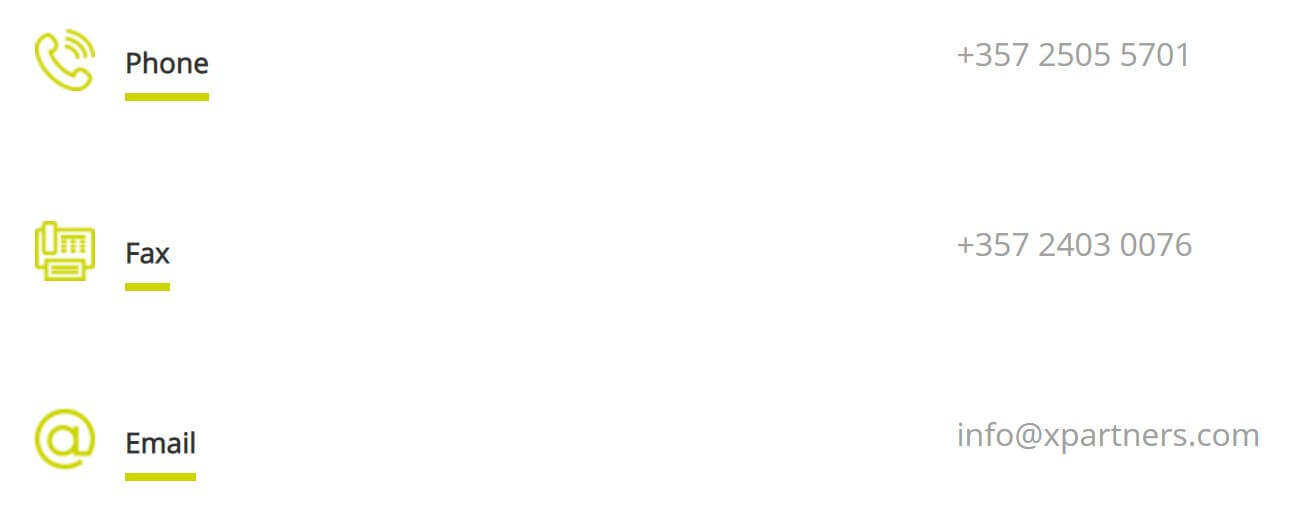 Demo Account
A demo account is essentially a portfolio with fake/paper money. It has access to the exact same forex pairs, financial instruments, trading conditions, and quotes that traders work within a live environment. The purpose of the demo is to allow you time to prepare yourself for trading actual funds. This can be done in one of two or three ways. First, any beginner who never participated in the markets should define their strategy and try different approaches to the demo. After that, they become well-prepared to exchange and risk their real money.
Second, many account holders, whether they are beginners or experienced ones, may have never traded certain instruments (such as CFDs) in the past. Again, the demo is there to help them learn about these markets and assets without the hassle of putting actual funds on the line. Third, some traders may not be familiar with MT5, especially if they are used to the platform's older version, MetaTrader 4 (MT4). Because of this, you can open a demo directly through MT5 and familiarize yourself with its tools and order types before you actually start trading.
Countries Accepted
xPartners is registered with Cyprus's regulatory authorities and they offer services to traders in other EU states. No geographical limitations are listed on the broker's website. In fact, even the United States, which normally restricts trading CFDs and other financial assets, is listed as an option on the account registration form. However, if your country is not specifically mentioned on xPartners's website, you should contact customer service and ensure that their services are available in your location.
Conclusion
First of all, the fact that xPartners utilizes the MT5 platform, in itself, makes this broker good enough to many traders. Even though the initial deposit must be made through a bank wire transfer, the $250 minimum is relatively small and allows many traders to easily access xPartners' features. Apart from that, transfers (not including the first deposit), can be made through 1 of 3 methods. Perhaps more importantly, this broker doesn't charge any fees, whether you transfer money in or out of your account. However, you can only withdraw funds through a wire transfer and no information is available about how long it takes to process transactions.
Account-holders may pick between over 60 forex pairs to trade, including both majors and exotics. Additionally, xPartners has a competitive selection of 25 commodities, 15 indices, and shares of companies that are exchanged in the American, Asian, and European markets. The trading conditions, though, are a two-sided sword. Firstly, this broker's spreads start from 3 pips, which is undesirable and larger than the bid/ask gap that most of their competitors offer. Yet, some traders are willing to overlook that because, more likely than not, xPartners doesn't charge any commissions.

The leverage is very small and the maximum buying power is only 30:1. Professional and experienced traders could request more leverage, up to 100:1, but this is a minimal number since many other brokerage firms will give you a maximum of 500:1. Nonetheless, trade sizes are relatively flexible on xPartners and account holders only get a notification at the margin call level. Most of the time, brokers may close some or all of your trades when it falls below the margin requirement.
xPartners offers diversely educated and trading tools, such as webinars that all types of traders can appreciate. The tutorials cove risk management, psychological discipline, and other in-depth aspects that will help you achieve a successful and profitable trading experience. Lastly, this broker's Tied Agent promotion allows money managers to offer both MT5 and xPartners's tools and features to their own clients. Additionally, Tied Agents make commission profits when they trade through their clients' accounts.
Do the pros outweigh the cons? At the end of the day, that's for you to decide.