If you are looking to trade without having to deal with solicitors or endless sales emails, AM Broker may be the right firm for you. While they have been in business for about 10 years, this brokerage company recently started to focus on catering to the modern trader's needs. In other words, AM Broker prioritizes technology, innovation, and easy online tools that enable you to transfer money, place orders, and manage your account through only making a few clicks. In this article, we will cover all of the competitive and advantageous features that AM Broker has. This includes the different account types, various promotions, in-depth educational content, and more. Read this article to find out if AM Broker can suite your needs and whether or not it's available in your country.
Account Types
AM Broker has 3 types of accounts. Traders also have the option of adding Islamic features to their account, regardless of which of the three types they choose. Users should keep in mind, though, that AM Broker will close their account if their account balance remains at $0 for a period of 30 days or longer. In other words, this broker is more suitable for active traders who consistently engage in buying or selling multiple contracts per day.
Retail:
Minimum Deposit: $100
Spreads: From 0.6 pips
Commission: None
Professional:
Minimum Deposit: $1,000
Spreads: From 0 pips
Commission: $7 per lot
Institutional:
Minimum Deposit: $100,000
Spreads: NA
Commission: NA

The spreads, commissions, and minimum deposits are outlined for the Retail and Professional Account. AM Broker's Institutional Account, however, doesn't have any rules or established trading conditions. Instead, they negotiate the leverage, margin call, assets, spreads, commissions, and other details on a one-on-one basis with traders. In many ways, brokerage firms do this so that they can customize their account holders' portfolio features. For example, traders whose strategy revolves around utilizing buying power are mostly concerned about the spread (the difference between the bid/ask prices), especially because of the large amount of capital they exchange.

Those who rely on automated/high-frequency trading robots, on the other hand, prefer to avoid commissions. Just as importantly, the broker may want to assess the experience and risk-averseness of traders who apply for an Institutional Account. Giving a volatile or beginner a large amount of buying power can wipe out their entire balance if the market goes against them, especially when they already have the $100,000 or more needed to open an Institutional Account.
Platforms
MetaTrader 5 (MT5) is one of the most popular and sophisticated platforms in the world. It is utilized by day/swing traders and long-term investors, alike. Moreover, MT5 offers industry-leading fundamental and technical analysis tools. Users can access an economic calendar, aggregated live news feeds, and reports from global sources, alongside other fundamental instruments. As far as technical analysis is concerned, MT5 will let you monitor 100 different charts at once.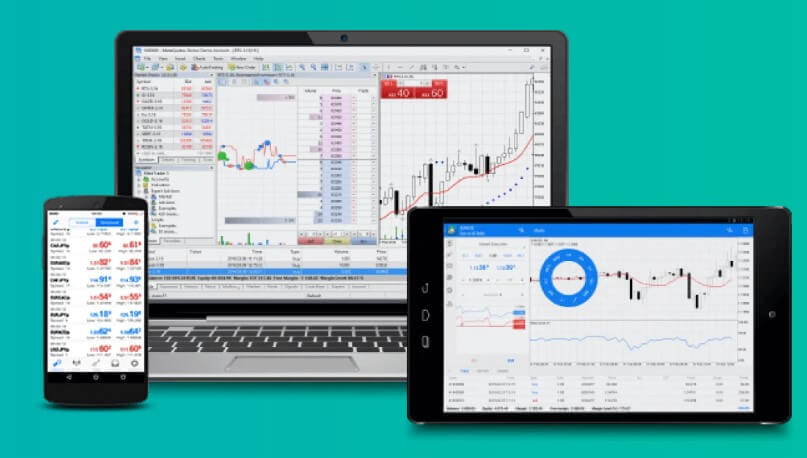 Traders can choose between 21 timeframes to view (such as 4H, 1H, 30M, …etc.) and 80 technical indicators to examine. Moreover, you can program your own trading algorithm that automatically buys/sells a forex pair if it meets your pre-established conditions. Perhaps most importantly, traders can access MT5 on their Windows desktops, Macbooks, iPhones, and/or Android smartphones. You manage your account (including opening or closing positions) on any device and from almost all parts of the world, regardless of your location.
Leverage
AM Broker's leverage depends on the account type, the default currency, the size of the currently open positions, and the traded asset. For instance, an account holder whose current trades (including the leverage) is worth the equivalent $7.5 million or less can enjoy the maximum access to buying power (500:1). The 7 major forex pairs on AM Broker enjoy the largest amount of leverage. They are AUD.USD (Australian Dollar), EUR.USD, NZD.USD (New Zealand Dollar), and the USD against each of the British Pound, Canadian Dollar, Japanese Yen, and Swiss Franc.

If a trader's currently open positions exceed $7.5 million (or the equivalent in euros), the leverage declines to 200:1. It goes down again at $10 million and $12.5 million to 1:50 and 1:10, respectively. Other instruments, namely the CFD contracts of stocks, indexes, and commodities have more restricted leverage because these assets' prices tend to move much faster than forex pairs. Lastly, Retail and Professional account types both enjoy up to 500:1. Yet, the buying power of the Institutional may depend on the trader's strategy and balance.

Trade Sizes
You can open positions that are as small as a micro lot (0.01 lots or 1,000 in the base currency). In fact, the volume on each of the three account types can be adjusted to include a minimum of either a micro lot or a mini lot (0.1 lots or 10,000 in the base currency). AM Broker's standard lot is 100,000 of the base currency, which is in line with the larger industry's trade sizes.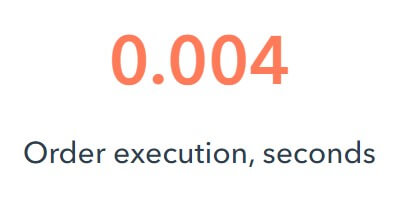 Moreover, even though AM Broker sets a maximum amount of lots per position, users of all three account types can buy/sell as many contracts as they like by breaking up each trade in smaller portions. For example, you want to trade 30 EUR.USD lots but the maximum is 10 per position. You can still open 3 different positions, with each of them being 10 lots in size, in order to exchange 30 lots.
Margin Call: NA
Stop-Out: 50% (Retail and Professional Account), undisclosed (Institutional Account)
AM Broker's website doesn't mention anything about margin calls. In certain cases, firms may only have a stop-out level and not include a margin call. Nevertheless, account holders' margin requirements on AM Broker are directly related to the leverage (which varies across different currencies and other assets). You have the option of adjusting your leverage and buying power directly from the user dashboard.

If your account reaches 50% of the margin requirement, it hits the stop-out level. In those cases, AM Broker would close the largest losing trade(s) and bring back the balance to above 50% the margin requirement. Many traders prefer this approach to overseeing their entire positions closed out, which is what most brokers do at the stop-out level.
Trading Costs
There are three main fees that traders typically incur: Spreads, interest (on overnight positions), and commissions. Spreads (the difference between the bid and ask prices) are 0 pips if you open a Professional Account. Yet, this may only be the case when it comes to major forex pairs. The Retail Account, on the other hand, starts at a 0.6 pip spread. This varies from one currency to another, but the spreads are directly tied to the actual market quotes and are not fixed. A list of the live bid/ask rates can be observed on AM Broker's website. As mentioned earlier, the spreads, commissions, and swap fees that the Institutional Account pays are negotiated with traders on an individual basis.

Those who open an Islamic Account don't incur the swap fee when they keep a position open overnight. This is because certain religious beliefs prohibit engaging in interest-rate related activities. If you plan on utilizing the Islamic features, bear in mind that you may still incur a fixed, non-interest fee. Otherwise, the three account types require you to pay an interest overnight. The amount depends on the economic conditions and central banking policies of the currency that you are trading. Just as importantly, swaps are not charged over the weekend. Instead, these fees are tripled on Wednesdays to account for Saturday and Sunday's swap costs.
The Retail Account doesn't incur any commissions on trades. This applies to forex pairs, indices, and commodities. However, the Retail will charge you $0.01 per share when you trade a stock CFD contract. The Professional Account, on the other hand, has to pay $7 on every forex or commodity CFD lot that they trade (keep in mind that the standard lot size of different assets is not the same as forex pairs). Moreover, the Professional comes with a $3 fee per traded index contract. Only the Retail Account has access to stocks.
Assets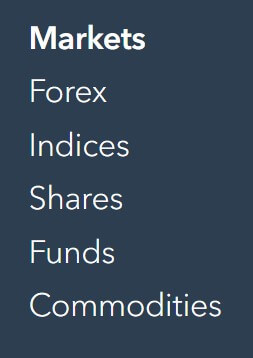 You can trade forex pairs, commodities, market indices, shares, and ETFs through AM Broker. For that matter, this firm provides you with almost 100 different currencies. In most cases, brokers will offer around 40 pairs or, if they're more competitive, up to 80. To put it shortly, AM Broker's 100-currency list is incredibly advantageous. Meanwhile, account holders can also buy/sell different types of commodities, including precious metals (gold and silver) and energies (Crude and Brent oil). The indices include each of the three major U.S indexes (the Dow, S&P 500, and Nasdaq), as well as those of European markets (like the UK's FTSE 100 and Germany's DAX 30).
Similarly, you can also trade ETFs that track market indices or commodities. Perhaps most noteworthy, AM Broker will give you access to the stocks of almost 300 different companies that are traded in markets from around the world. ETFs, shares, commodities, and indexes are exchanged as CFD contracts. All account types have access to these commodities and indices (alongside, of course, the available forex instruments). However, you may only trade shares or ETFs through a Retail Account. Professional, on the other hand, doesn't entail these instruments. When it comes to Institutional, the accessible assets are not stated on AM Broker's website. Just as with other features, the firm will negotiate this on a one-on-one basis with its clients.
Spreads
All traders must remember that different currencies and assets have their own spreads. Having said that, some brokerage firms may offer a fixed, non-changing spread while others have a variable one that is tied to the live market prices. AM Broker doesn't charge the Professional Account any spreads, but Retail seems to have a floating rate that starts at 0.6 pips. However, the actual market prices may be higher and lower than that during volatile and stable conditions, respectively.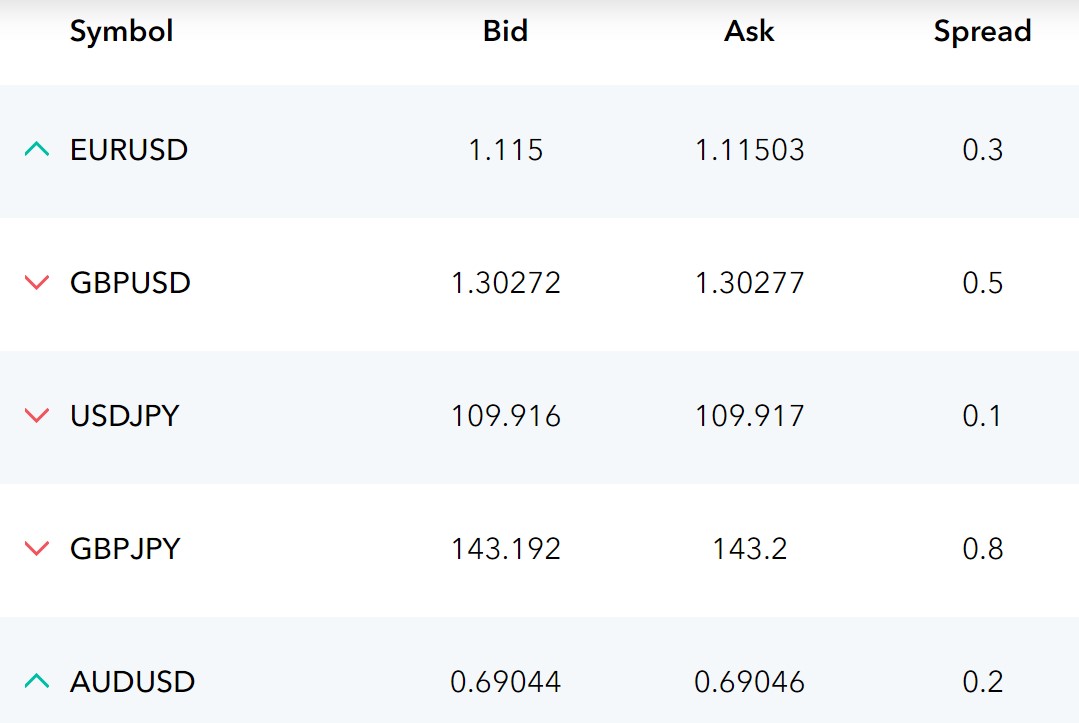 Minimum Deposit
Traders must fund their account with at least $100 for the Retail Account, $1,000 for Professional, and $100,000 for Institutional. Apart from that, AM Broker doesn't specify a minimum or maximum size per deposit.
Deposit Methods & Costs
To access your deposit options, traders must go to their account dashboard after signing up. AM Broker's website doesn't include any information about transfer fees or methods, apart from the fact that they accept bank wires.

Withdrawal Methods & Costs
No withdrawal methods or fees are mentioned, either. However, AM Broker seems to prefer that traders use the same method to withdraw money as they did to deposit it. While costs are unspecified, users who transfer funds in a different currency than their account's default one will have their money converted at the current market prices. For example, a trader from Japan with a USD-based account will have their Japanese Yen converted to the US Dollar upon depositing and withdrawing their capital.
Withdrawal Processing & Wait Time
AM Broker's website doesn't state how long it takes for withdrawals to go through. However, they do note that transfers may be held for up to 5 days when there are missing or unverified documents about the account holder.
Bonuses & Promotions
We found that AM Broker has some of the best bonuses and promotions on the market. First, if you're not a frequent trader and regularly leave your funds inactive, AM Broker will re-invest that money on your behalf. In fact, they even guarantee that each trader gets a 12% annual return from these passive investments. Additionally, they will give you a 25% bonus when you first open an account.

When it comes to partnership opportunities, AM Broker has a variety of offerings that suit different types of traders. The notable ones include an introducing brokers promotion (where you earn money for referring other traders to the firm), employment as a local representative, and franchising opportunities. Last, but certainly not least, you can earn up to $2,200 (2,000 euros) per client through AM Broker's affiliate marketing program.

Educational & Trading Tools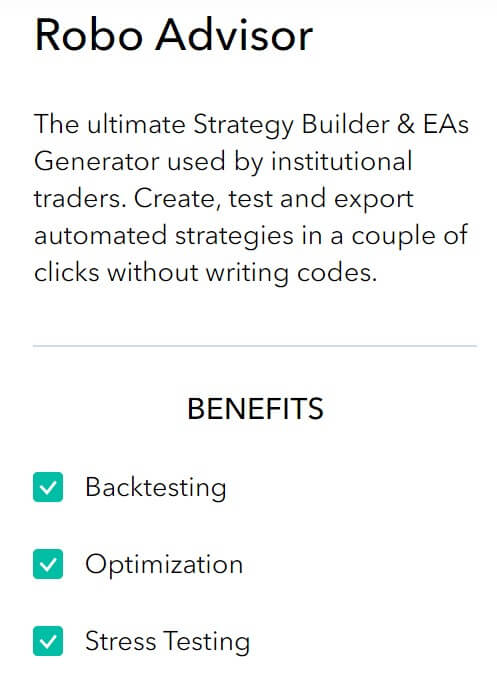 This broker will soon start offering online courses and video seminars. In the meantime, whether you have the Professional, Retail, or Institutional type, your portfolio comes with a Professional Account Manager that provides you with one-on-one training sessions. They also help traders understand how to use and take advantage of the different tools on the MT5 platform.
When it comes to their resources, AM Broker offers an economic calendar, technical analysis signals, research reports, and a blog. Moreover, they also have a competitive and advantageous robo-trading tool. To be specific, traders can create their own automated trading algorithms without learning how to code. Instead, the firm's software will do that for you, while also providing account holders with room to test their formula and make adjustments.
Customer Service
AM Broker is headquartered in the UK, but they also have two physical locations in Kingstown, the capital of the Caribbean island country of St. Vincent and the Grenadines. Their email address and phone number are universal. Traders from all over the world can use them to contact customer support.
Phone: +44 2036704699
Email: [email protected]

Demo Account
Before putting their real money at risk, beginners and traders who are unfamiliar with MT5 can open a demo account. It gives them the time and space that they need for trial-and-error and testing out different techniques. While the demo's initial capital is $10,000, traders can easily and instantaneously increase their account's paper money online. Similarly, the demo is only valid for 30 days, but you can extend that period and use your paper account for a longer amount of time.


Countries Accepted
Strangely enough, even though AM Broker is headquartered in London, the firm's services are not available to traders in the UK. In addition, those who live in Australia, Canada, the EU, Japan, Turkey, and the United States can't open an account. Mainly, this is because of local restrictions on trading certain assets and registration requirements.
Conclusion
Certainly, the pros of AM Broker's features far outweigh the cons. First, their three different account types all have competitive and lucrative tools. For a start, their spreads are incredibly low or nonexistent. While the brokerage industry's spreads tend to range between 1 and 3 pips, AM Broker doesn't charge these fees unless you have a Retail Account. Even if you do open one, its spreads start at a really low rate of 0.6 or, at times, even less than that.
Their bonuses and promotions aren't only diverse, but they are highly lucrative and more generous than what the rest of the industry has to offer. After all, not many firms can compete with a 25% bonus upon opening an account.
Their assets and trading tools are also various, especially because AM Broker will let you trade up to 100 different forex pairs. However, their commissions and lack of clarity about deposits/withdrawals are the only downsides to going through this broker. If you plan on regularly transferring money in or out of the account, we recommend contacting customer service to inquire about transaction fees and processing times.
Apart from that, there are many other features that users from all over the world can appreciate. Yet, AM Broker is not available in several countries and areas, including the US, UK, and Europe. If you don't live in these locations, though, this firm's offering and features may be more than worth it.