WorldFXM is a forex broker based in the Marshall Islands, they do not give a lot of information about themselves away, they offer technical support and consultation as well as creating an easy to use withdrawal process. These are all things that we would expect anyway but throughout this review, we will be looking deeper into the services being offered so you can decide if they are the right broker for you.
Account Types
There are three different accounts on offer with each one having its own entry requirements as well as its own trading conditions, so let's see what they are.
Silver Account: A minimum deposit amount of $1,000 is required to open this account. It has a choice of fixed or variable spreads and is eligible for a bonus of up to 30%. It has flexible leverage and has support for margin calls, it is also entitled to a free VPN (we will look at that later in this review).
Gold Account: The Gold account requires a minimum deposit of $2,500. It comes with a choice of fixed or variable spreads, eligible for a 30% bonus and supports margin calls, there is flexible leverage up to 1:400 and it has access to a VPN at minimum charges.
Platinum Account: This top-tier account requires a minimum deposit of $25,000. It has a choice of fixed or variable spreads and has improved attractive spreads, it can have trader rebates (on request) and has flexible leverage, the account is also eligible for a bonus up to 50%.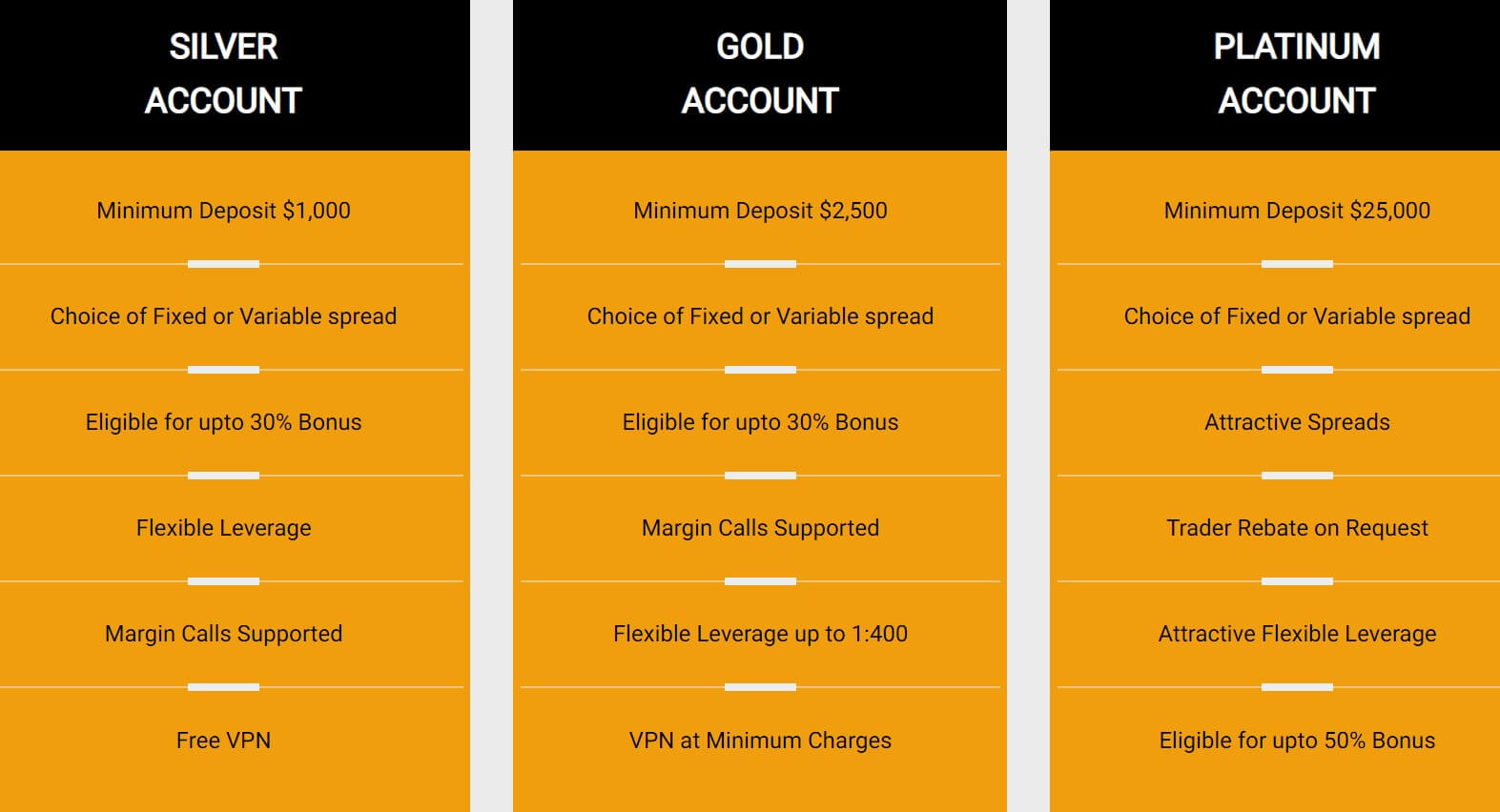 Platforms
There is a selection of different trading platforms on offer, we will outline them below so you can better understand what they offer.
MetaTrader 4: One of the world's most popular trading platforms and for good reason.
SIRIX Crypto: SIRIX Crypto will allow any business to add or even start their operations with Cryptocurrency trading.
Social Trading: WorldFxm offers investors a way to copy the trades of other successful traders from their community of traders.
ACTIV8: Activ8, or "Activ8" as it is popularly known, is a powerful platform that includes everything a Forex trader needs, no matter whether a beginner or a pro.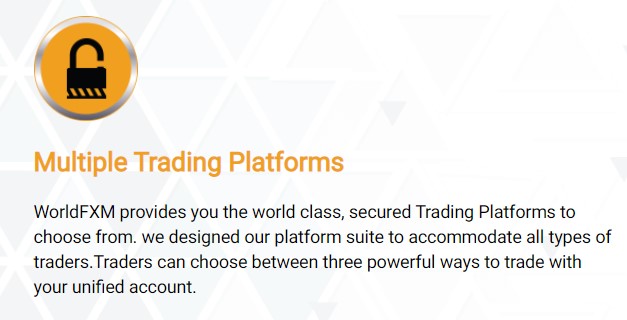 Leverage
The maximum leverage available is 1:400 which is stated on the accounts comparison page, it states that the leverage is flexible, this normally means that it changes based on the trading volume, the bigger the volume the lower the leverage will be however this information is not clear and so we cannot say for sure.
Trading Costs
It is unknown what the trading costs actually are, there is no mention of any commissions so it does not seem like there will be anything. The only thing that we are sure about is that swap charges are present, these are interest charges that are incurred for holding trades overnight, they can be both negative or positive and can usually be viewed from within the trading platform of choice.
Assets
There is not a full breakdown or list of assets anywhere on the site, we do not know what is available apart from a few small sentences saying how there are 65 currencies and 33 CFD products, which ones they are we do not know. This information is normally vital as a lot of potential clients will be looking at what is available to trade so they can decide if this is the right broker.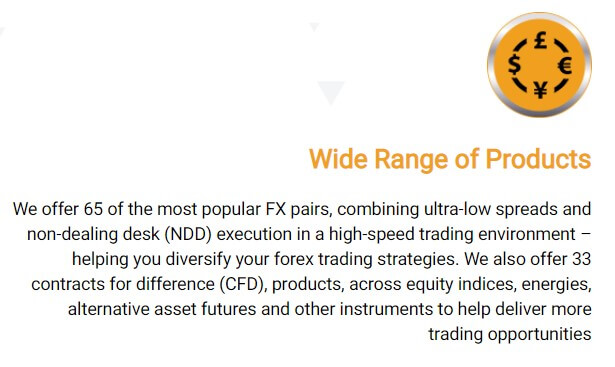 Spreads
Spreads are not mentioned don the site anywhere apart from the accounts comparison page where it simply states "Attractive Spreads" which in the real world, doesn't really mean anything. What we do know is that there is a choice of either fixed or variable spreads, fixed spreads mean they remain the same no matter what is happening in the markets, variable spreads mean that when the markets are being volatile, the spreads will often be seen higher.
It is also important to note that different instruments and assets have different starting spreads, so while EURUSD may start at 3.3 pips, other assets like GBPJPY may start slightly higher.
Minimum Deposit
The minimum amount required to open an account is $1,000, this will get you the Silver account, to get a different account you will need to deposit at least $2,500. There is no mention of the minimum amount decreasing after an account is open but we suspect that it does.
Deposit Methods & Costs
There are a few different methods available for depositing, you can use Visa Credit / Debit card, MasterCard Credit or Debit card, MegaTransfer (credit cards) and Bank Wire Transfers. There does not appear to be any deposit fees, however, be sure to check with your bank or card issuer to see if they add any fees of their own.

Withdrawal Methods & Costs
It seems that the same methods are available to withdraw with, for clarification these are
There are a few different methods available for depositing, you can use Visa Credit / Debit card, MasterCard Credit / Debit card, MegaTransfer (credit cards) and Bank Wire Transfers. There is no indication of fees but also no indication that there aren't any, at any rate, we would recommend checking with your bank or card issuer to see if they add any fees of their own.
Withdrawal Processing & Wait Time
Processing time depends on the method you are using, WorldFXM states on their site that Visa, MasterCard, and MegaTransfer withdrawals are instant, but it seems like the page may actually be referring to deposits. At any rate, we would expect there to be a processing time of between 1 to 5 working days for all available methods.
Bonuses & Promotions
There is a bonus mentioned in the accounts page that each account type is eligible for, however, no further information on the website, we managed to go through the terms and conditions to find some information though. You can receive a bonus of up to 50% of your deposit, the bonus amount cannot be used for withdrawals until the end of Term or Period. The length of a Term or Period varies from asset to asset; please check our website www.worldfxm.com for more details.
Educational & Trading Tools
There are a few basic educational and trading tools available on the site, there is something called MArket Signals. However, the information on the page is quite basic, it doesn't actually give any examples of the signals so we cannot gauge their accuracy or profitability. There is a page on fundamental analysis and technical analysis, however, both pages are just a single page of information about the topics, not real,y anything helpful to a trader.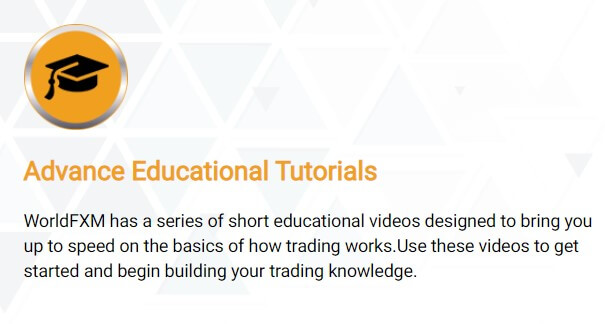 Customer Service
Should you need to get in contact with WorldFXM you can do so using an online submissions form, fill in your query and you should get a reply via email, you can also use the support email that is provided or the phone number should you wish to speak to someone directly. The support page does not state the opening times of support but we would expect them to be closed over the weekends and on bank holidays just like the markets are.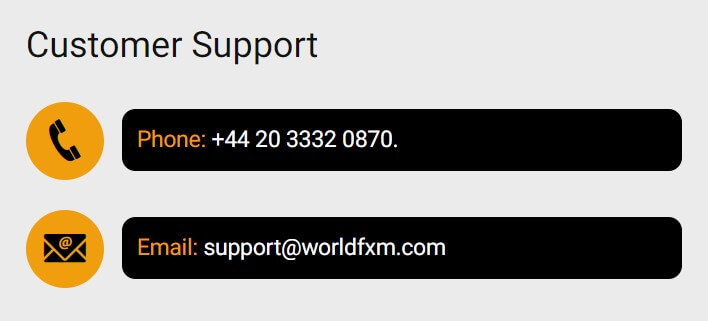 Demo Account
Demo accounts or practice accounts as they are known on WorldFXM are available to use, you can sign up using a simple form, you can select which account type you want to mimic as well as which trading platform you want to use. There isn't any more information though such as how long they last and if there is an expiration timer. Demo accounts are a good way for new clients to test out the markets and for existing clients to test out new strategies without risking any of their capital.
Countries Accepted
The following statement is present on the website:
"This information is intended for investors outside the United States who are not the US/Japanese citizens and residents. This website is intended for informational purposes only. This website is not directed at any jurisdiction and is not intended for any use that would be contrary to local law or regulation. The products described on this are not offered and may not be sold in the United States/Japan or to US/Japanese citizens and residents. The products described on "www.worldfxm.com" are not offered and may not be sold for Austrian citizens and residents."
If you are unsure of your eligibility we would suggest getting in contact with the customer service team to check prior to signing up.
Conclusion
We started out very positive, there was plenty of information on the accounts and the trading platforms. Unfortunately, the more we looked into it, the more the gaps became apparent. There is little info on trading conditions such as commissions or spreads and even less on the available assets, potential traders will look at this and run a mile, not knowing what they can trade or how much it will cost is a bit turn off. The deposit and withdrawal methods were stated, but not the costs which his another bit of vital information. The bonus on offer is very expensive, making it very hard to get the bonus funds to convert into real funds. For the reasons mentioned above, it is hard for us to recommend WorldFXM as a broker to use at this point in time.