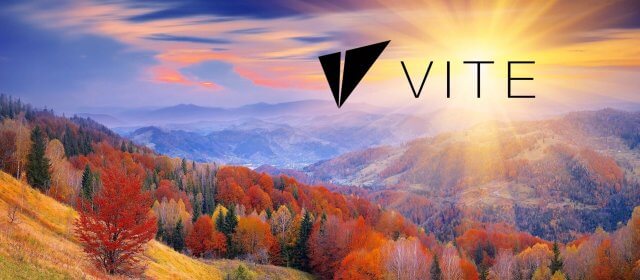 Ethereum introduced smart contracts, and 5 years on, it's still the premier destination for many developers. This is because the network still wields a lot of clout as the pioneer of the technology. However, the Ethereum network is far from perfect, and it faces some challenges like lack of scalability and higher fees that make things hard for developers. 
Countless crypto projects that aim to provide the same services as Ethereum have surfaced. Many, if not all, claim to fix Ethereum's mistakes. One of the latest is called Vite, a project that utilizes a Directed Acyclic Graph (DAG) to confront the problems faced by traditional blockchains. 
This article will look at the Vite platform and what it's really all about. We'll also discuss where you can purchase the VITE token. 
Breaking Down Vite
Vite is a Directed Acyclic Graph smart contracts' platform complete with a Snapshot Chain structure to facilitate free transactions and optimize speed, reliability, and security. The Snapchain uses a Delegated Proof of Stake (HDPoS) for network consensus, with supernodes getting rewarded with staking rewards but no transaction fees. 
Vite's virtual machine is compatible with EVM and uses the Solidity ++ programming language. The network's native token, VITE, facilitates simple token transactions and smart-contract executions. Instead of gas, users stake in the token to get 'transaction quota,' allowing them to carry out transactions. Stakers with unused quotas can lease it to decentralized apps and get tokens in return. The token is also used to vote for block producers. 
Products by Vite 
Vite has rolled out several products, with the most significant ones being a decentralized exchange (ViteX), a payments platform (VitePay), and a platform for blockchain applications (VitePlus). Let's look at each more closely: 
ViteX: a decentralized exchange (DEX) with an on-chain order book and matching tool. ViteX currently supports over 20 crypto assets, including the most popular ones like Bitcoin and Ethereum.
VitePay: a fast and zero-fee payment solution. Users will pay for products and services via the Vite wallet, while merchants receive payment nearly instantly and with zero fees. VitePay is integrated with the e-commerce platform OpenCart, and you can use it at the official Vite store.
VitePlus: an enterprise blockchain solution for institutional entities. For instance, Vite has created an app known as SyraCoin that rewards city housing fund donors with blockchain-based coupons redeemable for various products/services.
Vite's Decentralized Exchange (DEX) 
Vite's decentralized exchange (Vite DEX) is a digital assets trading platform that features the following characteristics: 
#1. True decentralization and high security
Vite's decentralized exchange realizes transaction matching through blockchain-based smart contracts. Users are in charge of their private keys and hence funds. 
#2. High performance, better trading experience
Vite powers an environment for high transaction throughput with near-instantaneous confirmations and zero transaction fees.
#3. Dividend earnings
ViteX provides many ways to acquire coins, including trading, staking, and listing.
#4. Transparency
Everything is done transparently, from the creation of a token gateway to order book info to token forging.
Community Strategies of Vite
The Vite team will implement several growth strategies, including the following: 
Adding more exchange operators to the platform who will autonomously list coins and contribute to the growth of the Vite community

Integrate more chains into the Vite wallet

Attract non-crypto users after deploying VitePlus

Maintain an active online and offline engagement with the community

Conduct monthly AMAs for both the technical and non-technical audience
Future strategies include: 
Get into commercial partnerships with more crypto-fiat payment processors

Deploy a one-step DEX technology that will allow people to create their own decentralized exchanges

Attracts more customers by launching more DeFi applications on Vite Wallet. This will provide users with more opportunities to borrow and lend crypto both within and outside the Vite network

Launch an Ecosystem Incentive Program that will support developer projects

Update the developer toolkit and host both physical and virtual developer conferences

Begin a blockchain debate podcast to spread the word on Vite and blockchain in general
Token Supply Distribution
The Vite token was distributed in the following manner: 
Private sale tokens: 40.43%

Marketing tokens: 10%

Ecosystem development tokens: 23.5 7%

Team tokens: 20%

Airdrop tokens: 5%

Advisor tokens: 1%
Vite Token Tokenomics
As of October 22, the VITE token traded at $0.018118, with a market cap of $8,554,358 that placed it at #567 in the market. Its 24-hour volume is $479,370, while its circulating and total supply is 472,148,102 and 1,004,719,212. VITE's all-time high was $0.0114875 (July 18, 2018), while its all-time low is $0.005328 (March 13, 2020). 
Where to Buy and Store VITE
You can purchase VITE token from any of several reputable exchanges, including Binance, OKEx, HotBit, Bittrex, Bilaxy, and of course, ViteX. The token is listed as a market pair of USDT, BTC, ETH,
Vite provides their official wallet – a decentralized, multi-token wallet available for iOS, Android, Web, Mac, and Windows.