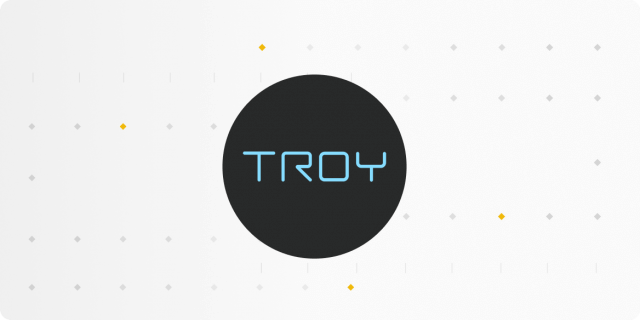 With decentralized finance edging closer to the mainstream every day, all manner of DeFi products have been launched to cater to a fast-growing user base. You can now carry out your usual trades and a raft of other activities in a decentralized, secure, and borderless environment powered by the blockchain. 
Troy, launched in 2018, is one such platform. Troy claims to "redefine trading beyond exchange," signaling to the many possibilities it avails to users. Troy incorporates modern technology like artificial intelligence to achieve safe and frictionless interactions with its products. The Troy platform currently runs on Ethereum but plans to switch to its mainnet in December 2020. 
This article is a deeper dive into the Troy ecosystem. 
Breaking Down Troy 
Troy is a full-stack, blockchain-powered environment for financial and brokerage services. Both individual and institutional traders can access a raft of services such as spot and margin trading, derivatives, lending, borrowing, and staking. Troy wants to achieve this main objective: provide users with decentralized, diversified, and affordable brokerage services for people of all regulatory backgrounds and financial habits.
Some of the project's highlights include: 
Aggregated trading: Troy offers users direct access to the aggregated liquidity of multiple exchanges. Some of the functions on offer include dark pools, assignment services, and smart order routing. 

Data analytics: Troy helps customers make informed trading decisions by providing them with blockchain, trading, market, and media data. This data is optimized by artificial intelligence and quantitative models. 

Diversified brokerage services: Users can access a range of brokerage services from real-time fund transfer to settlement to OTC trading

Broad range asset management solutions: Troy users have access to a full-stack solution complete with straight-through processing, historical data, and a strategy assessment tool
Troy: Architecture
The Troy network is divided into smaller core subsystems, with each running independently of the other but all interoperable. Some of the core subsystems include, but are not limited to: user subsystem, market subsystem, trade subsystem, management subsystem, and gateway subsystem.
The trade subsystem is the most important of the subsystems, hosting the order transaction module,  scheduled scheduling module, etc. Users can create new trading accounts on the platform and immediately get to depositing, withdrawing, and sending and receiving crypto assets. They can also link existing trading accounts on various crypto exchanges to the Troy protocol through the use of application programming interfaces (APIs). 
You can also authorize other users to trade using your account and generally manage your account using the risk management module. Troy's trading interface also allows you to move seamlessly between accounts and carry out cross-exchange trades. 
The platform's data monitoring interface allows you to keep tabs with real-time market movements and utilize the mainstream trading execution algorithm to make better trades. And lastly, the data analysis module allows you to access real-time data from the most popular exchanges, as well as spot and margin trading data. 
Community Growth Strategies of Troy
The Troy team will deploy several strategies to expand the project's growth and recruit more members into its fold. The Troy community is made of these participants:
Crypto investors, which are the main user base of Troy

Stakers and relayers: Network participants who update and record orders on the blockchain

Exchanges: These are liquidity and custodial service providers

Ecological partners: These are projects both in the blockchain and traditional finance space which contribute to the Troy ecosystem one way  or another
Troy will engage with these community groups in the following ways: 
Partner with programs such as the Global Financial Partnership Program to help expand global reach

Expand user base through programs like the Troy Token Challenge and the Troy Hercules Ambassador Program

Offer users incentives like mining rewards, staking rewards, etc. to attract more users
Future strategies include the following: 
Partner with product-oriented platforms such as quantity providers, wallets, and exchanges 

Open access for more Fiat channels such as JPY, EUR, USD, etc
The Troy Token
The native token of the Troy network is stylized as TROY. The token has these use cases: 
As a means of access to various Troy services 

As a deflationary mechanism: the Troy token will be occasionally burnt to rebalance supply and demand

As gas fees for interacting with the protocol

As fees for various functions, like trading and settlement

As an incentive mechanism for brokers for their contribution in maintaining the platform

As an incentive mechanism for relayer nodes to update, broadcast and  synchronize orders in a timely and accurate manner

As a staking mechanism for brokers to maintain global networks
Token Distribution
The Troy token was distributed in this fashion: 
Private sale tokens: 12%

Binance launchpad sale tokens: 8%

Team and advisors' tokens: 10%

Ecosystem tokens: 10%

Mining rewards tokens: 60%
As of 27th October 2020, the TROY token traded at $0.002708, with a market cap of $24,854,424 that placed it at #293. The token had a 24-hour volume of $828,108, with a circulating and total supply of $9, 176,552, and 10 billion, respectively. TROY's highest-ever price was $0.010834 (Dec 06, 2019), while its lowest-ever was $0.001330 (Mar 16, 2020). 
Where to Buy and Store TROY
TROY token is listed as a market pair of BNB, USDT, BNB, and KRW on exchanges such as Bilaxy, Binance, Binance DEX, XTheta Global, Bitribe, and HBTC. 
Troy is an ERC-20 token, meaning you can store it in any Ethereum-compatible wallet. Great choices include MyEtherWallet, MetaMask,  Ledger, Parity, Guarda, Atomic Wallet, Coinomi, and Trust Wallet.