The Expert Advisor Turbina was launched on the mql5 website in May of 2017 and developed by Evgeniy Zhdan, who has published more than 120 products on the site. Version 1.6 of the product was released in April of 2019 and is the most recent update.
Overview
Turbina is an automated trading robot that determines the trend direction (based on the GoldenCoast indicator's algorithm) and calculates levels for opposite orders based on adjustable settings. The EA operates on the established idea that any trend will be broken in the Forex market. Parameters cover TP in pips, order risk, multiplier, step, slippage, magic number, and some display settings that do not affect the way the EA works.
The author doesn't spend much time describing his product and asks traders to examine screenshots for more information. After reading through the comments section, we did learn that the indicator works with any currency pair or timeframe, on the MT4 platform. We're assuming that Turbina works with any broker, as the author does not outline any guidelines such as low spreads or etc.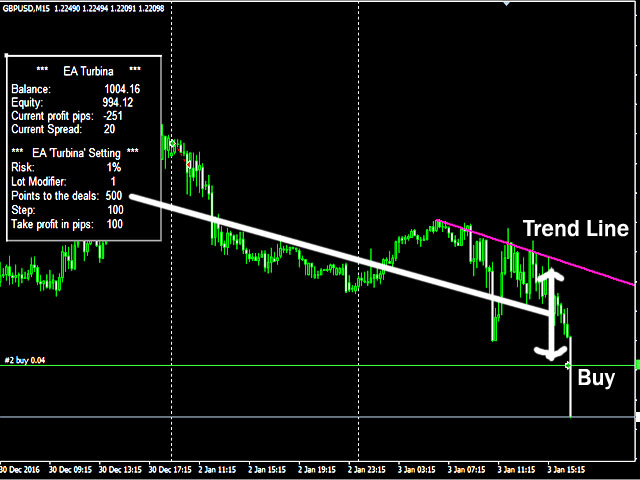 Service Cost
Traders can only purchase this product for $150 USD with 10 activations, as there isn't an option to rent it for a lower price. The cost isn't out of line for an EA, but it is disappointing that renting isn't available. On the bright side, testing is possible through the demo version.
Conclusion
Turbina is an automated EA that places trades based on the trend direction. The author does not describe his product in much detail, but this is somewhat made up for by the fact that 7/7 users rated the product at 5-stars. Users claim that this EA is profitable, and one user even updated his comment to include the fact that the EA remained profitable 2 months after his initial comment. If you're interested, you'll want to take a look at the provided screenshots on the product's overview page, and keep in mind that you'll have to pay the full cost of $150.
This Forex service can be found at the following web address: https://www.mql5.com/en/market/product/22914