TitanFX is an online ECN FX and CFD broker that offers leveraged trading of up to 500:1 on 70+ FX, Precious Metals, Index CFDs, and Energies. The company is regulated by the Vanuatu Financial Services Commission (VFSC), with offices located in Vanuatu, New Zealand, India, London, and even the United States. This broker certainly seems to have been thriving since its launch in 2014, although we were curious to find out whether this broker will manage to stand out from the crowd. Stay with us and you'll be able to judge for yourself.

Account Types
TitanFX provides two main account types, in addition to corporate and demo accounts. The broker offers a Zero Standard STP account and a Zero Blade ECN account as their regular trading account types. The Zero Standard account is an Institutional Grade STP account that offers access to interbank spreads on MT4 & MT5. The account is a commission-free option, with starting spreads as low as 1 pip. The Zero Blade account is an ECN account that offers the tightest available spreads and is ideal for day traders, scalpers, and EA traders. Accounts share the same trade sizes, leverage caps, and minimum deposit requirements, so there will be no need to compare on that basis. We've outlined the aforementioned details below.
Zero Standard Account
Minimum Deposit: $200
Leverage: Up to 500:1
Spreads: From 1 pip
Commission: None
Zero Blade Account
Minimum Deposit: $200
Leverage: Up to 500:1
Spreads: From 0.0 pips
Commission: $3.5 per lot (See "Trading Costs")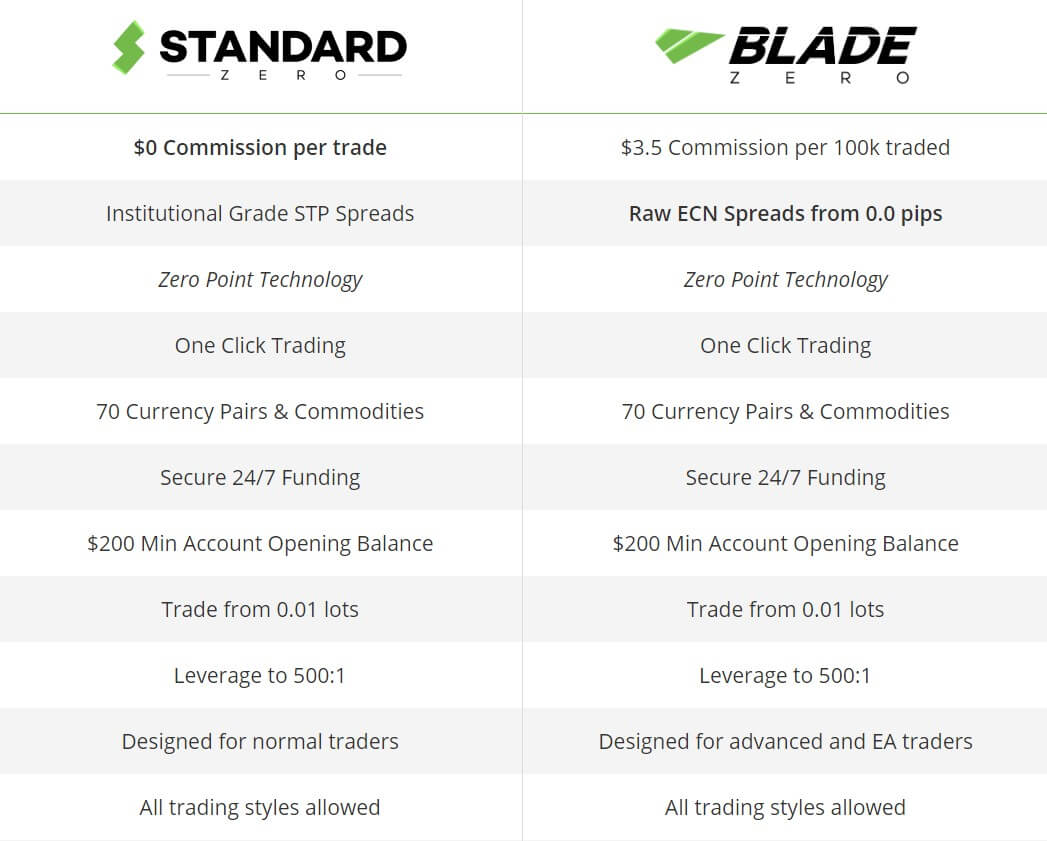 In order to register for an account, potential clients must be able to provide a proof of ID (Passport, Driver's License, National ID) document and a proof of residence document issued within the last 3 months. It is also possible that the broker may require a previous bank statement and/or reference later, both dated within the last 3 months as well.
Platform
This broker offers both the MetaTrader 4 and 5 platforms for download on PC, Mac, Android, and iOS devices. Alternatively, MT4 can be accessed through the WebTrader. Chances are, many of our readers have already heard about MetaTrader 4, which is the world's most popular trading platform. MT4 contains all of the tools that a trade of any skill level could need, including live quotes, real-time charts, in-depth news, multiple order types, analysis tools, secure trading, and more.

MT5 was released more recently and while this platform is modeled after its predecessor, MT5 was developed to provide faster performance, an improved strategy tester for EAs, more pending order types and analysis tools, etc. Many still prefer the earlier version, while others have switched to the newest version of the platform. Fortunately, this broker will allow traders to decide which platform is their favorite, instead of limiting to traders to one option or the other.
Leverage
Available leverage options range from 1:1, which would be the same as trading with the exact amount of funds in the account, up to 1:500, allowing one to trade with 500 times the amount of available funds. Many other brokers set even lower caps than their initial offer, based on the equity in the account, or when trading certain instruments. TitanFX does not seem to place any restrictions on their leverage limits, meaning all traders will have access to the advertised leverage cap. We do want to offer a word of warning to any traders that may be lacking experience, since trading with leverage as high as the one offered here may result in significant losses due to the risk that is involved. If you're not sure where to start, we recommend testing out different leverages on the demo account.
Trade Sizes
The broker's technology allows clients to trade without restrictions, with minimum trade sizes starting as low as one micro lot. The maximum trading volume for the majority of assets is set at 100 lots. When trading Precious Metals, such as Gold, Silver, Platinum, or Pallidum, the maximum trade size is 50 lots. An automated stop-out will be triggered when the account's margin reaches a level of 20% or below.
Trading Costs
Clients of this company will pay trading costs through commissions (if applicable), spreads, and swaps. There do not appear to be any inactivity fees associated with trading through this broker. The Zero Standard account offers a commission-free experience, with spreads that start from 1 pip. On the Zero Blade account type, the tightest spreads, from 0.0 pips, are offered with commission charges of $3.50 per Standard Lot. Taking a closer look, we do see some differences in the commission cost based on the currency or asset type being traded.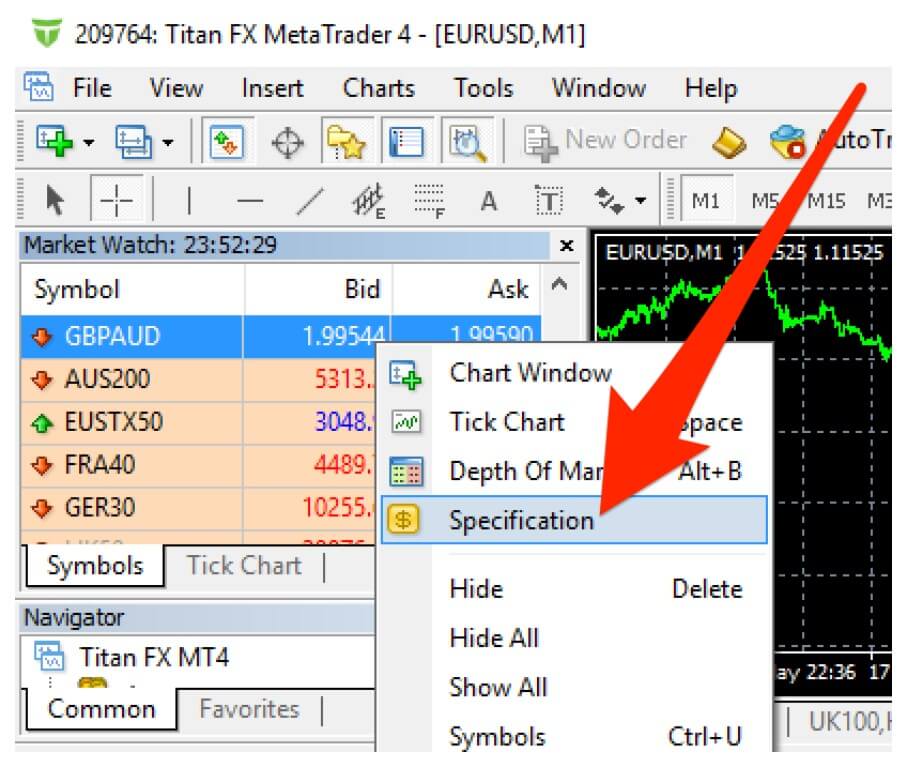 For example, that cost is $4 when trading one Standard Lot using the AUD currency, while the cost is only 30 cents when trading Energies, Metals, or Index CFDs in USD. The exact fees can be viewed on the account type's main page under "See Our Commissions". Swap rates are determined by the overnight interest rate differential between two currencies involved in the pair and whether the buying position is a long or short swap. Rollover period goes from 23:59 to 00:01 server time.
Assets
This broker's instrument portfolio is made up of FX, CFDs, Precious Metals, and Energies. FX options are made up of 70+ currency pairs, including majors, minors, and several exotics. Nine options make up the list of CFDs and Precious Metals and include Gold, Silver, Platinum, and Pallidum. Energy options are made up of XTI/USD (West Texas Intermediate Crude Oil) and XBR/USD (Brent Crude Oil). Altogether, this makes up a total number of 76+ tradable instruments. Sadly, we don't see any Shares or Cryptocurrency options available through this broker.

Spreads
TitanFX maintains a relationship with more than 50 liquidity providers in order to provide the tightest spreads without delays, intervention, or re-quotes. Both accounts offer starting spreads that start lower than the industry average, although spreads are floating and can climb higher in some circumstances. The tightest spreads start from 0.0 pips on the Titan Zero Blade account, while spreads start from just 1 pip on the Zero Standard account. Around rollover time, spreads can widen and may spike due to the low liquidity, so the broker does warn clients to be very careful when trading around that time.
Minimum Deposit
It costs a minimum of $200 USD, or equivalent in another base currency, in order to open a trading account with this broker. For a Standard account, this is slightly above the $100 requirement we're used to seeing; however, the amount could be considered very reasonable for the Zero Blade account type. The requirement should be realistic for most traders, although some beginners may have been looking for a lower starting amount.
Deposit Methods & Costs
Accounts can be funded through Visa, MasterCard, Neteller, Skrill, or Bank Wire Transfer. Note that there are some restrictions based on the client's location that may limit the ability to fund via Neteller or Skrill. In order to fund via card, the compliance team must be able to verify that the name on the card matches the account, that the last 4 digits of the card are visible, and that the expiry date has not passed through a provided photo. Note that the credit card number should be covered in the photo, aside from those last 4 digits that are needed. It takes 30 minutes – 1 hour for funds sent via Japanese banks to clear. A fee of AUD15 is applied to deposits of less than $50,001 made from Japanese banking instructions, while other banking institutions may charge international fees from their end. Aside from Bank Wire, all deposit methods are fee-free.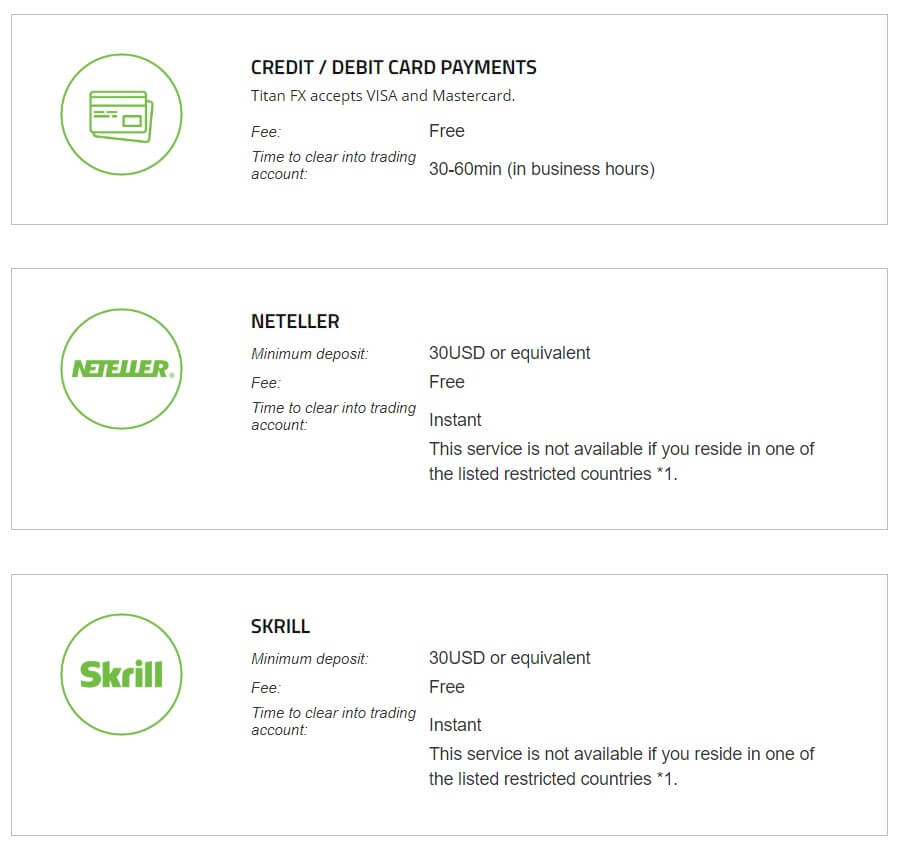 Withdrawal Methods & Costs
There are some conditions that will affect which withdrawal methods can be chosen. If the client has funded via Bank Wire, then any amount can be withdrawn via Bank Wire, Neteller, or Skrill (if applicable in the client's location). If the account was funded by Visa/MasterCard, Neteller, or Skrill, then the amount of the deposit must be withdrawn back to the original source. Any profits can then be withdrawn via Bank Wire, Neteller, or Skrill. There are associated fees with Bank Wire, Neteller, and Skrill, meaning that withdrawal fees cannot be avoided when withdrawing profits. The only time fees could be avoided would be when withdrawing funded amounts by card. All associated fees for each method are listed below.
Visa/MasterCard: No fees
Bank Wire Transfer: Bank Fees (Typically AUD 20)
Neteller & Skrill: 3.75%
Withdrawal Processing & Wait Time
Depending on the withdrawal method, it can take between 4 days to 4 weeks to receive funds. Credit card withdrawals are subject to the client's card provider processing times. Neteller and Skrill withdrawals will be processed and deposited into the client's account within one business day. Overall, the processing times for e-wallets are quick, although waiting times of up to 4 weeks for some of the other methods are not exactly advantageous. If you are planning to withdraw through a method aside from Neteller or Skrill, it would be wise to plan out the withdrawal ahead of time.
Bonuses & Promotions
Currently, this broker isn't offering any type of special opportunities. It's always beneficial to see a broker with a welcome bonus or some type of rebate program, although this should never be enough of a reason to choose a broker alone. However, this broker does provide personalized service for clients that trade high volumes, including perks like a dedicated relationship manager and VPS. Many clients will not qualify for these extra options; however, this could be an advantage if you are one of the high-volume traders we mentioned. The broker doesn't mention exactly how much one would need to trade to qualify, so you'll want to reach out to support if you think you may qualify.
Educational & Trading Tools
This broker primarily focuses on providing news updates centered around research and market insight. Sadly, we just don't see educational resources available on the website, aside from demo accounts. There is a small section on the website that is titled "Learn Forex"; however, further investigation reveals that this section is very short and does not provide enough information to be helpful to beginners. On the bright side, the broker does an excellent job with research tools, including Market Analysis, Forex Monthly articles, Economic News, and articles centered around the Forex Lifestyle. VPS is also available for lease from the website.
Demo Account
If interested, any current or potential applicant can open a free paper trading demo account in order to test out the trading conditions on the MetaTrader 4 platform. Demo accounts use the same price feed as the live servers and trading from one provides an experience that mimics the conditions on a live account as closely as possible. From the demo, traders can test an Expert Advisor (EA) with realtime prices, test out new strategies, become more familiarized with the MT4 platform, and try placing trades without using real money.
The default amount of virtual currency is set at $50,000; however, traders can reach out to support to request a different amount. If you're looking for a more realistic experience, it may be worth asking for an amount that falls within a lower range. Demo accounts expire after 30 days; however, non-expiring demo accounts are available for clients holding live accounts.
Customer Service
Support is available 24 hours a day, from Monday through Friday. Sadly, this means that it won't be possible to contact an agent during weekend hours, when many traders may be looking to sign-up. Traders can contact a member of support instantly through LiveChat, by calling into one of the companies' hotlines, by filling out a contact form on the website, or through email. Multiple phone numbers and email addresses are provided, so you'll want to be sure that you're reaching out through the correct one.
We did quickly test out LiveChat, which allows one to either sign-in using social media, or by filling in a few quick details. We were connected instantly to a live person and options about our question could be selected from a predetermined list, or we could type anything in the chat box. Our agent was extremely helpful and quick, so we have to give this company full stars for the customer service experience. Keep in mind that this broker also provides an FAQ that may eliminate the need to actually contact an agent. In addition to these contact options, you'll also find TitanFX on Facebook, LinkedIn, and Twitter. All contact information is provided below.
Email
Support: support@titanfx.com
Back Office: backoffice@titanfx.com
Partnerships: partners@titanfx.com
Marketing: marketing@titanfx.com
Phone
Asia: +64 9 950 8902
Europe/Americas: +1 214 2388 269
Countries Accepted
Currently, the broker does not accept residents from New Zealand or Australia, although the website claims that the broker will soon be overcoming restrictions that will allow them to welcome clients from these locations. Although the broker does have an office located in the US, CTFX regulations seemingly ban this broker from offering service to clients located there. Fortunately, we found it to be extremely easy to sign-up for an account from the United States, as the option is included on the registration list with absolutely no bans. This would make the broker more attractive for those located in the US, considering that these traders are often banned from opening accounts with forex brokers.

Conclusion
TitanFX is a regulated online broker that offers leveraged trading of up to 1:500 with no hidden restrictions, on 76+ total assets, primarily made up of FX options, in addition to CFDs, Precious Metals, and Energies. The broker has several office locations, including one in the US, and offers 2 account types; one with a commission-based pricing model that has starting spreads from 0.0 pips, while the other is commission-free with spreads starting from just 1 pip. A $200 USD deposit is required to open either account. Traders can also choose between the MetaTrader 4 and MetaTrader 5 trading platforms, rather than being limited to one option or the other.
Accounts can be funded through Visa/MasterCard, Bank Wire, Neteller, or Skrill and deposit fees are not charged from the broker's side. It is impossible to withdraw profits without paying some type of withdrawal fee and processing times can take longer than we'd like to see for a couple of methods. Aside from providing a few perks for high-volume traders, bonus opportunities are non-existent.
Educational resources are also missing, although the broker does provide VPS and helpful articles that revolve around news and research. Support is available 24/5 and the broker's customer support team exceeded our expectations on LiveChat. Overall, the broker does seem to be lacking in some of the extra categories, although the trading conditions available through this broker offer the ability to trade in a competitive environment.