Time Exit EA can be found within the Experts section of the MQL5 marketplace, it was first uploaded to the marketplace on the 30th of July 2015, it had an update on the 13th of June 2016 which brought it up to version 1.1.
Overview
Time Exit EA as the name suggests is an expert advisor, it can be used with the MetaTrader 4 trading platform. Its main purpose is to close all trades automatically at a specific time each day, this can be used to help avoid swaps at the end of the day, or to close out shortly before a major news event.
The EA should be attached to a separate chart within the MT4 platform, it will then begin to monitor that trades that are currently active or that are opened afterward. The EA will only function on currency pairs for the chart that it is attached to, so you may need to have it active on multiple charts, it will close all pending and open orders, however, there are options available to adjust this.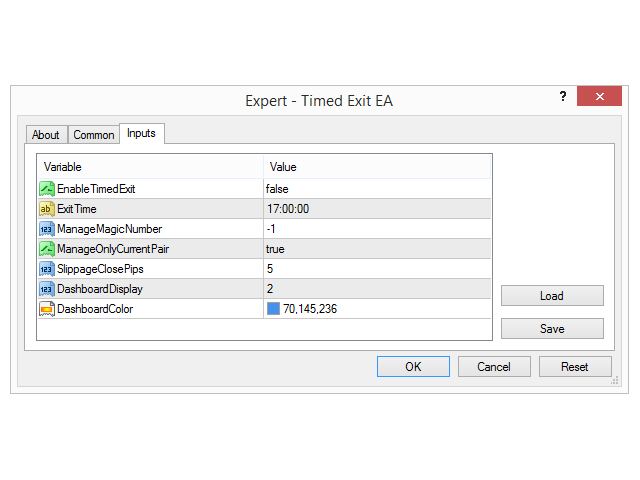 The parameters that come with the EA alter the way it functions, some of them include to enable the timed exit, what time to exit, magic numbers, which currencies to use, slippage, and the dashboard display and colors.
Service Cost
The expert advisor can be rented on a yearly basis which will cost you $15 for the year, there are no other rental options and there is also not the opportunity to purchase it outright. If you decide to rent it, you will get up to 5 activations of the software. A free demo version is available, as there are no details about it on the site, we believe that it may only be used with the strategy tester within MT4 rather than as a full demo version.
Conclusion
There are three user reviews available for the Timed Exit EA, they have given it an overall rating of 5 out of 5.
"Solid execution" – A 5-star review.
"Fantastic piece of software! Five stars!" – A 5-star review
"Tested. It works fine." – A 5-star review.
There are also a number of comments, these are from people who have rented the EA and are now asking questions about it, the developer of the EA had originally been replying to most replies back in 2016, however, any comment from 2017 onwards they have not replied which is not a great sign, due to the lack of replies, we would strongly suggest that you send any questions or queries that you have to the developer, this is a way to check that it will do what you need it to, but also a way to ensure that the EA is still being actively supported before you make a rental.
This Forex service is currently available in the MQL5 marketplace: https://www.mql5.com/en/market/product/10911