The Ultimate Strength Differential SE is an indicator that is currently found on the MQL5 marketplace, we have provided a link below so you can see exactly which indicator we are looking at. The indicator was first released on the 29th of April 2014, it has had a number of updates, the most recent were on the 3rd of November 2015 and it is currently on version 6.0.
Overview
The Strength Differential SE is an indicator designed to be used with the MetaTrader 4 trading platform. The indicator is designed to show the strength and weakness of the base currency related to the quote currency on any chart that it is placed on. The indicator is RSI based and is backed by solid mathematical and statistical data.
The main features of this indicator:
-Graphically shows the STRENGTH/WEAKNESS of a currency relative to another
-Can be used in EAs using iCustom to get data from the appropriate buffer (see INDICATOR BUFFER' section for details)
-Can be configured to send push notification of trade opportunities to mobile terminal on new bar event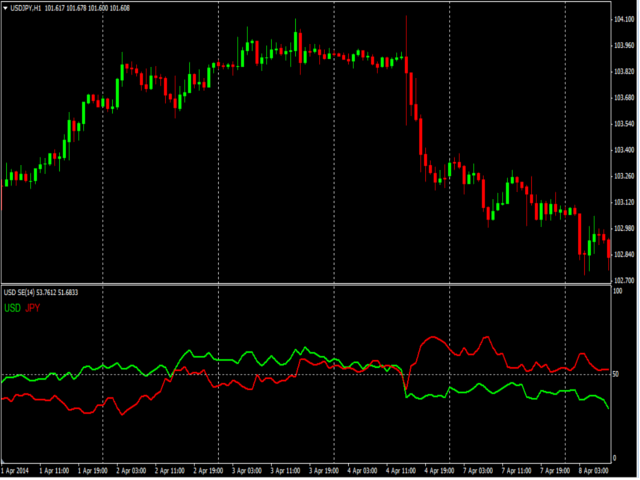 -Can be configured to email trade opportunities on new bar event
-Can be configured to generate an alert of trade opportunities on new bar event
-Highly customizable (Indicator colors can be customized. See 'INPUT PARAMETERS' section for details)
There are a number of parameters that can also be adapted and changed to alter the indicator to suit your own requirements, some of these include alerts, quote colors, base colors, strength periods, and more.
The indicator has a number of benefits such as revealing the market bias on at least 14 different currency pairs and it can be used on all timeframes.
Service Cost
You are able to buy this indicator for $34, this purchases it outright, there is not an option to rent this indicator which is something we see on a lot of them. There is a free demo version available, they have not made it clear what the limitations of this free version are, but we are certain that there will be some.
Conclusion
Unfortunately, there aren't any reviews or ratings for this indicator, there is however a comment which got a very prompt reply from the creator which is always good to see. As we are not able to see what people think of the indicator, we would highly recommend that you download and try out the free version, this way you will be able to make sure that it does what you need and that you are able to get it set up correctly before you make any purchases.
This Forex service is currently available in the MQL5 marketplace: https://www.mql5.com/en/market/product/4155