Three MA Alert is found within the indicator section of the MQL5 marketplace. There is a link to it below. Thushara Dissanayake first uploaded the indicator to the MQL5 marketplace on the 14th of December 2017. It has had a number of different updates, the most recent update was posted on the 14th of November 2018 and this brought it up to version 1.3.
Overview
The Three MA Alert is an indicator for the MetaTrader 4 platform, it was created to send notifications to your mobile, email, or as a pop up when three moving averages crossover. The indicator works best on the EURSUD pair on the M30 timeframe.
The main features of the Three MA Alert indicator:
Most popular MA strategy based
Send notification to a mobile device, email and display a pop-up alert with sound
Email alert includes Time-frame, Signal, Time, Bid, Ask, Spread, Account Balance, Account Equity and Account Profit
Each notification Activate/ Deactivate function
Draw signals quickly on the chart
Display the battle between buyers and sellers as a percentage of the total volume
Font, font size and color of the items can customize for a better view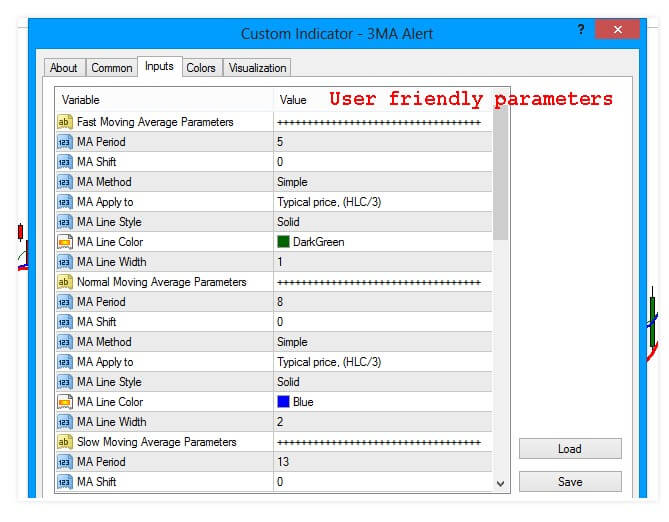 A whole bunch of parameters are available, they allow you to slightly alter the function of the indicator to better suit your own needs. Some of the settings include the MA period, MA shift, MA method, MA line colors and styles, alerts, email alerts, pop up alerts, mobile alerts, graphic parameters such as arrow sizes, colors, and more.
Service Cost
The indicator will currently cost you $30 to purchase it outright, this version will have no limitations and can be used indefinitely. There is also an option to rent the indicator. This will cost you $20 for each year that you wish to use it. A free demo version is also provided. However, this will have some limitations that we, unfortunately, do not know what they are, it would still be worth downloading to try out though.
Conclusion
Unfortunately, there aren't any reviews for us to look at so we do not know how people are finding the indicator and whether it does what it is supposed to. There is a comments section which has a number of comments from people who have purchased it, these are main questions about how to do certain things, the developer has been very active and has been replying to each and every comment which is a great signal and shows that they are actively supporting the indicator. Due to the lack of reviews, we would suggest downloading and trying the free versions well as sending any questions you may have to the creator, this way you can be sure that it is the right indicator for you befoe you ake a purchase or rental.
This Forex service is currently available in the MQL5 marketplace: https://www.mql5.com/en/market/product/26978