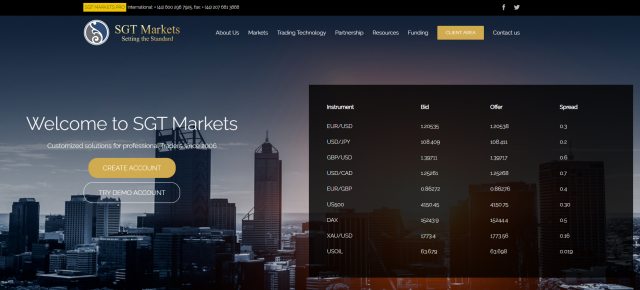 SGT or Sterling Gent Trading Ltd is a CFD ECN, DMA, and STP type offshore broker regulated with the British Virgin Islands Financial Services Commission that can also act as a market maker. The broker license is legit although the regulation from FSC does not provide funds security measures as some other authorities such as the FCA. This aside, SGT Markets, formerly SGTForex.com and SterlingGent.com, has made a good reputation among traders that choose offshore brokers. 
The correspondence SGT Markets address is in Bermuda, meaning you cannot visit them in any office but according to the user reviews, this broker enjoys trust which is very hard to create considering the type, and could only be made by constantly offering quality and incident-free service. Established in 2006, SGT Markets can be classified as a veteran offshore broker that can offer more than the competition. Starting with the website presentation, visitors will appreciate the good composition and transparent information about the service, broker, and trading conditions. 
Marketing is augmented with pages about low trading costs, funds segregation, execution technology, assets range, and several deposit options, none of the content is presented without a good foundation. Whatsmore, SGT Markets has a very good and informative FAQ page and excellent support. Notable services this broker promotes are FIX API, MAM/PAMM accounts, Fund managers, VPS solutions, and Myfxbook copy trading. Judging by the covers, we are looking at the broker that is standing out from the competition. This SGT Markets review will evaluate the quality of service and features to uncover why this offshore broker has earned traders' trust.
Account Types
SGT Markets offer 3 account types named Direct, Prime, and SGT Select. The page presenting them seems to be focused on the SGT Select Account as there are few details about the more affordable Direct and Prime Accounts. Starting with the one with the smallest minimum deposit requirement, Direct Account promotes spreads from 0.9 pips, high leverage, no commissions, MT4 platform, and micro-lot trade volume size. Upon selection, you will be asked to open an individual or corporate account and select the FIX API or MT4 platform. Prime Account features spread from 0.0 pips but have a commission charged instead. It has the same trading size and leverage policy as the Direct Account and a higher minimum deposit requirement. The top, SGT Select Account, requires and 6 figure deposit amount or minimum trade volume of $100 million per month.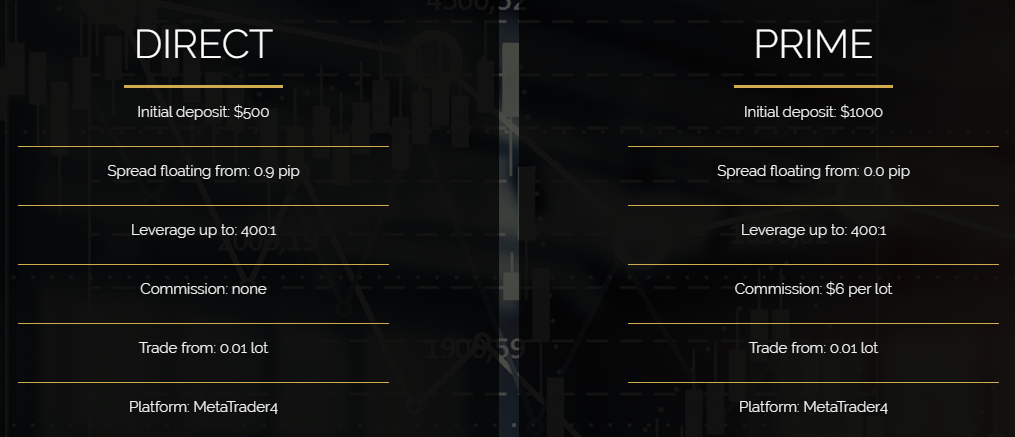 The VIP services included are free VPS, no deposit/withdrawals fees, fastest funds processing, reduced spreads or commissions, volume-based trading costs, private consultations, and manager and Daily  Market Analysis. The broker uses aggregated liquidity pool from banks and other liquidity providers. Swap-free accounts are available and there are no compensations for the lack of swap credits/charges in higher commissions or spreads. SGT Markets does not restrict any trading strategies, meaning MT4 Expert Advisors, hedging, scalping, and news trading are all allowed. The accounts are available in GBP, USD, and EUR currency. 
Platforms
SGT Markets offers only one platform, the MetaTrader 4. The lack of MT5 and other platforms is compensated by the FIX API that allows a communication protocol to your automated or semi-automated trading systems. The advantages of FIX API protocol is the naked transparency of the market, traders see the orders book, and the execution is ultrafast and accurate. 
SGT Markets is the partner of the PrimeXM XCORE Community where the liquidity is exchanged with other brokerages, liquidity providers, and financial institutions. This means trading conditions are one of the best in the industry. The MT4 platform is also offered in the mobile version for Android and iOS powered devices but we have not seen the web-accessible version without any installation requirement. Still, the MT4 is downloadable in a zip file from the STG Market's website and is installed using the MetaQuotes direct API file download.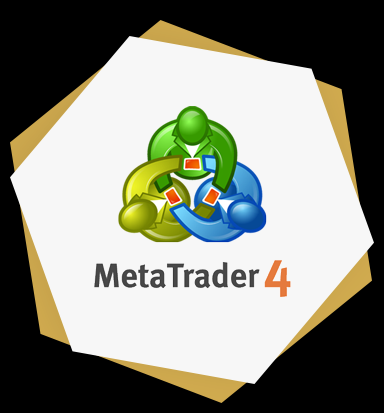 There are 2 servers offered once the MT4 is opened, STG markets Demo and Live. The Demo server has a 33ms ping rate and the Live 45ms, a promising start. Everything is by defaults, the standard 4 major currency pairs set on the 4H timeframe with the default indicators applied to them. There are no additional templated or custom indicators installed with the MT4 package. The About window will show the MT4 is updated to the latest version and registration to Sterling Gent Trading Ltd, with another location address in Tortola, BVI. The watch list will present 6 grayed-out major currency pairs meaning they are not used for trading but only for conversion rates used for P/L calculations.
Of course, these pairs are open for trading but under a different instrument name. The instruments will have a "d" suffix signifying the Direct Account and "p" for the Prime. Symbols are grouped into only 4 categories, 3 of which are related to trading. Since the default 4 major currency pairs are not open for trading, One-click trading buttons are not visible, but any other instrument presented on the chart will have One-click trading. The specification window is filled in with all the necessary information for trading.
The Terminal Trade tab is showing all the trading costs and swaps as intended. We went on to check the execution times which is the most interesting part to calculate just 99ms average execution time with a small deviation of 10ms. Equinix LD4 and servers are used for the MT4 and it shows. As expected, these trading conditions are one of the best for fast trading and automated systems.
Leverage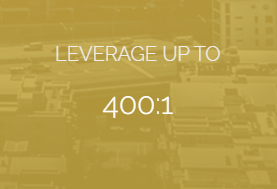 SGT Markets use the dynamic leverage scheme dependant on the deposit amount. Deposits of up to 20k allow the leverage level of 400:1, up to 50k  deposit – 200:1 leverage, up to 250k – 100:1 while CFD's on Equity and Oils have fixed leverage of 1:100.  There are also additional adjustments to the leverage depending on the asset liquidity and volatility. This means not all assets will have the maximum allowed leverage. According to the legal documents and the MT4 platform, these assets will require 2, 3,6, and 10 times more margin. These are mostly exotic currency pairs such as USD/RUB and EUR/RUB with 1:40 maximum leverage, EUR/TRY or EUR/MXN with 1:66, or GBP/SGD with 133:1, while most of the Scandinavian pairs have 1:200 leverage. Precious metals have a maximum of 1:400 despite the 1:200 limits stated in the instrument specification document. This leverage scheme applies to Direct and Prime Accounts, SGT Select Account could have more flexible options. The leverage is high enough to minimize the commission costs of the Prime Account if the same risk management is applied. 
Trade Sizes
SGT Markets is using the standard micro-lot minimum trade volume sizes or 0.01 lots. Additional trade steps are also 0.01 lots. The maximum trade size is limited to 50 lots to prevent MT4 partial fills according to the FAQ but we have noticed 100 lots maximum. STG is open for trade size modifications. The minimum trade size for Oil assets is 0.1 lots but SGT Markets uses 100 barrels per contract. Indexes have 1 lot minimum trade size. Stops level is 0 for all instruments listed in the MT4 meaning traders have complete freedom to put pending orders to any levels. These trade sizes apply to Direct and Prime Accounts. STG Markets sets Stop Loss at 50% and a Margin Call is at 70%.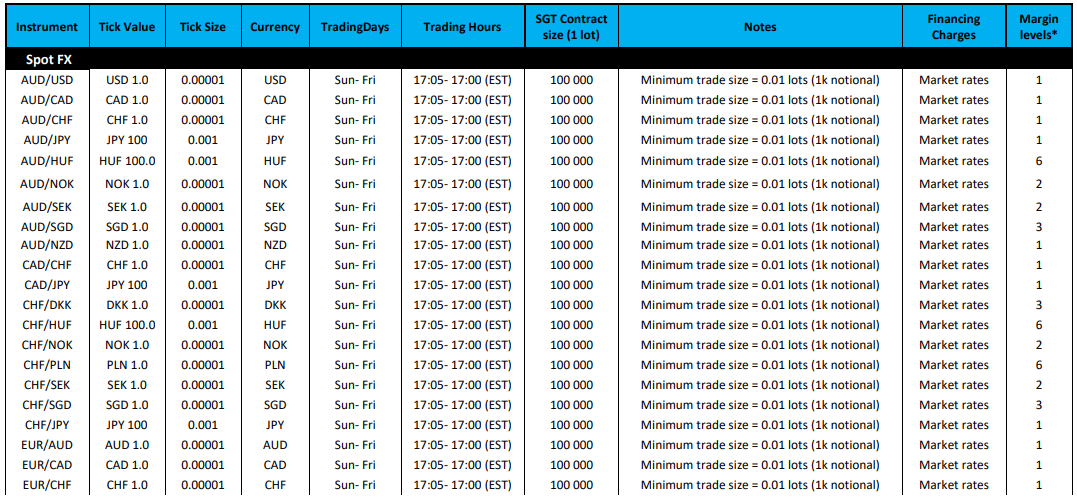 Trading Costs
Commissions are applied to Prime Account only and it is the same for all assets. A $6 per traded lot is charged, not per side as most brokers promote to make the commission appear smaller. Direct Account is commission-free but with an increased spread. As for the swaps, they are calculated in points and tripled on Wednesdays and Fridays for Indexes. Swaps are under normal levels and positive swaps are frequent. EUR/USD has -4.07 points on the long side and 0.75 on the short, USD/JPY has -0.53 on long and -3.73 on short, GBP/USD has -2.21 on long and -2.46 on short, AUD/USD has 2.06 on long and -4.47 on short and USD/CHF has 2.01 on long and -5.19 on the short side.
Some pairs do not have any swaps as per MT4 platform specs. For example, such is the case with the AUD/SGD, SGD/JPY, or USD/THB. Exotics have increased swaps but still competitive. USD/MXN has -327.02 points swap on the long side and -17.02 on the short, USD/RUB has -24.3 on long and 12.9 points on the short side. Some exotics are rare and at the same time have surprisingly low swaps, like the ZAR/JPY with 0.1 on long and -3.6 points on the short side or USD/ILS with -11.44 on long and -26.44 points on short. 
SGT Markets has an inactivity fee for the API FIX accounts. The inactivity is measured in trading volume. If traders execute less than 50 lots per month, a fee of $300 will apply. Accounts with consistent trading volume may be exempt from this fee if the number of inactive months in a row is less than 3.
Assets
STG Market offers 4 asset categories for Prime and Direct Accounts, Forex, Indexes, Commodities, and Precious metals. The best out of these categories is the forex with a total of 78 currency pairs. This is a very good range, way above what other brokers offer. There are a good number of exotics and a great number of crosses thus making this range extended. All of these instruments are liquid and trading can be done without any off-quotes warnings. Notable exotics are ZAR/JPY, USD/THB, USD/RUB, USD/MXN, USD/ILS, USD/CNH, USD/HKD, USD/CZK, TRY/JPY, SGD/JPY, NZD/HUF, HKD/JPY, GBP/ZAR, GBP/HUF, EUR/ILS, CHF/PLN, AUD/HUF and a few more with the other majors combinations.
Precious metals are limited to only Spot Silver and Gold although traders will find Gold quoted in EUR too. Both metals have 3 decimals price quotes. This range is not impressive but the spreads for them are. More on this in the next section. SGT Markets mentioned Palladium, Platinum, Zinc, and other metals but we have not noticed them listed in the MT4 platform.
The index range is good with 13 assets in total. This is not as good as the SGT Markets forex range but is still better than usual. Notable Indexes are Switzerland 20, Spain 35 Index, Italy 40, Hong Kong 33, CAC 40, and DAX 30. 
Commodities range is limited to only energy assets. Only the two Oil types are offered WTI and Brent, and nothing else. We have noticed that the Direct Account also has Natural Gas offered here but this is not the case with Prime. 
Spreads
SGT Markets Prime account features the tightest spreads while Direct Account does not have the commission. All spreads are a floating type and we went on to check if the promoted "from 0.0 pips" spread for the Prime Account holds in the MT4 platform. EUR/USD and USD/JPY have the tightest spread of 2 points which is very close to 0 but the 0 levels were never reached.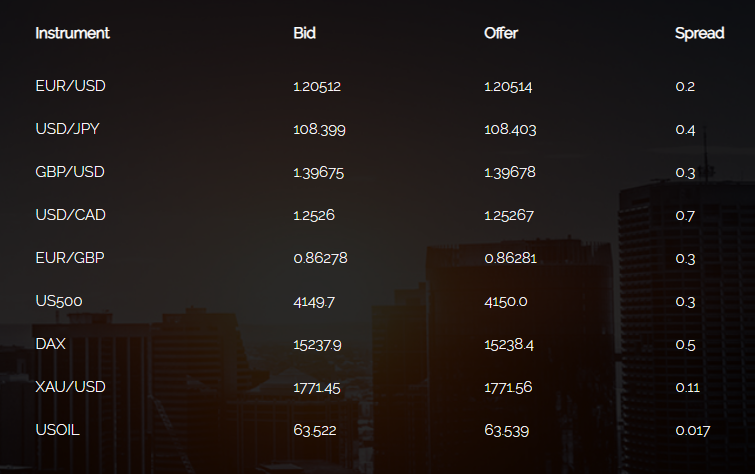 Currency pairs with the lowest spreads on the Prime Account are AUD/USD – 5 points, CAD/JPY – 6 points, EUR/JPY – 5 points, GBP/USD – 5 points, surprisingly also HKD/JPY with just 4 points, NOK/JPY – 5points, NZD/USD – 6 points, USD/CHF – 4 points,  USD/JPY – 1 point, and ZAR/JPY – 5 points. The widest spreads are attributed to the exotic currency pairs. These are USD/ZAR with 950 points, USD/RUB – 889 points, USD/CZK – 1000 points, GBP/ZAR – 1230 points, and EUR/CZK – 1160 points. One of the best spreads in the industry is applied to XAU/USD, just 14 pips, and Silver – 0.7 pips. Oil assets have spread around 26 points both. 
When compared to the Direct Account it looks like 1 pip is added on top of the Prime Account spreads. So, EUR/USD has 12 points, USD/JPY – 12 points, GBP/USD – 14 points, NZD/USD – 14 points, USD/CHF – 18 points, and AUD/USD – 14 points. The rest of the pairs follow a similar +1 pip pattern while the exotics have almost the same spread. XAU/USD has a noticeable jump compared to the Prime Account to 35 pips and Silver to 4.8 pips. To most Prime Account has better spreads worth the higher minimum deposit amount and the $6 commission per lot traded. 
Minimum Deposit
STG Markets used to have a Start-Up Account with a very low deposit amount but currently the most affordable is the Direct Account with a $500 minimum deposit requirement. This amount is somewhat higher compared to other brokers but it is still a reasonable amount. Good ratings and great conditions put this amount in the right spot. Prime Account will require a $1000 deposit and the benefits are good enough to justify this increase. The exclusive, customized and the best SGT Select Account requires no less than a $100,000 minimum deposit. Institutional Accounts may consider this option.
Deposit Methods & Costs
SGT Markets will present the funding methods very transparently with all the fees and processing times on their website. There are 9 deposit methods including the classic Credit/Debit Card and wire transfers. VISA or MasterCard deposit will carry no fees by the broker but processor fees may apply. Note that the broker mentioned the 2.5% processor fee. Bank Transfers accepts all currencies but processor fees may apply. SGT Markets has a security step where traders will have to fill in the Source of Funds document. 
Skrill and Neteller methods are available but not available to EU residents. Deposits will have a 4% fee for both e-wallets. 
Perfect Money methods do not have any fees but only accept EUR and USD currencies. There is a referral link you can use to open a Perfect Money account.
Wirewallet accepts only EUR currency and has no fees while FasaPay accepts only the USD and has a fee of 0.5% or a $5 maximum. CashU method is also available without any fees and accepting USD only. 

Withdrawal Methods & Costs
The withdrawal methods listed are the same as with deposits except different fees apply. VISA and MasterCard have a 2% + 10 currency fee. They are available in USD, GBP, and EUR. The bank transfer fee is 1% maximum or $25 minimum.
Neteller withdrawals are available only to non-EU residents and have a fee of 2%. Skrill has a lower fee of 1% but has the same non-EU residents-only withdrawal policy. Perfect Money fee is 0.5% available for USD and EUR currencies. FasaPay withdrawals are available only in USD with a processor fee that may vary. Wirewallet does not have any fees and available currencies are USD, GBP, and EUR.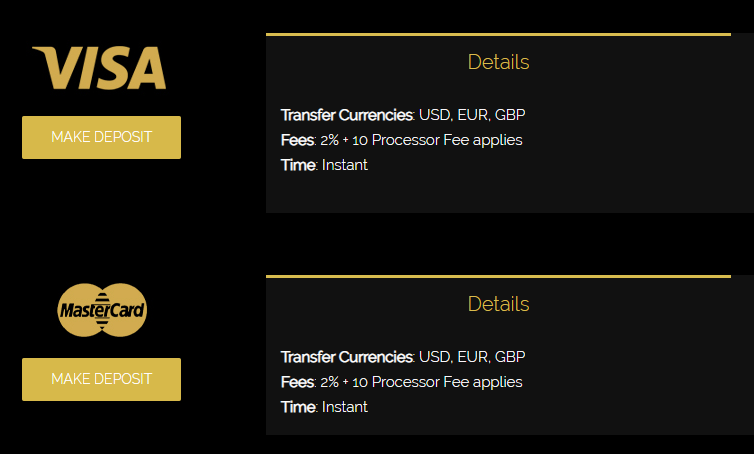 Withdrawal Processing & Wait Time
VISA and MasterCard processing is done in 24 hours by the SGT Markets and then takes 2 to 5 days to reflect on the investor's account. Profits exceeding the amount deposited may have to be credited by bank wire instead of the card. For bank transfers, the broker will process the request in 24 hours. 
Skrill and Neteller withdrawal requests will be processed in 24 hours while Perfect Money requires 6 to 12 hours. FasaPay transactions require 1 day processing time, the same for CashU and Wirewallet.
Bonuses & Promotions
SGT Markets does not involve bonus programs on promotions. 
Educational & Trading Tools
SGT Markets does not have any educational content except for a brief background intro about a specific market such as Forex, Metals, Indexes, and so on. None of these can be regarded as educational, they are not intended to be. The broker is more focused on the tools and added value provided to traders. 
Starting with the Company news, traders are informed about the latest developments and features offered by the broker. The latest news from 14th August 2019 mentions FIX API connectivity for the Multi-Account Manager structure (MAM). This section provides a good insight into plans. 
The FAQ is solid with some of the basics questions mixed in, such as "What are CFDs?". There is no search box but the FAQ is not extended to require one. Elementary trading conditions are presented here in detail.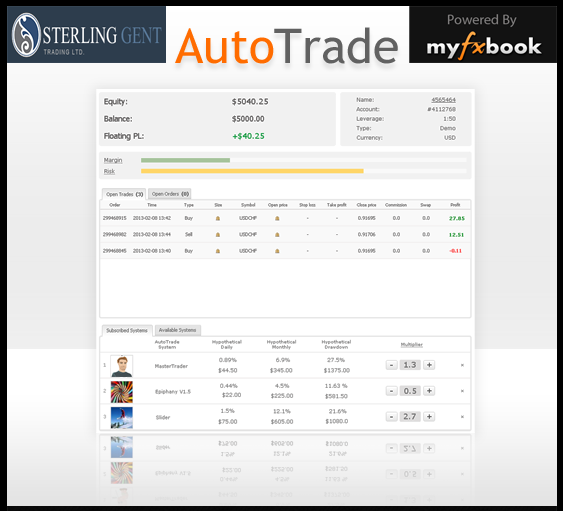 SGT Markets has a free VPS offer without any limitations or requirements. Traders, of course, will have to have a live account and apply for a VPS. For those not introduced to VPS, (Virtual Private Server) hosting allows traders to run automated algorithmic strategies 24 hours a day on a cloud computer, therefore there is no need to leave your platform running. 
Myfxbook copy trading is offered with the broker allowing traders to select trading systems and apply them with SGT Markets accounts without hassle. There are no volume-based fees or requirements. Myfxbook AutoTrade runs automatically on its own, without the need to have any software on the trader's end. 
The Market News section contains articles about the latest developments on the market mixed in with some technical analysis. The section is updated daily and covers 3 to 4 major currency pairs such as EUR/USD, AUD/USD, and similar. The content provides some commentary that could be useful to traders but is also using popular Price Action levels. Some past Economic Events are listed, in our opinion do not have any relation value and could be obtained by looking at any Economic Calendar. Market News is made by the broker staff. 
Finally, SGT Markets offers Asset Management services. According to their promotion, they are linked with some of the best managers and managed funds in the industry.
Customer Service
SGT Markets has a great support management team. The broker is active on several social networks and is available by email, phone, chat, and the contact form too. The chat service is 24/5 with a few breaks. The chat app is powered by LiveZilla with the option to request a callback, and leave a message in case agents are away. SGT Markets representatives have a deep understanding of trading and have a very good answering approach. Their answers are in full and easily understandable. After each chat, you can evaluate their service in a few categories. The broker is also active on benchmark websites answering negative reviews with good reasoning and, according to users, ethically solve matters.

Demo Account
Demo accounts are available and traders can select Prime or Direct Account demo. This way both conditions can be tested. Trading conditions reflect actual live accounts as they are using the same Equinix servers. The MT4 platform shows a bit faster ping rate with the demo servers though. To open a demo, traders will have to apply via the website link as the demo account opening is not possible within the MT4 platform. Traders can open multiple demo accounts with different leverage and currencies. FIX API can also be tested with a demo.
Countries Accepted
SGT Markets does not accept clients from the United States. 
Conclusion
This section of the SGT Markets review will summarize the overall impression and provide some additional information. This broker certainly gives out a positive opinion with a transparent approach and rich features. The effort to differentiate is evident with free VPS, FIX API, great trading conditions, and great forex instrument range. This is further complemented with professional support, funds transfer options, copy trading, PrimeXM XCORE Community membership, and good ratings across multiple benchmarking websites. Traders that do not rely much on regulation can be certain that this offshore broker follows business ethics like the ones that are regulated by stronger authority bodies. For those that seek compensation fund programs offered by CySEC or FCA may certainly find similar brokerages, but few, if any, can offer this leverage and other benefits.