Gerchik & Co's account holders enjoy very narrow spreads, can access hundreds of financial assets, and may program their own automated trading algorithm. Moreover, Gerchik & Co's individualized, one-on-one customer support offerings make them even more desirable to forex traders. The company has been servicing financial market participants since 2015. Moreover, in 2017, they expanded their tools and asset selection in order to appeal to a larger number of traders. Even though Gerchik & Co is based out of the Pacific Ocean island-country of Vanuatu, their offers extend to traders from all over the world (although some regional restrictions may apply).
In short, Gerchik & Co is a brokerage firm founded by and for traders. But should you open an account with them? This review will go over their different portfolio types, unique aspects about this broker's trading conditions, the type of currencies that customers can trade, and other crucial aspects that you need to know before you decide to open an account.
Account Types
Gerchik & Co has an impressive selection of account types for retail traders. Moreover, 5 of the 6 accounts allow you to utilize algorithmic trading tools (that automatically open/close positions). The Platinum Account is the only one that enables you to create a custom code/algorithm, where a robot buys and sells forex pairs if they meet the technical and fundamental conditions that you would pre-establish. 
Easy Start for Investors Account:
Minimum Deposit: $100

Spreads: From 0.4 pips

Commission: $10 per lot
Mini Account:
Minimum Deposit: $500

Spreads: From 0.4 pips

Commission: $10 per lot
Simple Account:
Minimum Deposit: $1,000

Spreads: From 0 pips

Commission: $10 per lot
Silver Account:
Minimum Deposit: $10,000

Spreads: From 0 pips

Commission: $9 per lot
Gold Account:
Minimum Deposit: $25,000

Spreads: From 0 pips

Commission: $8 per lot
Platinum Account:
Minimum Deposit: $100,000

Spreads: From 0 pips

Commission: $7 per lot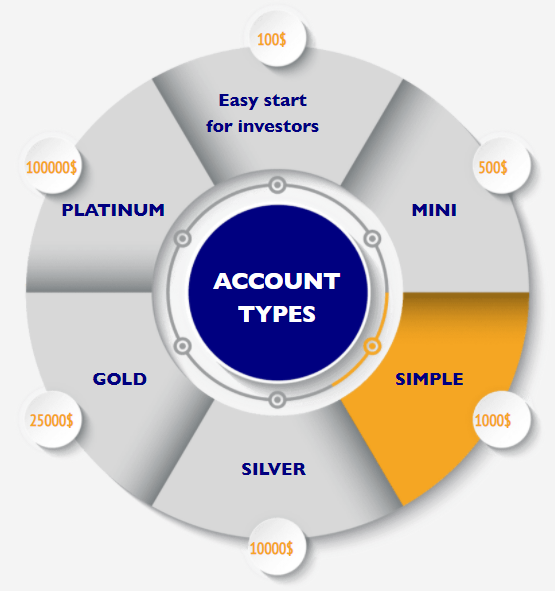 Even though the minimum deposit for Platinum, Gold, and Silver may be sizable,  the Simple Account retains all of the features that the former 3 do, including account/performance statistics and 0-pip spreads. The only unavailable tools are the customized trading robots and access to individualized consultations, both of which are exclusive to the Platinum Account.
Platforms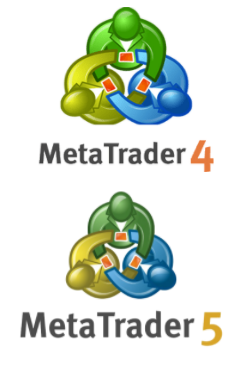 Regardless of the type, Gerchik & Co's account holders will trade through the MetaTrader 4 (MT4) platform. In fact, according to the broker, it is used by 90% of forex traders from all over the world. While a new and more advanced version is available (MetaTrader 5 or MT5), many people still prefer MT4 because of its all-encompassing tools and features. For a start, it is designed to suit traders who follow different strategies, including scalpers, day-traders, and investors that want to hold on to positions for years. In addition, technical analysts can choose between 30 different indicators and view charts at 9 different times (such as 1-minute candlesticks, 1 hour, 1 day, …etc.). Lastly, the MT4 app, which enables you to open/close positions and manage your account (alongside much more), is available on desktops and smartphones. Moreover, you can access it from anywhere in the world.
Leverage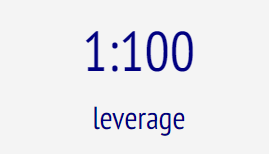 Even though Gerchik & Co has many competitive offerings that differentiate it from other firms in the industry, the buying power that all 6 account types have is relatively limited. You only have up to 100:1 in leverage. Portfolios with a balance of $500,000 or more will have even lower leverage of 50:1. This puts Gerchik & Co in the lower range, especially since some (but not plenty) brokers will give traders 400:1 in buying power. Nonetheless, if you are an experienced trader, Gerchik & Co may give you a 200:1 buying power after they learn about your strategy and past performance.
Trade Sizes
Both the Simple and Mini Account have a minimum position size of 0.01 lots, which is a micro lot. The other 4 account types, on the other hand, must enter trades that are not smaller than 0.1 lots (a mini lot) or the equivalent of 10,000 in the base currency.
Margin Call: 100% (all account types)

Stop-Out: 50% (all account types)
Gerchik & Co's margin call policy is to require the trader to deposit more money. Otherwise, they can't open new positions. At stop-out, the broker will close the biggest losing trading and, at times, others, up until the account has enough to satisfy the margin requirement.
Trading Costs
As previously outlined, each of the Easy Start, Mini, and Simple Account have a $10 per traded lot commission. These fees gradually go down to $9, $8, and $7 per lot for Silver, Gold, and Platinum, respectively. When you keep trades open overnight, there is also an interest amount, which you may earn or pay (depending on the forex pair). The swap is tripled on Wednesdays to account for Saturday and Sunday's interest. Apart from that, you could also incur a spread expense. However, since 4 out of 6 accounts have a 0 spread, this is mostly minimal. We will discuss the details of this for all account types later in this article.
Assets
Gerchik & Co's list of financial instruments includes 66 forex pairs, 7 cryptos, 10 commodities, 12 indexes, and almost 270 stocks. In short, this broker is ideal for those who like to diversify their trading and exchange different types of assets. Cryptos are traded as a pair against a fiat currency. For example, Bitcoin is offered as BTC.USD. The commissions for digital currencies is 1% of the position's total value. In addition, cryptos have a 20% margin buying power, a more restricted maximum trade size, as well as a -10% and -4% overnight swap fee on short and long positions, respectively. Amongst the forex pairs, this broker offers both majors and exotics. The latter even includes the Czech Koruna, Chinese Yuan Offshore, Hungarian Forint, and Singapore Dollar.

Spreads
Despite the fact that the Easy Start and Mini can't access the zero-spreads that other accounts do, their 0.4-pip gap between the bid and ask prices is competitively tight and advantageous. Keep in mind that these two account types have a relatively small deposit requirement. Even with the use of leverage, such a minimal spread will not cause you to incur significant costs. When it comes to all of the accounts that are offered by Gerchik & Co, the bid and ask quotes are floating, which means that they could change and become wider when the markets are volatile. This includes the prices that Simple, Silver, Gold, and Platinum see.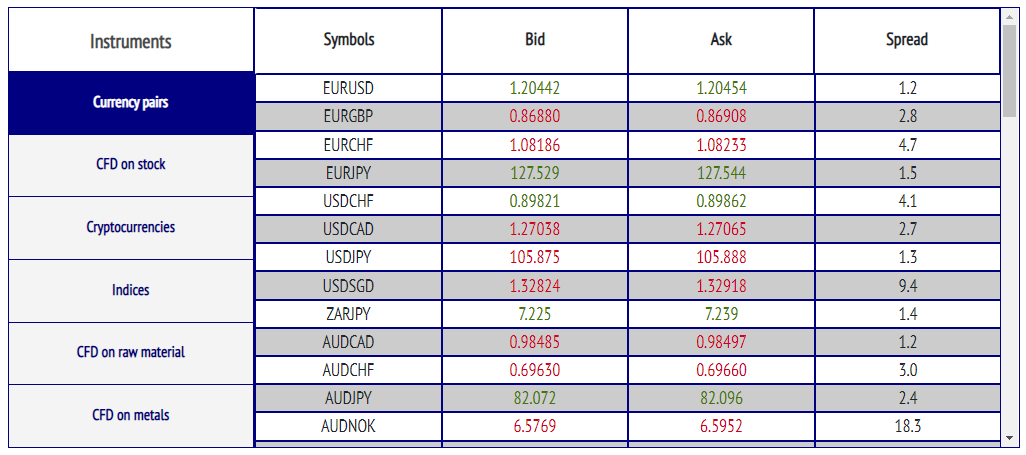 Minimum Deposit
The deposit requirements for each account type are outlined above. Gerchik & Co's website doesn't tell us what the minimum amount is for each transaction (after the initial deposit).
Deposit Methods & Costs
Needless to say, as a broker that offers access to cryptocurrencies, this firm has a variety of deposit methods, including the following traditional and electronic payment systems: Bank wires, ADVCash, Neteller, Payeer, Perfect Money, Skrill, WebMoney, and Visa/MasterCard. Account-holders also have the option of making deposits through their Bitcoin, Ethereum, Litecoin, and Ripple wallets. Almost all transfers are processed immediately and become instantly available to use for trading. However, debit/credit card and cryptocurrency wallet transfers may take up to 1 business day. Bank wires, meanwhile, will be processed between 1 and 5 days.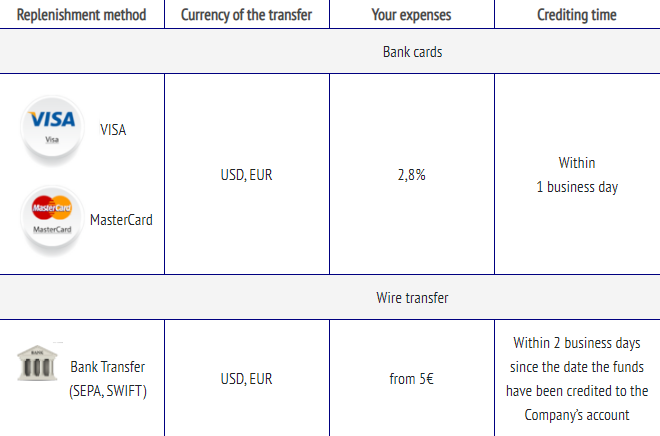 As far as fees are concerned, those also depend on your payment method. Electronic systems (such as Neteller and Perfect Money) can have a transfer cost of between 0.5% and 4% of the transaction size. All deposits from your crypto wallet will come with a 0.5% fee. For example, if you fund your account with $10,000 through Bitcoin or Ethereum, Gerchik & Co will charge you $50 (0.5% of $10,000). Visa/MasterCard transactions have a 2.8% fee, while bank wires have a fixed rate of 5€ ($5.50) for each transfer.
Withdrawal Methods & Costs
You can use any of the available deposit methods to withdraw capital. Interestingly enough, the fees to take money out of your account are less. Most of the time, brokers will not charge you for deposit funds, in the first place. MasterCard/Visa only has a 2% fee, while outbound transfers through Neteller cost you 1% (as opposed to the 4% charge on deposits). Withdrawals also have minimums and maximums. The smallest amount you can transfer out of your account is $1 for almost all methods, apart from bank wires' 100€ or $110 minimum transaction size. There is no restriction on the maximum withdrawal size, but bank transfers may vary based on your local laws.
Withdrawal Processing & Wait Time
It takes only 1 business day or less until the money is available on your debit/credit card or electronic wallet. You may have to wait longer (up to 5 days) if you withdraw funds through a bank transfer.
Bonuses & Promotions
Gerchik & Co doesn't have any bonuses, but they run demo account contests and competitions on an ongoing basis. In fact, the list of competitors for this round, which is provided on the broker's website, includes almost 5,500 participants. The 55 most profitable traders get $1,000 each. This year, however,  Gerchik & Co is offering a contest where real/live accounts are evaluated, with $5,000 up for grabs. This broker also offers an affiliate marketing program. Participants get 40% of the commission revenue from their referral's activity, up to $4 per trade.
Educational & Trading Tools
The value-rich trading tools that Gerchik & Co offers are amongst the firm's main strengths. Furthermore, there are 3 different calculators that account holders have at their disposal. The 'Pip Calculator' shows you the monetary amount of profit/loss when a forex pair moves by 1 pip. It takes into account the trader's default currency, which is a factor that may influence their returns after the position is closed and the profits are converted. The 'Risk Calculator' helps you to determine an appropriate place for your stop-loss orders, while the 'Trading Customization' tool allows you to examine different potential outcomes based on the position's size, whether you're long or short, the used leverage, your account type, and more. Apart from the calculators, Gerchik & Co's 'Traders Statistics' offering, which accurately collects information about your account's performance, identifies errors and crucial trends that can act as a guide when you make adjustments to your strategy. 

'Risk Manager' is an automated program that is especially helpful for those who want to control their psychological impulses. When stop-loss orders get triggered too often or an account holder suffers from a series of unsuccessful trades, the Risk Manager tool automatically halts their activities. This gives traders some time to take a step back, reevaluate certain strategies, and make decisions after their emotions evaporate. It is important to note that Risk Manager is customizable, which means that you set the parameters and conditions that trigger it. Lastly, 'Real Market Volume' could act as a difference-maker to many technical analysts who rely on investment/exchange volume when determining whether to buy/sell a forex pair. Real Market Volume assembles that data, compare it to underlying technical trends, and alerts account holders when they spot a 'false signal' to buy or sell.
Customer Service
There are many ways to get in touch with support, including via phone, email, Skype, and a form on the firm's website. Alternatively, you may send mail to their office or visit them in person. Gerchik & Co's main location is in the Pacific Ocean country of Vanuatu. Only the Coral Sea separates it from Australia's northeastern shores.
Phone:+44-203-318-42-01 (United Kingdom), 8 800 333 27 54 (Russia), 0 800 210 216 (Ukraine), +77-273-50-59-77 (Kazakhstan), 883510001243216 (Viber)
Email: support@gerchikco.com

Demo Account
Before putting your actual money on the line, the demo account lets you test your strategy in a live market environment and learn how to take advantage of MT4's different toolsets. Gerchik & Co integrated and pre-built certain strategies that you can immediately deploy after opening a demo. There are 3 steps that account holders would take. First, they understand how to analyze trade volume patterns and key price points.

After that, traders can identify breakout levels and crucial buy/sell signals. From there, the strategy tutorial shows them how to emulate successful trades and follow the patterns of major market participants. All of this can be found on demo account holders' user dashboards.
Countries Accepted
Gerchik & Co have certain geographic restrictions and their services are available based on a country's membership or standing with the Financial Action Task Force (FATF). Most nations around the world are members of FATF, but many countries in eastern Europe (including EU members like Poland), the Middle East, and Southeast Asia aren't part of the organization. Additionally, in spite of their membership, this broker isn't available to traders in the US, Canada, and Japan. Moreover, American and Canadian citizens, regardless of where they live, cannot open an account. However, citizens/residents of these 3 countries may do so under a few conditions. They have to demonstrate to Gerchik & Co that the firm's customer contract and the services that they will get do not violate any local laws or regulations.
Conclusion
This broker's spreads are remarkably low, if nonexistent. However, their commissions are undesirably high, especially in comparison to the industry's average rates. In fact, if there is one obvious downside to using Gerchik & Co, it's their fees. While many firms will not charge you money for depositing funds, this broker has fees on both inbound and outbound transfers. For that matter, withdrawals cost less than deposits. Yet the negative aspects stop here. When we look at Gerchik & Co's trading tools, barely any other firm can outperform them. Not only does Gerchik & Co offer 3 customizable calculators, but they also have resources that help traders manage their psychology, minimize their risks, and identify false buy/sell signals while the rest of the market is making these errors. Even their demo account comes with an integrated, pre-built strategy that you may deploy in real-time conditions. More specifically, the demo helps traders analyze volume, identify key price levels, and, as a result, enter or exit trades at the right time and point.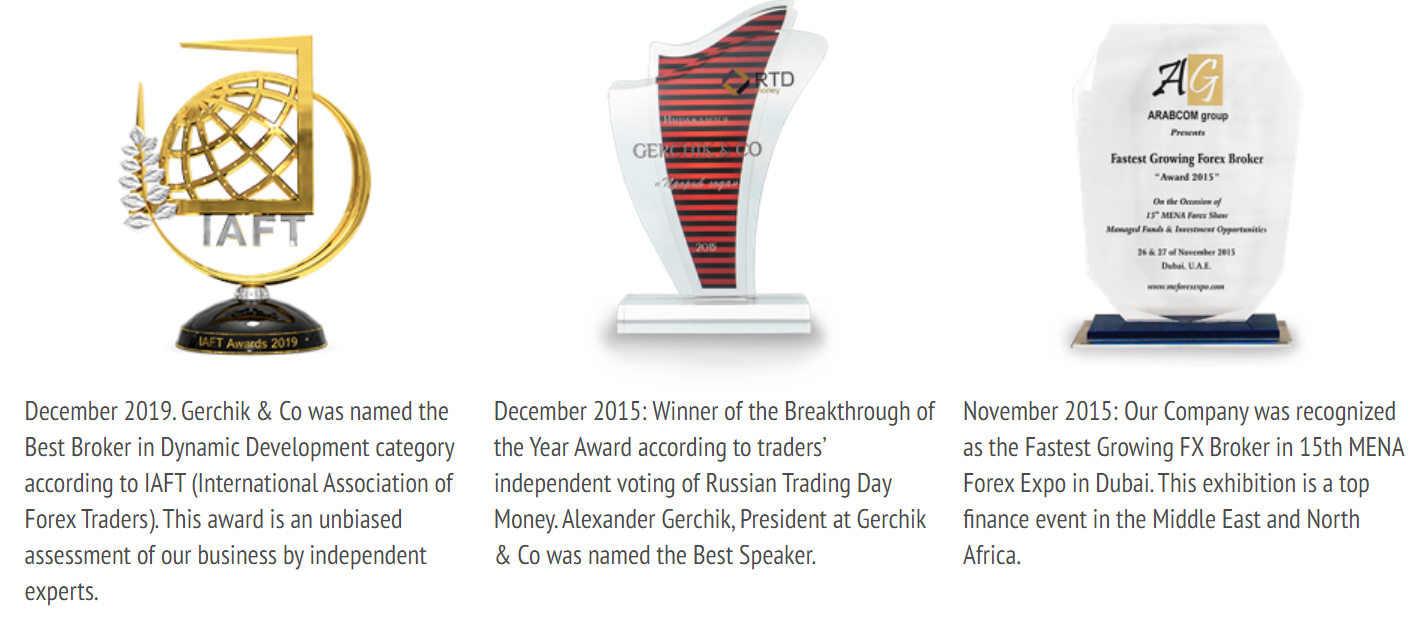 Unfortunately, all of these great features are not available to American, Canadian, and Japanese citizens or residents. However, if you really like this broker but live in one of those countries, you may get an exception by showing that local laws aren't in conflict with the firm's services. From there, you may pick between 6 different account types based on your deposit size, commission preferences, and desired spreads. Another downside is that Gerchik & Co only gives you 100:1 in buying power. Yet just as with regional restrictions, there are exceptions to the rule. This broker is willing to increase professional traders' buying power after they demonstrate their expertise and a track record of success. Another way to access more capital is by participating in the demo account contest and becoming one of the top 55 profitable traders that receive $1,000 each. In fact, the broker is hosting a live-account competition in 2020.
Listing the pros and cons can be difficult because they depend on where you live, how you trade, and what you prefer. However, this review gives you the details that you need to make an accurate assessment.