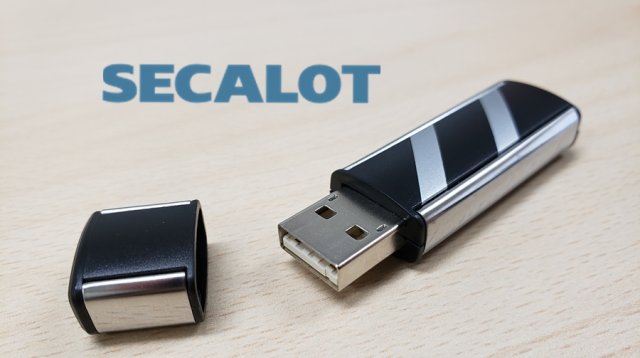 Secalot is an all-in-one, security-focused crypto hardware wallet developed and launched into the Crypto market in 2017. It takes the form of a USB dongle that packs a wide range of operational, security, and privacy features. Unlike most USB-like hardware wallets characterized by an OLED on-device screen, Secalot uses a remote screen. It nevertheless has two buttons for authentication of crypto transactions.
Most of Secalot hardware wallet features are spread between the USB dongle and its software/mobile app companions. We will detail them all in this Secalot hardware wallet review, outline the step-by-step guide on how to activate the crypto vault, vet its ease of use, and list its pros and cons.
Secalot wallet key features
Remote screen: Given that the Sacelot hardware device doesn't have an on-screen device, it relies heavily on a remote screen hosted on the Sacelot mobile app. This lets you view and manage your digital assets, though the private keys never leave the hardware device.
OpenPGP smart card: Secalot's unique design equips you with the capability to perform cryptographic actions using the OpenPGP smart card. These include file encryption and signing, logging into computers under Linux, signing and encrypting email,  as well as encrypting hard disks using TrueCrypt.
On-device buttons: The USB, like Secalot hardware wallet dongle, features two on-device buttons that are used to not only navigate the wallet but also authorize outbound crypto transfers.
Compatible with MyEtherWallet: Though the Secalot wallet is a multi-currency wallet, it is biased towards the Ethereum blockchain network, as evidenced by the fact that it is compatible with MyEtherWallet.
Portfolio tracker: The Secalot wallet app also features balance and transaction history tabs that let you monitor your digital assets portfolio in real-time.
Secalot wallet security features
PIN-protected: Secalot hardware wallet is secured and encrypted with a PIN code.
Recovery seed: When activating the wallet and creating a user account, you will be presented with a 24-word recovery seed to restore lost wallets and recover private keys.
U2F + OTP: The hardware wallet hosts the Universal Second Factor (U2F) feature that can be used to generate the one-time-passcode (OTP) for signing into sensitive websites like Google, GitHub, Facebook, NextCloud, and numerous other websites. This features compliments (and can be used alongside) Google's Authenticator app.
Hierarchically deterministic: Secalot is a hierarchically deterministic hardware wallet that auto-generates a new wallet address for each transaction. This privacy feature helps throw crypto trackers off.
Open source: The Secalot hardware wallet, software, and app are all open-sourced. You can download to view, audit, or suggest improvement on this source code from the official Secalot wallet website or their GitHub page.
Non-Custodial + Cold storage: Secalot is a non-custodial wallet that stores your private keys and other personal data in the cold offline storage – the USB like dongle device. You have absolute control over these private keys.
Encrypted communication: All Secalot hardware wallet communications with third-party systems and Secalot wallet app/software are highly encrypted. They communicate via the ultra-safe SSL/TLS channel that eliminates the possibility of a man-in-the-middle hack.
How to set and activate the Secalot wallet (Bitcoin or Ethereum wallet)
How to activate a Secalot Bitcoin wallet
Step 1: Start by downloading the modified version of the Electrum wallet on Secalot's official website.
Step 2: Install and launch the Electrum Wallet.
Step 3: On the initializing page, click on "Create New Wallet" and create a unique user name for your crypto wallet.
Step 4: Chose the type of wallet you want to create (between a standard wallet and a Multi-signature wallet)
Step 5: Connect the Secalot hardware device and copy the 24-word recovery seed generated.
Step 6: Create a PIN Code for your hardware wallet device
Step 7: The wallet is now active and ready to use
How to activate a Secalot Ethereum wallet
Step 1: After purchasing the Secalot hardware device, open their official website and download the modified MyEtherWallet
Step 2: Follow the installation prompts as dictated by the "Secalot Control Panel GUI."
Step 3: Connect the hardware wallet device.
Step 4: Copy the 24-word recovery seed generated.
Step 5: Create a PIN code for the hardware wallet
Step 6: The Secalot Ethereum wallet is now active and ready to use
How to add/receive crypto into your Secalot wallet
Step 1: Log in to the modified Secalot account you want to use, Electrum for Bitcoin or MyEtherWallet for Ethereum and ERC-20 tokens
Step 2:  On the user dashboard, click on the receive button
Step 3:  Copy the wallet address or the QR code displayed by the deposit window and forward it to the party sending you coins.
Step 4: Wait for the coin to reflect on your account.
How to send crypto from your Secalot wallet
Step 1: Log in to the modified Secalot account you want to use, Electrum for Bitcoin or MyEtherWallet for Ethereum and ERC-20 tokens
Step 2: Click the "Send" icon on the user dashboard.
Step 3: Enter the wallet address for the recipient and the number of coins you want to send
Step 4: Confirm the transaction and hit send.
Step 5: Connect the Secalot hardware dongle into the computer and log in by keying in the PIN code.
Step 6: Authorize the transaction
Secalot wallet ease of use
Though Secalot hardware wallet stacks a ton of features and advanced security protocols, it isn't user-friendly, especially to crypto beginners. We consider its onboarding process quite complicated, especially since it requires you to download, setup, and maintain two different online wallets to store two cryptocurrencies and a handful of Eth-tokens.
Further, the multilingual hardware wallet fails to integrate such basic features as a crypto exchange or swap platform.
Secalot wallet supported currencies.
Secalot hardware will only support Bitcoins, Ethereum, and ERC-20 token. Note that the two popular cryptos are also hosted on different Secalot wallets.
Secalot wallet cost and fees
You can order a Secalot hardware wallet from its official website. It currently retails at €50.
When sending Bitcoins or Ethereum and the ERC-20 tokens to another wallet or exchange, you will have to part with a variable transaction fee collected by blockchain miners and administrators.
Secalot wallet customer support
There are two primary ways of accessing the Secalot hardware wallet's customer support team. You can choose to send them an email or direct message them on Facebook and Twitter.
What are the pros and cons of using the Secalot wallet?
Pros:
Secalot is highly secure as it embraces advanced security features.
Advanced features.
It is competitively priced.
The hardware wallet is highly transparent in that its source code is fully open-sourced.
Secalot is highly versatile and available as a hardware dongle and software wallet app.
Cons:
Secalot hardware wallet relies on third-party wallets like electrum and MyrEtherWallet.
It supports a limited number of coins.
The hardware wallet packaging doesn't include a user manual/installation guide.
Comparing Secalot wallet with other hardware wallets
Secalot wallet vs. Trezor hardware wallet
Secalot and Trezor hardware wallets share more than a commitment to the safety and privacy, and integrity of their client funds. They both are also characterized by ultra-light hardware dongles and highly intuitive user interfaces. Moreover, they have embraced several high advanced operational and security protocols like the recovery seed, two-factor authentication, and maintaining offline cold storage for client private keys.
But while the Trezor Wallet has a relatively easy and straightforward setup process, Secalot Wallet's activation process is rather complex. Furthermore, Trexor Wallet supports a broader range of cryptocurrencies and tokens (1000+), while Secalot will only support two digital currencies.
Verdict: Is Secalot Wallet safe?
Yes, Secalot is a considerably safe hardware wallet. Not just because your private keys and all other data stored never leaves their offline storage but also because of the numerous and highly advanced security and privacy measures the wallet developers have put in place. For instance, they ensured that the wallet is hierarchically deterministic and provided the option of setting up a multi-signature wallet. It serves as a U2F authenticator, and both its firmware and software are fully open-sourced.