Royal Financial Trading is regulated by ASIC (the Australian Securities and Investments Commission ) as well as CMA and CySEC and has been operating for 13 years so it is safe to say this broker is well established. This broker offers more than the average broker with social trading services for those interested, and also offer not just CFD trading, but Spot FX markets are available also. MT4 and ZuluTrade are both available as trading platforms if one wishes to make use of lower spreads.
Account Types
Royal Financial Trading offers a strong variety of trading accounts:
Classic – $0 commission
Premium – $0 commission
Edge – $7 commission
VIP – $5 commission
Pro – $3.50 commission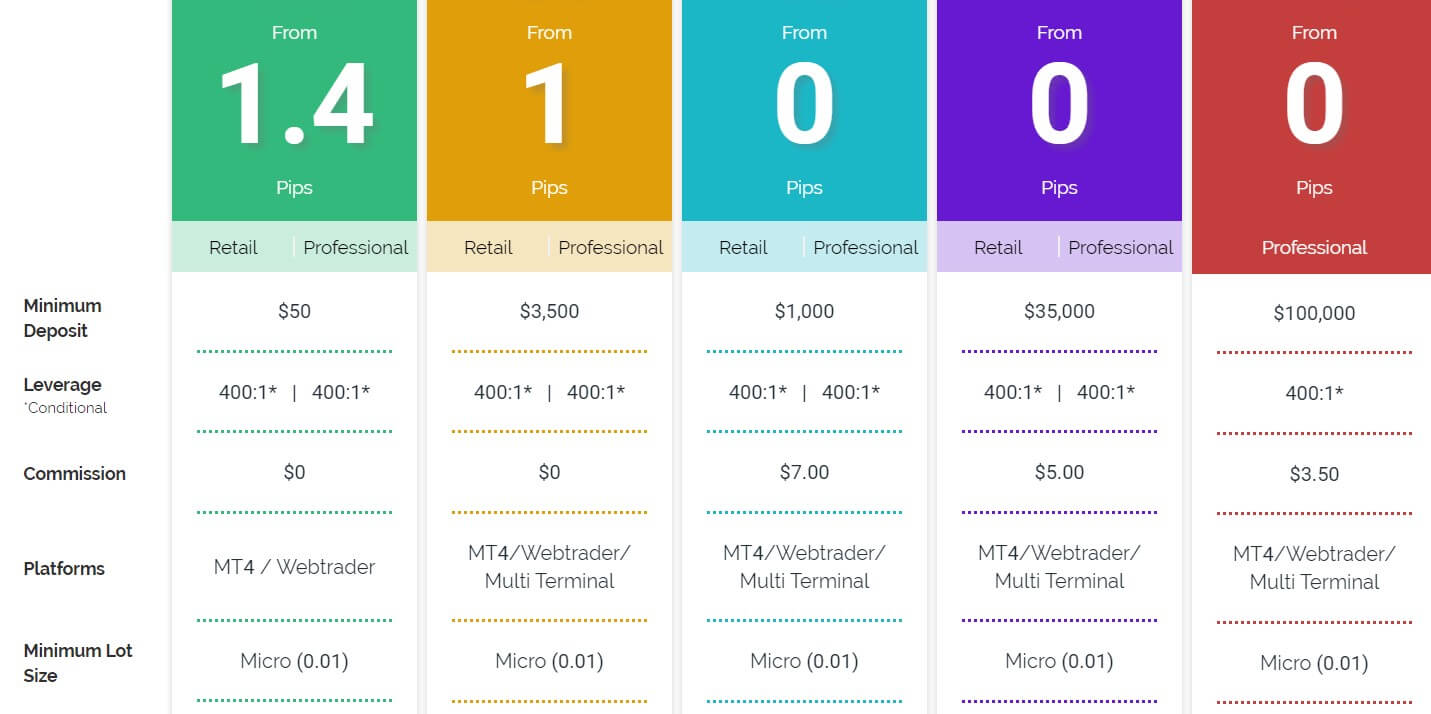 All accounts aside from the Classic account have access to both MT4, Webtrader, and ZuluTrade, and all accounts have access of up to 1:400 leverage. The minimum lot size requirement also remains the same(0.01 lot) across the board.
Platforms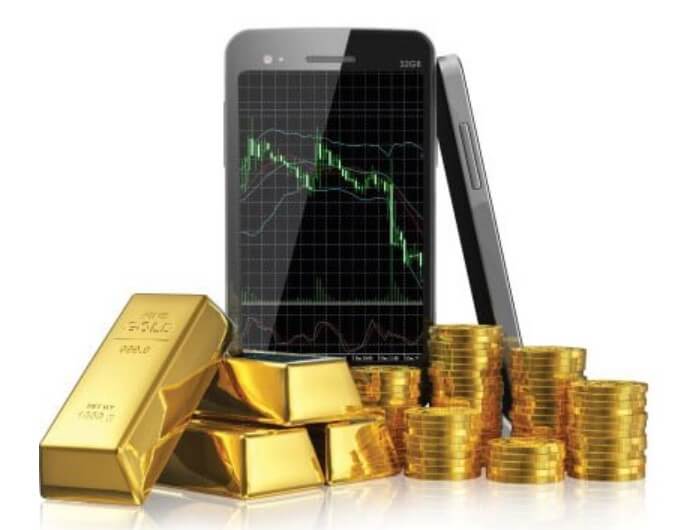 Royal Financial Trading offers both the well known and trusted MetaTrader 4 as well as ZuluTrade PLatform which gives clients access to smaller spreads. Both platforms are amicable but bear in mind that the Classic account is limited to the use of MT4 and web trader only.
Leverage
The maximum leverage allowed (across all accounts) is advertised as 1:400 however this is just applicable to 'professional' traders of each account type. Leverage offered to 'retail' trader clients trading CFDs is limited between 30:1 and 10:1. This is not particularly high and some may feel this is restricting. However, if you then wish to become a professional client and have access to leverage of up to 1:400, you will need to apply for such an account, and meet 2 out of 3 of the following requirements:
"The size of your financial instrument portfolio, which includes both cash deposits and financial instruments, exceeds 500,000 EUR. You have performed large transactions on the relevant market with an average frequency of 10 (ten) per quarter over the previous four (4) quarters. You have been working or worked in the financial sector for at least one (1) year in a professional position, which requires knowing how to perform transactions or use offered services.''
Trade Sizes
For all account types offered by Royal Financial Trading, the minimum trade size is the same, set at 0.01 lot, as stated on the website.
Trading Costs
The website sets out the account types with their benefits and specifications, and where it states that trading costs are set out as follows:
Classic / Premium – both $0 commission
Edge – $7 commission
VIP – $5 commission
Pro – $3.50 commission
In regards to swap fees, this is impossible to know unless you have signed up and have access to the portal, according to the live chat representative when asked.
Assets
Royal Financial Trading offers Spot trading (Forex and Commodities) in addition to CFD tradable assets including commodities, energies, shares, and indices. There are approximately 100 instruments in total to choose from, which is more than satisfactory for the average trader. It is nice to see a broker offer Spot trading too, which is not all that common to come across.

Spreads
Royal Financial Trading offers floating spreads on all account types, rather than fixed spreads. Bear in mind that the Classic account offers spreads starting from 1.4 pips while the Premium from 1 pip and the other 3 account types offer raw spreads, starting from 0.0 pips. The 0 spread accounts come with a commission charge, however, which then essentially makes the client trading costs even for all account types.
Minimum Deposit
Minimum deposit requirements vary from account type options, which are as follows, as stated on the website:
Classic: $50
Premium: $3,500
Edge: $1,000
VIP: $35,000
Pro: $100,000
As you can see, aside from the Classic account, for extra trading benefits, the minimum deposit is widely considered as dear and much more expensive in comparison to many other brokers of a similar caliber. This alone indicates the level of trading experience and expertise clients of this broker should expect to have before using these services.
Deposit Methods & Costs
You have the option to deposit via Bank Card, Bank Wire, Skrill or Neteller. All deposits take a minimum of 1 business day to process. Deposits made by card do not incur fees as these are covered by Royal Financial Trading however note that for bank wires, charges can be applied of up to 40 EUR per transaction. Skrill also has fees of 2.99% on the conversion fee (if applicable) and Neteller carries 0 fees for the client.

Withdrawal Methods & Costs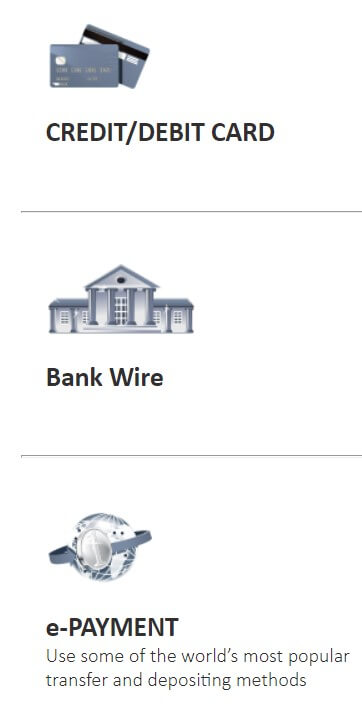 Royal Financial Trading offers the following methods to their clients for withdrawals: Bank Card, Bank Wire, Skrill or Neteller. Royal Financial Trading covers the fee for the client if the withdrawal is less than $50. Above that, you could be subject to a 2.5% conversion fee in addition to any transaction fee while Neteller and Skrill charge 2% to return funds to your Skrill/Neteller account. Lastly, Bank Card/ Wire (Domestic AUD transfers) do not incur any fees. All other international transfers and currencies will attract fees that are charged by the bank, so ensure you speak with your bank first to understand what you may be charged.
Withdrawal Processing & Wait Time
All withdrawals are processed by Royal Financial Trading within 24 hours (1 business day). Typically speaking Skrill and Neteller are relatively fast methods, but bank card and wire withdrawal timescales could vary depending on your banking provider's individual policies and timescales. In this case, it is good practice to check with your bank and see a timescale you should expect to see your funds land in your account.
Bonuses & Promotions
At this time, this broker does not offer deposit bonus schemes or have any promotional offers available.
Educational & Trading Tools
Royal Financial Trading offers a selection of handy tools in the way of Market News which can be found directly on the website, However, Royal Financial Trading does not offer any paid or free 'courses' as such. This also is another indication that clients of this broker are perhaps already well-experiecned traders and do not necessarily need this.

Customer Service
One may speak to a Royal Financial Trading customer service representative on a 24/5 basis (email, ticket, telephone or live chat). They operate this service between Monday-Friday, 24 hours a day.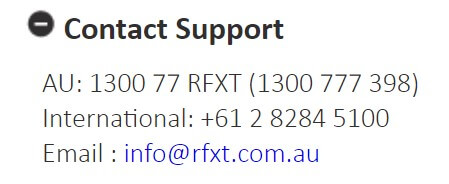 One key issue to note with this broker's customer support team is that they consistently seem reluctant to give even basic info away, before taking your email and pushing for the potential client to become a client, before answering most questions. This is both frustrating and time-consuming, especially when the website itself lacks key points.
Demo Account
You may open a Royal Financial Trading demo account, which is always recommended to make use of before entering into live trading. Regardless of whether you are an experienced trader or not, testing out broker trading conditions as close to the reality of a live account is always a good idea.
Countries Accepted
In respect of this brokers regulation compliance with ASIC, Royal Financial Trading does not accept applications from U.S., North Korea, Iran or Japanese residents and does not directly solicit business in these countries.
Conclusion
All in all, in respect of all the points we have covered, Royal Financial Trading is nothing short of an efficient broker in terms of trading conditions and the quality of service as a whole. However, as it has been pointed out a couple of times, there are many attributes to this broker that insinuate this broker is targeted and suitable only for those traders who are well experienced and understand the forex industry well. This broker may not be suitable for new traders.