FP Markets is an FX and CFD broker that offers leveraged trading of up to 1:500 on Forex, Metals, Commodities, Indices, Equities, Cryptocurrency CFDs. The broker's head office is located in Sydney, Australia and is regulated by the Australian Securities and Investment Commission (ASIC). Five different account types are offered, with three supported trading platforms. Different account types are made up of different price structures, allowing clients to choose different ways of paying costs. Stay with us to find out more about the advantages and disadvantages of choosing this broker.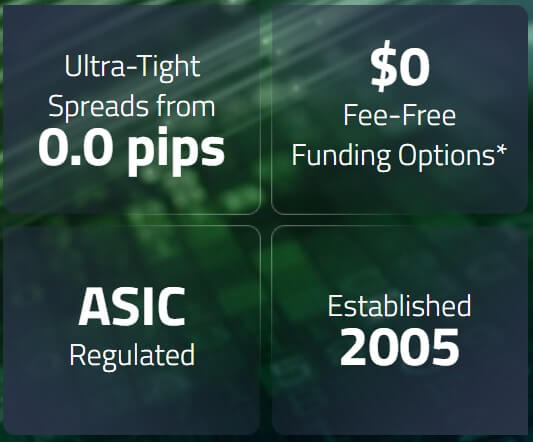 Account Types
This broker offers five different account types: Standard and Raw accounts on MT4/MT5 and Standard, Platinum, and Premier accounts on the Iress platform. Note that the Standard account conditions are completely separate on the two Standard accounts, so we will refer to the them more specifically as Standard (MT4/MT5) and Standard IRESS throughout this review to avoid confusion.
The broker offers trading on FX, Equities, Metals, Commodities, Indices, and Cryptocurrency CFDs; however, MT4/MT5 based account holders cannot trade Equities or Cryptocurrency CFDs. If you choose to open a Standard MT4/MT5 or Raw account, you're associated trading costs will come from traditional spreads and commissions. Iress accounts are subject to commissions and financing fees instead, so you'll definitely want to compare on that bases.
The minimum deposit requirements are also much lower on those traditional accounts and leverage caps are set higher than on the Iress account types. If you're having trouble making a decision, it may help to know that the broker has tagged the Raw MT4/MT5 account and the Platinum Iress accounts as being popular, so this could help to narrow down the choice to two options. We've outlined the aforementioned details below.
Standard Account (MT4/MT5)
Minimum Deposit: $100 AUD
Leverage: Up to 500:1
Spread: From 1.0 pips
Commission: Zero
Raw Account (MT4/MT5)
Minimum Deposit: $100 AUD
Leverage: Up to 500:1
Spread: From 0.0 pips
Commission: $6 USD Round turn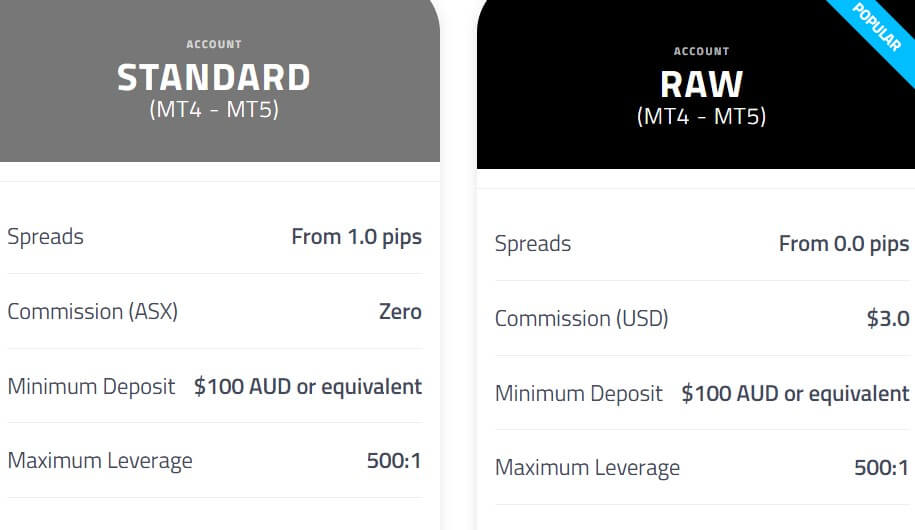 Standard Account (IRESS)
Minimum Deposit: $1,000
Leverage: Up to 1:200
Financing: Base rate + 4.0%
Commission: $10 AUD min per lot, then 0.1%
Platinum Account (IRESS)
Minimum Deposit: $25,000
Leverage: Up to 1:200
Financing: Base rate + 3.5%
Commission: $9 min, then $0.09%
Premier Account (IRESS)
Minimum Deposit: $50,000
Leverage: Up to 1:200
Financing: Base rate + 3.0%
Commission: No min, then 0.08%
This broker requires proof of identity (valid passport, driver's license, national ID card) and address document (utility bill or bank statement, dated within the last 6 months) for account verification. Support aims to approve accounts within an hour; however, the process can take up to one business day. If you'd like to open an Islamic account, you'll be limited to choosing one of the MT4/MT5 platform options (Standard or Raw).
Platform
This broker places a lot of importance on the trading platform that is supported for each account type. The Standard and Raw accounts support the well-known MetaTrader 4 and MetaTrader 5 platforms. On the other side of things, the Standard Iress, Platinum, and Premier accounts support the Iress platform. We'll start by taking a look at the more well-known, standard MT4 and MT5 platforms. Both offer user-friendly interfaces, one-click trading, live price streaming, Expert Advisors, pending orders and trailing stop orders, a variety of analytical objects, timeframes, charts, and more.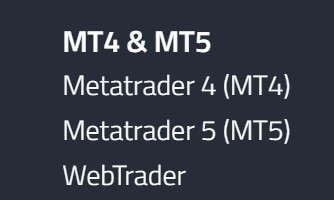 MT5 builds on its predecessor's features and adds more pending order types, an improved strategy tester for EAs, a built-in economic calendar, and greater flexibility for different trading styles. Both MT4 and MT5 are highly accessible, available through download on PC, Mac, Android, or through Google Play for iPhone/iPad. These platforms can also be accessed through the browser-based WebTrader. Moving on, we were interested to get more of an in-depth look at the Iress platform, since this broker markets three account types around this trading platform.
Iress is made up of Viewpoint, Trader, Investor, and Mobile options. Viewpoint is also browser-based, markets a user-friendly interface, the ability to manage multiple portfolios, multiple timeframes, real-time price streaming, 59 technical indicators, 50+ drawing tools, and is designed for professionals. Trader is a web-based platform that provides tools to help with advanced trade management and charting. The Investor version seems to have the same idea in mind and introduces strategies like diversification and hedging. Those using the Iress platform may have to pay some fees for doing so if live pricing is chosen. The click and refresh pricing model is available fee-free. You can view more detail about those fees under 'Trading Costs'.
Leverage
The Standard MT4/MT5 and Raw accounts both support flexible leverage options that go up to 1:500, depending on what instrument is being traded and the amount of funds in the client's account. The maximum leverage cap is available on accounts with an equity of less than $10,000. Other limitations are as follows; 1:400 for equity of up to $25,000, 1:300 for equity of up to $50,000, and 1:200 for equity of up to $100,000. Leverage of 1:100 and lower options are not limited based on the account's equity.

When trading Bitcoin, leverage is limited to 1:5 and the cap on Precious Metals is 1:500. When trading Forex pairs on any of the Iress accounts, the maximum leverage cap is set at 1:200. For Stocks, the leverage is based on characteristics of the stock in question. The broker mentions that it is too risky to allow traders to use leverage on certain instruments, but does not explain which instruments require leverage of 1:1.
Trade Sizes
The minimum trade size is one micro lot. On Forex instruments, the maximum trade size is 50 lots. Otherwise, the maximum trade size will depend on which asset type is being traded. For the Standard and Raw accounts, margin call level is set at 100% and stop out occurs at 50% margin level. Meeting the stop loss level would result in trades being automatically closed by the system, starting with the trade that is incurring the largest loss. Stop out is not an automated process on the Iress system. Instead, the risk management team will reach out to clients if there is an issue with the amount of funds needed to maintain positions within their account.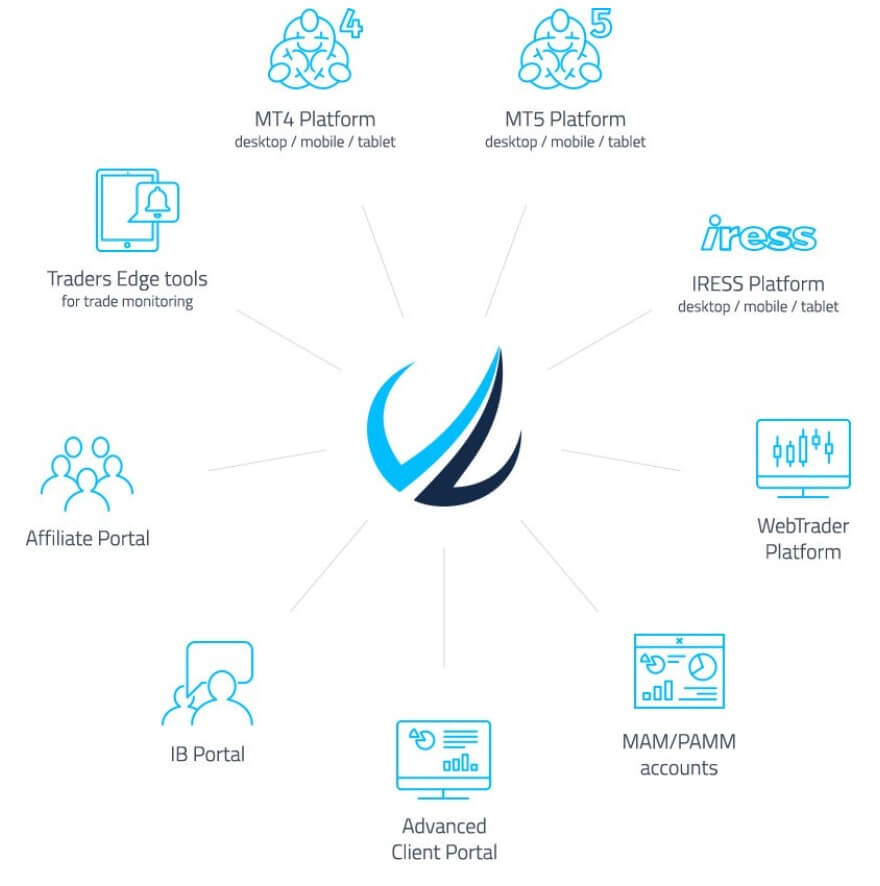 Trading Costs
The charges you pay with this broker depend on the account type that has been opened. All clients, aside from Islamic account holders, are subject to swaps. If you've opened a Standard or Raw MT4/MT5 account, you'll pay traditional commissions, if applicable, and you'll also pay charges through spreads. For any Iress account holders, commissions and financing charges are applicable. It's also possible that you'll be paying Iress trading platform fees. We've broken down these fees below.
Commissions: Commissions are not charged on Standard MT4/MT5 accounts and are charged at a rate of $6 round turn on Raw accounts. The Standard Iress, Platinum, and Premier accounts are sorted into three sizes; $1-$25,000, $25,000 to $50,000, and $50,000 plus. Commissions correspond to 0.10% with a $10 minimum, 0.09% with a $9 minimum, and 0.08% with no minimum.
Spreads (Standard + Raw Accounts): Spreads start from 0.0 pips on Raw accounts and are from 1.0 pips on Standard MT4/MT5 accounts.

Financing Charges (Iress Accounts): Financing charges on Iress accounts are charged at the base rate + 4.0% on Standard Iress, base rate + 3.5% on Platinum, and base rate + 3.0% on Premier. The broker doesn't go into further detail.
Swap Fees: Swap is a form of interest that is applied to overnight trades and can either be positive negative. Right-click in the Market Watch window on the symbol you wish to know the rates for, and select 'Specifications'. You will then see the long and short swap rates if you scroll down. Note, the rates for Forex are displayed in points. Swap-free status does not apply on the following instruments; USDTRY and EURTRY, so be sure that all open positions are closed before 00:00 platform time to avoid being charged swaps on an Islamic account.
IRESS Platform Fees: In addition to standard trading costs, there also seem to be some fees associated with using an account that trades through the Iress platform. Note that it is free to use the click and refresh version of the platform, while fees are associated with live pricing. For live pricing, there is a $55 GST + $22 live data fee for Standard Iress and Platinum account holders. These fees are waived on Premier accounts. GST fees are also waived for traders that generate more than $150 in commissions per month and live data fees are waived for clients that generate more than $50 per month in commissions.
Assets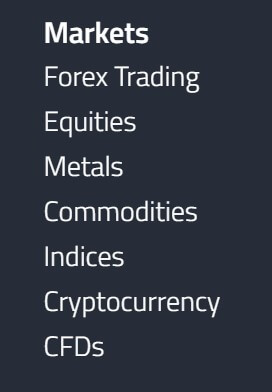 Available markets include Forex, Equities, Metals, Commodities, Indices, and Cryptocurrency CFDs. All options are available on Iress accounts, while both MT4/MT5 centered accounts limit the options to FX pairs, Metals, Indices, and Commodities. The broker advertises 70 currency pairs as being available; however, we only counted 52 available instruments ourselves, all of which were made up of majors, minors, and exotics. Trading Metals is available with leverage of up to 500:1 on XAUUSD, XAUUAD, XAGUSD, and XAGUAD.
According to the website, Commodities are made up of energy, metals, and agricultural products; however, there are only 3 listed oil products for the category. The twenty total available Indices are made up of DMA and CFD Indices. Note that this would be the extent of the options within accounts that support MT4/MT5. Moving on, we see a large number of available Equities, including; 2,165 Australian options, 1,674 UK options, 1,674 USA NASDAQ choices, 1,885 USD NYSE options, 2,149 Hong-Kong options, and 781 Singapore options. Cryptocurrency options are made up of Bitcoin, Bitcoin Cash, Litecoin, Ripple, and Ethereum.
Spreads
Spreads are only applicable on Standard and Raw MT4/MT5 accounts. Those spreads start from 0.0 pips on Forex for the Raw account type and are from 1.0 pips on Forex for the Standard account. Since spreads are floating, the actual minimum spreads you'll see will differ, based on the instrument that is being traded. Comparing these options shows that minimum spreads tend to be significantly lower on Raw accounts, for example, the minimum spread on AUDCAD is at 1.2 pips on Standard accounts and starts from 0.4 pips on the Raw account type. However, the typical spreads can climb higher. Looking at the same instrument, we see typical spreads of 1.93 pips on the Standard account and 1.16 pips on the Raw account. If you'd like to compare some of the spreads for yourself, you can do so under 'Trading' > 'Pricing' > 'Spreads'.

Minimum Deposit
Both of the MT4/MT5 accounts are on the more affordable side, with a minimum deposit requirement of $100 AUD, or equivalent, on both the Standard and Raw account types. If you're set on one of the Iress accounts, the cheapest option would be the Iress Standard account, which requires a minimum deposit of $1,000 AUD, or equivalent. From there, prices are significantly higher, with a $25,000 amount for Platinum accounts and a $50,000 requirement to open one of the exclusive Premier accounts. Since some of these amounts are obviously large, traders may be limited to choosing between two or three account types, based on affordability.
Deposit Methods & Costs
This broker offers a variety of funding methods, including: Visa, MasterCard, Domestic or International Bank Wire, Neteller, Skrill, POLI Pay, BPAY, Fasapay, Paytrust88, Ngan Luong, PayPal, and Bank of China Online Pay. Broker to Broker transfer is also supported. The broker separates Visa/MasterCard deposits into two categories, with one being for the MT4/MT5 supported accounts, and the other being for the Iress support accounts. The difference would be that there are no fees charged on deposits for the Standard or Raw MT4/MT5 accounts, but there is a domestic fee of 1.6% and an international fee of 3.18% when funding an Iress supported account through Visa/MasterCard. PayPal charges in the same way, with no fees charged on MT4/MT5 accounts and a 2% fee for Iress accounts.
There is a fee of 12.5 AUD on International Bank Wires and a charge of 25 AUD for Broker to Broker transfers. All of the remaining methods are fee free. The majority of these methods are funded instantly, with a one day waiting period on some methods. Note that the broker is typically slower to credit Iress based accounts and can take 1 business day to credit funds sent through PayPal and POLI Pay, where these methods are funded instantly for MT4/MT5 based accounts.
Withdrawal Methods & Costs
Due to the company's regulation guidelines, traders are required to withdraw the same amount that was deposited back through the same method. Once that amount has been withdrawn, any profits can be withdrawn through another method. All deposit options are available for withdrawals. We see various fees charged on most methods, with no fees charged on Visa, MasterCard, or Domestic Bank Wire withdrawals. PayPal withdrawals are also fee-free for MT4/MT5 account holders. All applicable fees for the remaining methods have been listed below.
International Bank Wire: 10 AUD
Neteller: 2% (max 30 USD) 1% + country fees (if applicable)
FasaPay: 0.50%
Paytrust88: 1.5%
Ngan Luong: 1,000 VND + 1%
PayPal: 2% for Iress accounts (fee free for MT4/MT5 accounts)
Bank of China Online Pay: 18 USD
Broker to Broker Transfer: 25 AUD for International transfers (fee free for Domestic transfers)
Withdrawal Processing & Wait Time
Withdrawals through all methods are processed within one business day. For Domestic and International Bank Wires, the company mentions that the 1 day waiting period is applicable as long as the correct documents are received, otherwise, there could be some delays. If you haven't received a Bank Wire within 5 business days, the company will then provide some information to help track that deposit.
Bonuses & Promotions
Unfortunately, the broker doesn't seem to be offering any bonuses or promotions right now. This isn't something that you should always expect to see offered from brokers, although bonuses do provide a nice incentive to join, so long as the terms and conditions are actually realistic. If you do decide to sign-up, there's always a possibility that this broker could add some type of options in the future, so keep a look out for any updates.
Educational & Trading Tools
Traders will find a few options under the 'Resources' section on the broker's website. Educational resources are made up of eBooks, video tutorials, trading courses, and a glossary. The eBooks section tends to focus more on trading strategies and the video tutorials section only offers three videos that cover installing and logging into the MT4 platform. The MT4 tutorial could be helpful for anyone struggling to figure out how to install the platform, although we wish those sections were more in-depth. The trading courses section is made up of three categories; Forex, Stocks, and CFDs, and the category is actually made up of an eBook on each subject. The broker also provides company news, newsletters, daily market news, news for the week ahead, and an economic calendar.
Demo Account
Free demo accounts are available through this broker for any potential or existing clients that would like the advantage of practicing on one. Signing up for a demo takes as little as 30 seconds and simply requires one to enter their name, email, country, and phone number. As long as a demo account is logged into regularly, it will never expire. Support is also willing to top up demo accounts for any clients that reach out and ask them to do so. Demo accounts can be opened for the Raw or Standard account types and can be accessed through MT4, MT5, or the Iress platform. Conditions on demo accounts mimic real market conditions, aside from the fact that virtual currency is used. Also, placed trades on demo accounts are not sent to the market for execution, therefore, you may receive faster fills or less slippage when trading from a demo account.
Customer Service
Support is available 24 hours a day, 5 days a week and can be contacted through LiveChat directly on the website, phone, email, or via callback request. If you're looking for the fastest, most convenient option, we would definitely recommend hopping on LiveChat. When we tested the company's response time, we were overjoyed to find that support was available to respond to our inquiry immediately on this contact option. All provided contact info is for the company's primary headquarters in Australia.
Phone:
General: 61 (0)2 8252 6800
Toll-Free: 1 300 376 233
Fax: +61 (0)2 8252 6899
Email:
New Enquiries: [email protected]
Account Opening: [email protected]
Withdrawals: [email protected]
Funding: [email protected]
Trades: [email protected]
Support: [email protected]

Countries Accepted
The broker states that residents from the Unites States, Japan, New Zealand, or any other location where local laws would be violated by participating will not be allowed to open a trading account. In some cases, brokers will still allow clients from supposedly restricted locations sign-up, so we attempted to open a live account from our US based offices to be sure. Sadly, all three of these countries are in fact missing from the sign-up list, so there's no way around this restriction. If you also find your country is missing from the list, it is very likely that your location is also restricted, based on the information we found on the broker's FAQ.
Conclusion
Fpmarkets is a regulated broker that provides traders with several options, including; 5 different account types, three separate platforms, and accounts that offer the ability to pay costs in different ways. The broker offers leveraged trading of up to 1:500 on some account types on a variety of assets, including cryptocurrencies, and a significant number of Equities. The MT4/MT5 based accounts are affordable, while minimum deposit requirements climb much higher on some of the Iress based accounts, with the largest requirement being $50,000. Spreads are only applicable on the MT4/MT5 accounts and are floating, starting from 0 and 1 pips.
The broker offers several quick funding methods. Some fees do apply, although Domestic Bank Wire, Visa/MasterCard, and withdrawals through a couple of other methods are fee free. There are no ongoing bonuses and while there seem to be some useful categories related to education, these options could be more in-depth. Support is readily available on weekdays and be contacted through a variety of methods, including LiveChat. This broker restricts residents of the US, Japan, and New Zealand, so some traders may have problems based on those rules. If you're in an accepted location and these terms seem advantageous, then this broker could be a worthy choice.