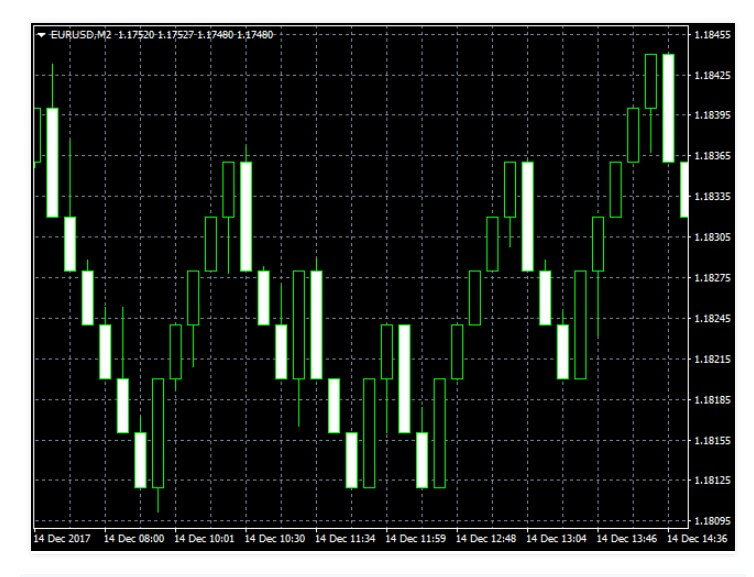 Renko Bars 3in1 is an indicator that was published in the mql5 marketplace on January 17, 2018, by an author named Yuriy Shatsckiy, who has published multiple other indicators that are based on similar concepts. The current running version is 1.10. It was previously updated with a change to the formula for the construction of bars at the beginning of March of this year.
Overview
This indicator is designed for plotting Standard Renko Bars where the price is twice the size of the bar, Renko Range Bars where the price is the same, and Renko Bars with the ability to adjust the size of the bar. Renko Bars deviate from traditional charts because they are only focused on the price and don't show timeframes, but these chart types often depict trends clearly and can make indicator-based trading simpler.
The indicator offers the ability to test indicators and experts within the tester and is compatible with the popular MetaTrader 4 platform. Parameters cover the candle size and multiplier and allow users to work with some settings for testing and other factors. The developer has included a video that guides traders through the process of installing the indicator and running tests.
Service Cost
Traders have two options cost-wise. The first option would be the buy the indicator outright for $30 USD, or to rent it for 6 months at half the price. Both prices are relatively low, so traders won't have too much of a loss if this indicator turns out to be a dud. Still, you'll wind up paying the overall cost after one year of renting, so buying may be a more frugal choice in the long run.
Conclusion
Although Renko Bars don't show timeframes, some traders prefer these chart types because they can make price action and indicator-based trading easier. That being said, Renko Bars don't exactly give you a competitive edge in the markets, but the trading strategy can be profitable if you learn to use the indicator effectively. Take a look at this user's comment below.
"It is very profitable. I have backtested with my EA. I have found unbelievable results." -Alessio
There aren't many other comments that actually talk about results. This indicator was published back in 2018, but the demo has only been downloaded 175 times. There's always going to risk involved with using indicators, so traders will need to decide if these particular risks are worth the potential rewards.
This Forex service can be found at the following web address: https://www.mql5.com/en/market/product/27133