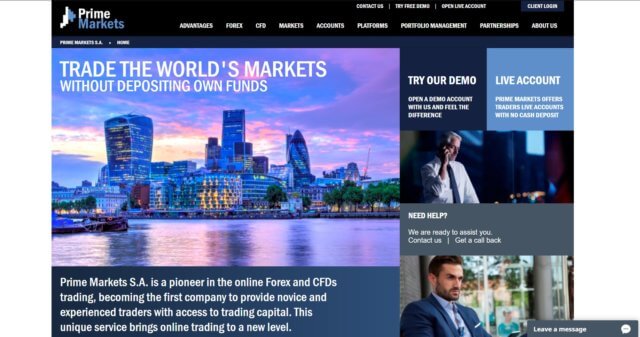 Prime Markets is a forex and CFD broker based in Saint invent and the Grenadines, they are a firm offering free capital to those that want to trade, as well as offering more traditional broker services. They pride themselves on their competitive pricing in regards to spreads and commissions, in this review we will be looking into the services being offered so you can decide if they are the right broker for you.
Account Types
Three different accounts each with differing requirements to open and different trading conditions to offer, here is what we know about each one.
Standard Account: The standard account requires a minimum deposit of at least $2,000, it can be in a base currency of USD, EUR, GBP, CHF or JPY. It has MetaTrader 4 as its trading platform and has a minimum trade size of 0.1 lots for forex or 1 lot for CFDs. It allows for advanced charting, trailing stops and the use of expert advisors, the accounts leverage can be selected up to 1:100. There is no added commission on this account.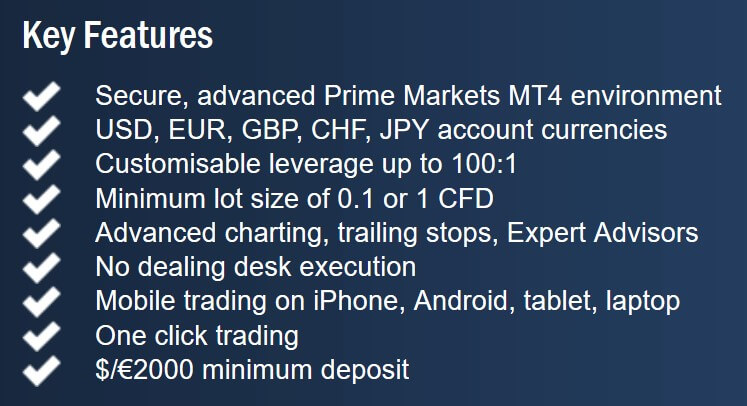 ECN Account: The ECN account requires a minimum deposit of $50,000 which will price out a lot of newer traders. The account can be in USD, EUR, GBP, CHF or JPY and it has spreads starting as low as 0.2 pips. Leverage can be up to 1:100 and the minimum trade size is 0.1 lots for forex and 1 lot for CFDs. It allows for advanced charting, trailing stops and the use of expert advisors and, there is no dealing desk execution.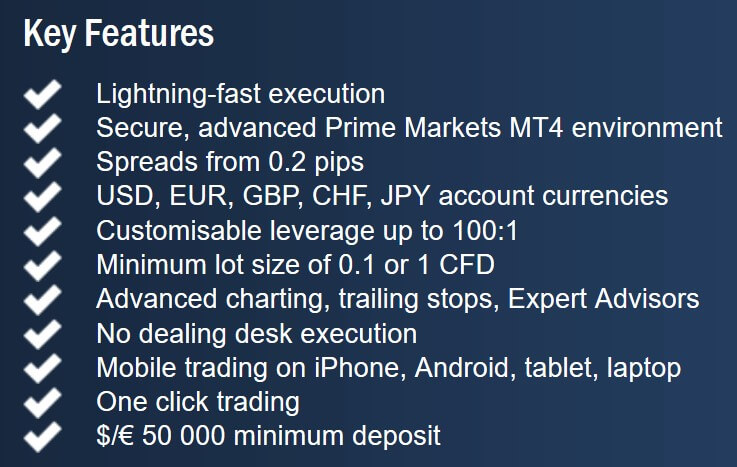 No Cash Deposit Account: This account does not need a cash deposit as Prime MArkets will give you capital to trade with, however, they do not indicate how much it is. It can have a base currency of USD, EUR, GBP, CHF or JPY. It has MetaTrader 4 as its trading platform and has a minimum trade size of 0.1 lots for forex or 1 lot for CFDs. It allows for advanced charting, trailing stops and the use of expert advisors, the accounts leverage can be selected up to 1:100. There is no added commission on this account.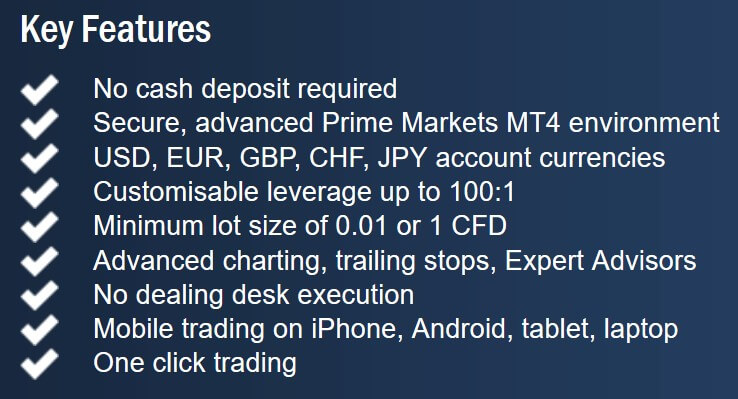 Platforms
Just the one platform on offer, the good news is that it is the popular MetaTrader 4 platform, so let's look at what this offers.
MetaTrader 4 (MT4): Prime Markets MT4 Client Terminal is designed to optimize trading performance by delivering a user-friendly and feature-loaded trading environment that can be customized to meet your personal strategy & trading requirements. The MT4 Client Terminal is the optimal trading platform for both novice and advanced traders looking to gain a competitive edge. Advanced charting technology combined with modern order-management tools helps traders to monitor and control their positions easily and quickly.
Key Features:
Market Watch Window
Navigator Window
Multiple Order Types
85 Pre-Installed Indicators
Variety of Analysis Tools
Multiple Chart Setups
Automated Trading
Order Execution Capabilities
Leverage
Leverage on all accounts can be up to 1:100, it is flexible so you can select how much you want when opening up an account, you can also change it when you want if you are not sure how you can get in contact with the customer service team to perform the change for you.
Trade Sizes
Trade sizes for Forex pairs start at 0.1 lots (known as a mini lot) and go up in increments of 0.1 lots so the next trade would be 0.2 lots and then 0.3 lots. If trading CFDs then the trade sizes start at 1 lot.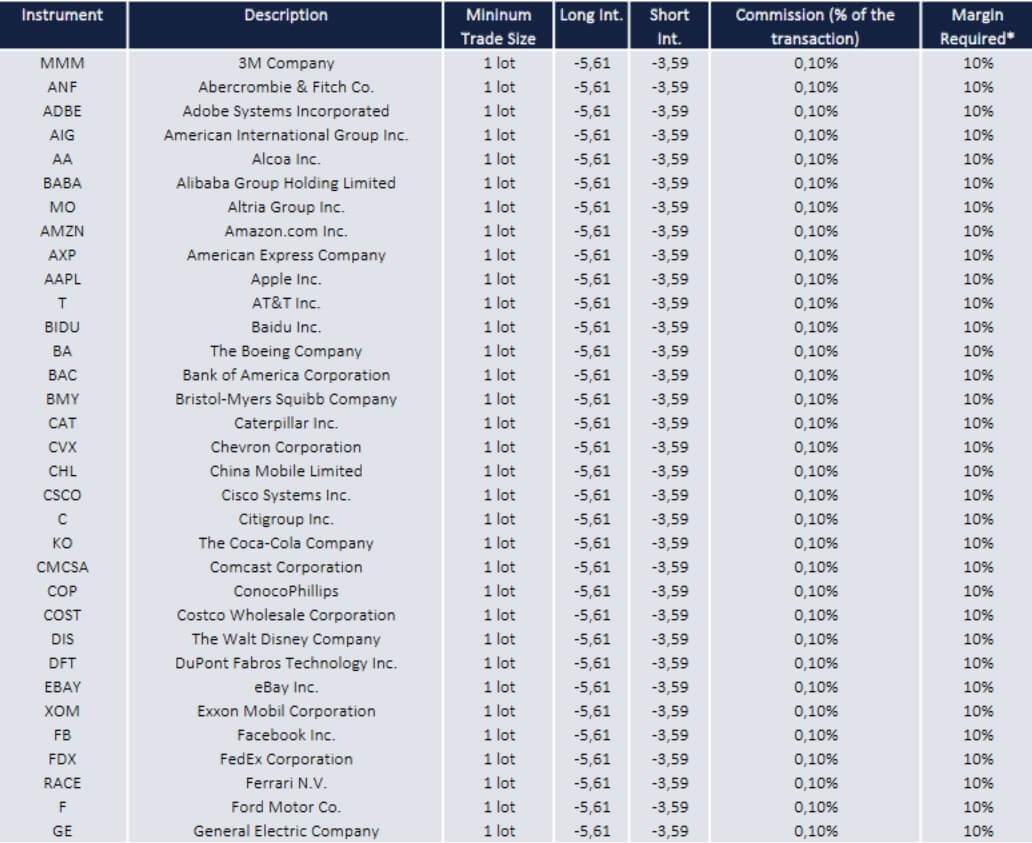 There is a little discrepancy though as the product specification PDF states that the minimum trade size is 0.01 lots (micro lot) so we are not sure which one is the real number. We are also not sure what the maximum trade size is, whatever it maybe we would recommend not trading in sizes larger than 50 lots, as the bigger a trade becomes the harder it is for the markets or liquidity provider to execute the trade quickly and without any slippage.
Trading Costs
Prime Markets mention low commissions on their marketing, however looking through the site we can not see anything to do with commissions at all, considering there is an ECN account we are fairly sure that commissions will be on that account, but we just don't know how much, it can be a bit suspicious that it isn't advertised, because if a broker was proud of their low commissions, you would advertise what they are. The other accounts use a spread based system and so there are no added commissions on those accounts.
There are also swap charges which are for holding trades overnight, they can be both positive or negative and can be viewed within the MetaTraddre4 trading platform.
Assets
Prime MArkets have broken down their assets into 4 different categories, the first being Forex currency pairs, there are major pairs, minor pairs and a small selection of exotic pairs, some of them include the likes of EURUSD, AUDJPY, GBPPLN and, USDRUB. Next up are Indices, there are quite a few available including FTSE 100, SPX 500, DOW 30 and, IBEX 35. There are 5 different commodities Gold and Silver are available, tradable against both USD and EUR, then there is also US WTI Oil. Finally, there are shares, a selection of US Shares, German shares, and French Shares. Some of them include Apple, Facebook, Siemens, and Vivendi.

Spreads
Spreads seem to be starting at around 1.4 pips which is reasonable, the spreads are variable which means they move with the markets when there is a lot of volatility then they are often seen bigger. Different instruments also have different starting spreads so while EURUSD may have a starting spread of 1.4 pips, other instruments like EURAUD have a starting spread of 3.8 pips.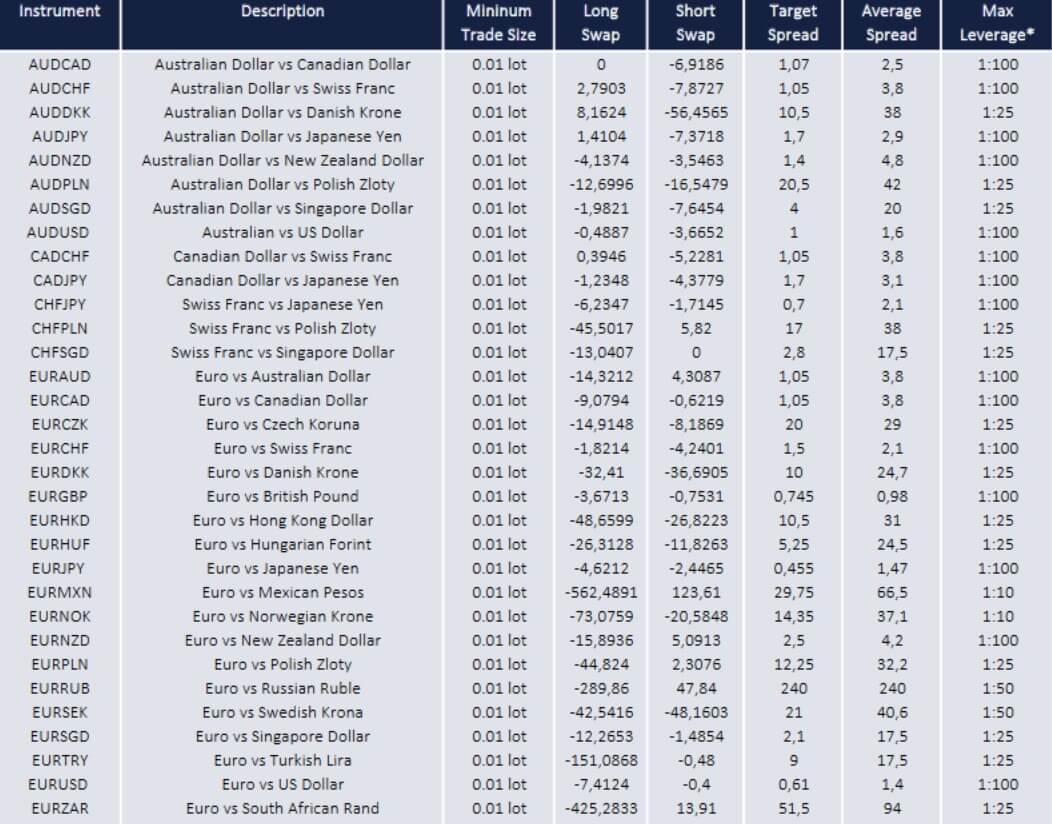 Minimum Deposit
You are able to open an account without a deposit however we are still unsure of the exact terms of how that works. In order to open a funded account, you will need a deposit of at least $2,000 for the standard account or $50,000 for the ECN account both of which are quite high starting amounts and could price out a number of newer traders.
Deposit Methods & Costs
Unfortunately, there does not appear to be any information around deposit methods or the fees that come with them. The terms of use also do not mention them which is a real shame, as a forex broker deals with our money, knowing how they will deal with it and also any costs related to it is vital for us to know, so not having that information available can really put off potential clients.
Withdrawal Methods & Costs
The same goes for withdrawal methods and fees. There is no information available so it is not something that we are able to comment on at the moment.
Withdrawal Processing & Wait Time
Just like the previous 2 sections, there is no information so we are not able to make a comment or judgment on this part of the review, apart from the fact that this information should have been available and easily accessible.
Bonuses & Promotions
We could not locate any information surrounding bonuses or promotions so at the time of writing this review it does not appear that there are any running. If you are looking for bonuses you could always get in contact with the customer service team to see if they have any upcoming bonuses or promotions planned. There is a bonus PDF at the bottom of the page relating to a deposit bonus, however, we would no tell if this was an active bonus or just an out of date document.
Educational & Trading Tools
There are a few basic articles surrounding Forex and CFD trading, but not much else in the way of educational tools. Trading tools are limited to those that are built into the trading platform. The addition of a bit more in this area would be nice to see.


Customer Service
Prime Markets have made it easy to get in touch with them, you can do it in a number of different ways. There is a phone number and email address for various different departments such as Sales, Support, and Partnerships so you can get in touch directly with the department you need. There is also a physical address available and if you are on social media, you could tweet at them on Twitter.

Demo Account
Demo accounts are available and have the following features: $100,000 to start up your virtual account or adjust the amount to your preference, get firsthand experience of the sophisticated MT4 Platform, simulated market conditions with live spreads & prices, accessible for new traders to develop their trading knowledge, great for experienced traders to practice trading strategies and risk-free with only virtual funds used – real funds are not needed in demo. There is no mention of how long the accounts last though which would be nice to know as some brokers are putting time limits that cause the demo accounts to expire.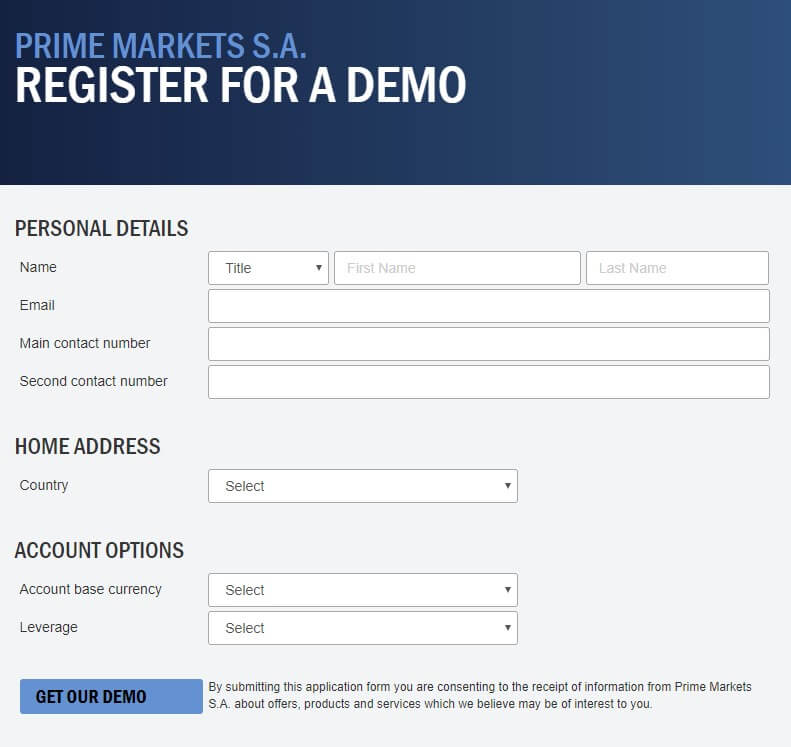 Countries Accepted
We could not locate the information surround who can and cannot sign up, so if you are interested we would recommend getting in contact with the customer service team to check if you are eligible for an account or not.

Conclusion
Prime markets started out well offering decent trading conditions and options, however, that quickly fell apart when we started looking at the deposit and withdrawal methods, there is no information available at all which is one of the biggest letdowns a broker that provides, for that matter alone we can not recommend Prime Markets as a broker to use at this point in time.