PipsMinerFast is a trading indicator that was added to the mql5 marketplace in December of 2015 by the multi-product author Remi Passanello. It was most previously updated to version 1.5 on March 10th of 2020 to allow for more documented comments in alert messages.
Overview
PipsMinerFast is an indicator that primarily follows trends while also using price action in order to show traders trends immediately with minimum lagging. It works on all timeframes and manages to accommodate exotic pairs like GBPNZD on the MT4 platform. The author has promised to code a version for MT5 after 4 requests (we counted one so far). Through charts, the author details how the indicator outlines potential wins in pips, as well as potential losses.
The developer does not try not to make this indicator sound like a magic solution, but he does claim that the success rate is fairly high at a rate of around 90%. Note that the indicator is not repainting and it is adaptable when it comes to spread level, smoothing, etc. Although it is not among the requirements, working with a low-spread broker would be more beneficial to the trader.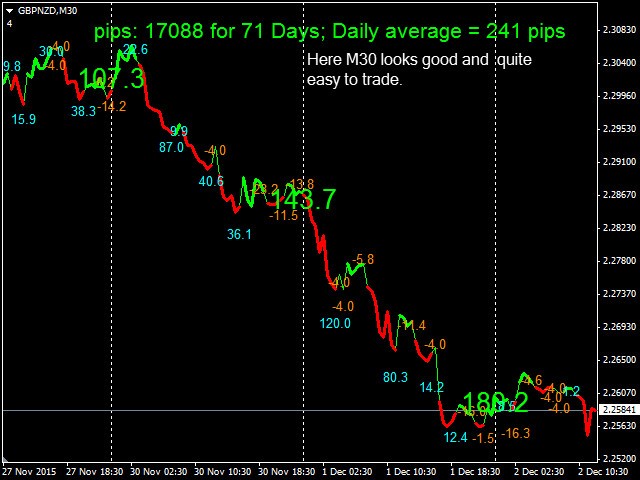 Service Cost
It costs $120 USD to buy the program with 5 activations, otherwise, traders can rent it for one month at the reduced rate of $53. It's nice to see that renting is an option, but the price for one month is rather high compared to the $10-20 range we often see with other indicators. If you want to test this indicator, it may be best to do so with a free demo account instead.
Conclusion
The author of this indicator provides a straightforward presentation of his product. It shows traders the trends in the market with no repainting and works with a variety of currencies and timeframes with a 90% success rate. We found users to be fairly happy with their results, so long as a good trading strategy is used in combination with the indicator.
There aren't many reviews; however, the developer seems to be very in touch with clients through the comments section, and he is readily available to answer questions or consider requests. For the cost and amount of time that the product has been released, we would like to see more feedback, but everything points to this indicator being a helpful tool when used correctly.
This Forex service can be found at the following web address: https://www.mql5.com/en/market/product/13184