Multi oscillator divergence is an indicator that was uploaded to the mql5 marketplace by Jan Flodin in July of 2017. The developer updated it to version 2.4 in February of 2020 to add custom alert text and to add the possibility to scan for early divergences.
Overview
The indicator detects bullish and bearish divergences that occur between the price and the frequency of a symbol. It uses an RSI (relativity strength index) filter to compare recent price gains against losses, thus making it possible to identify overbought/oversold conditions in the market. The indicator can detect divergences for the following: MACD, OsMA, Stochastics, RSI, CCI, RVI, Awesome, ATR, ADX, Composite index, OBV, MFI, and Momentum and limits traders to one oscillator/indicator at a time.
The indicator contains one buffer that can be used with the custom function in an EA, draws solid or dashed lines based on regular and hidden divergences, and sends alerts when a divergence has been detected. This indicator is compatible with MetaTrader 4 and the author has also published several other divergence-based tools (scanners, EAs, dashboard, etc.).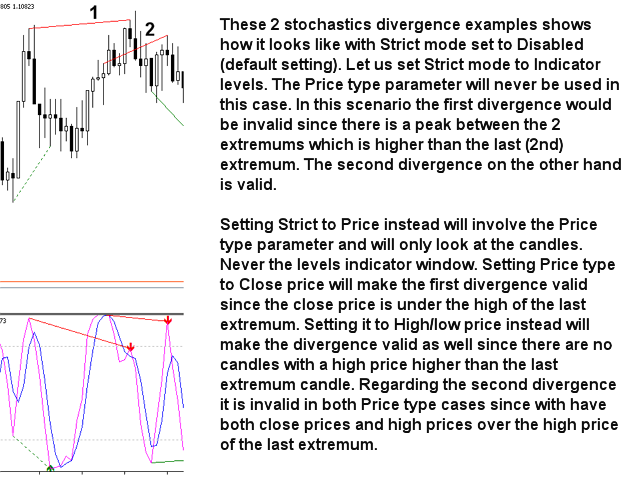 Service Cost
It costs $30 to buy the indicator with 10 activations, which is a fairly standard price with a good number of activations allowed. The author also provides the option to rent the indicator at $10 per month or to test it using a free demo account. Either option should give traders the ability to test the product before deciding whether to make a larger investment. Do keep in mind that the author has multiple other products that could be used in combination with this indicator, so costs might add up if you plan on using some of the other tools that are available.
Conclusion
The Multi oscillator indicator helps traders detect divergences and study price changes in the market, making it a useful tool for making informed decisions, especially in combination with other products that were developed by the seller. It has received a 5-star rating and is well-liked among the community of users that have tested it.
Here are a few comments we found:
"Light on resources and really powerful. Took 3 signals last night. One in a nice profit, the other 2 in a small one but profit as well. A very good addition to my Divergence scanner. I have tested a few so far and Jan's indicator os by far the most complete and good one." -4example
"Works just perfect for me. Taking trades only when RSI is above/below 70/30. The hit rate is very high when using it this way." -bisten
This Forex service can be found at the following web address: https://www.mql5.com/en/market/product/24209