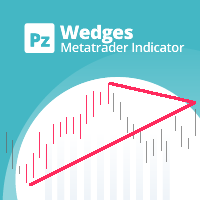 PZ Wedges is an indicator created in September 2017 by Arturo López Pérez. Arturo López Pérez is a private investor and speculator, software engineer, and founder of Point Zero Trading Solutions.
Overview
The basis of this indicator is that it finds wedges, which are continuation patterns identified by converging trends around a period of price consolidation. It signals the trades using a donchian break along with the break-up of the wedge formation. This is a very user-friendly indicator. With customizable colors and sizes. It implements breakout signals and implements alerts of all kinds. For optimal use and to be able to see wedges of all sizes, which can even overlap, you will have to load the indicator several times in the table with different sizes, for example, 6, 12, 18, and 24.
Input parameters of this indicator:
Size: Refers to the size of the wedge patterns that are found.
Break up period: Donchian period to mark trade.
Max. History bars: Amount of bars passed to examine in the chart.
Color of bullish patterns: This parameter is self-explanatory.
Color of the bearish patterns: This parameter is self-explanatory.
Uninterrupted pattern color: This parameter is self-explanatory.
Line width: Size of pattern lines.
Color of bullish shoots: This is the color of the arrows to buy.
Color of bearish shoots: This is the color of the arrows to sell.
Arrow Size: This is the size of the arrows shown in the chart.
Custom Alert Name: Custom title for alerts raised in this chart.
Show alerts: Enable or disable screen alerts.
Email alerts: Enable or disable email alerts.
Push Alerts: Activate or disable push alerts.
Sound alerts: Enable or disable sound alerts.
Sound file: Sound file to play when a screen alert is activated.

Service Cost
If you want to try this indicator to get to know it better, a demo version is available in the MQL market indicators section. If you finally want to buy it, its selling price is 49 USD.
Conclusion
In summary, we talk about an indicator that is based on the search for a specific trend continuation pattern (wedges), and that warns us of its formation and alerts us for the decision to buy or sell a certain financial asset. We think it may be an interesting indicator to have as a complement to other indicators, for example, a trend indicator. Suitable for all types of traders, be it a beginner or someone who is more advanced. We haven't found many comments from users who have already tried this indicator, and the few criticisms that exist are disparate, with both positive and negative feedback.
This Forex service can be found at the following web address: https://www.mql5.com/en/market/product/25264