NY Close Scalper is an automatic Expert Advisor that was published on the mql5 marketplace in April of 2015. It was developed by an author named Roman Lengert and updated to version 3.0 in March of 2020.
Overview
This Expert Advisor is a night scalper that uses a mean reversion strategy to execute trades at nighttime, particularly at the close of the daily New York trading session. Here are some of its features:
-The EA is compatible with MetaTrader 4 and works with the pairs EURUSD, GBPUSD, EURCHF, USDCHF, USDCAD, EURAUD, and EURCAD.
-The only supported timeframe is M5.
-Trading hours do not need to be adjusted manually because the EA automatically updates when trading hours change for daylight savings time. However, traders will need to turn it off manually in the case of important events (elections, etc.)
-Uses fixed stop losses on every position. The execution of said SL will depend on the broker.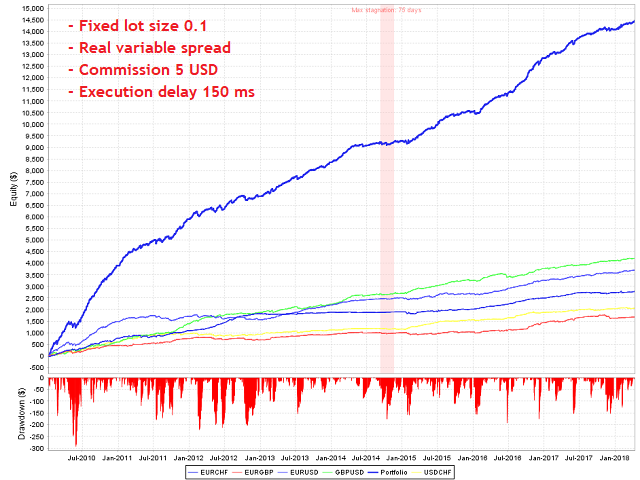 A word of warning from the developer – you should be aware of the risks involved with night scalpers. Past history doesn't necessarily dictate how things will go in the future and this EA is dependent on low spread and slippage. It also needs to run on VPS continuously without interruption. The strategy involves trading around swap times which can also make the spread very large. This indicator is risky on that basis, but it doesn't use riskier strategies like Martingale or grid and fixed stop losses are in place for every position.
Service Cost
The developer offers three separate pricing options. The EA costs $900 USD (with 5 activations) or it can be rented at a lower rate of $70 per month or $170 for 3 months. With the overall cost being so high, many traders will only have the choice of renting, and even those prices are on the higher end. A free demo is available, but traders will really want to consider the cost for each option before making a purchase.
Conclusion
NY Close Scalper is a night scalper that trades after the New York market has closed for the day. This EA can be risky for the fact that past history can't accurately predict the future and swaps may cause spread inflation. However, it has received four and a half stars and many users have left positive reviews.
For example:
"The best night scalper I have ever seen!" -Tobias
"The seller is very helpful, always ready to provide great support and guidance for the EA. You will not regret buying the product!" -ruifeng82
As you can see, traders seem to have a favorable opinion of this EA and it seems to have turned a profit for many of them. Results aren't guaranteed, so we would suggest ensuring that you can afford the financial risks along with the price of the EA. If so, this EA could be a great option.
This Forex service can be found at the following web address: https://www.mql5.com/en/market/product/28901