PTS Precision Index Oscillator is a trading indicator that was added to the mql5 marketplace in February of 2016. The author, PrecisionTradingSystems, last updated the product to version 1.1 with some color changes about one week after the original release date.
Overview
The indicator's purpose is to provide accurate signals by highlighting early warning signals, which are flagged when + or -3.4 is reached. It works with any product with price and volume on MT4. Signals give traders an idea of whether the next bar will reverse, resulting in small or large moves or occasional lack of movement. The indicator is based on several different mathematical equations that work together to predict where the turning point in trends is most likely to occur.
One of the key differences between this and other indicators/oscillators would be its ability to efficiently pinpoint exact tops and bottoms. The author is straightforward about the fact that this indicator does not guarantee profits – he states that exit stops and effective risk management skills are crucial for long-term success.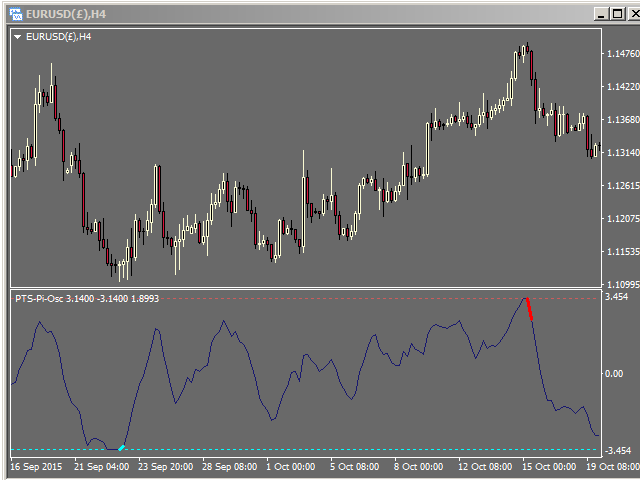 Service Cost
This author allows traders to rent the product at a rate of $45 USD per month, with the second option being to buy the program outright for $295 with 10 activations. Compared to other prices out there, this indicator is quite costly, as the price to rent this indicator is more than the overall price to buy many others. On the bright side, the author does offer a free demo account that has been downloaded by others more than 1,000 times.
Conclusion
This indicator works differently from others by pinpointing exact tops and bottoms while figuring out where trends will likely occur by using strategic mathematical formulas that measure price and volume movement in multiple timeframes. We're always curious as to what others are saying about any given product, as traders can often avoid bad purchases based on other's heartache.
Unfortunately, this indicator hasn't received any reviews, and users typically use the comments section to ask the developer more technical questions. Good reviews tend to make us more confident when it comes to expensive trading tools such as this one, but traders should be able to follow the author's advice in order to receive good results using this indicator by trading with a reputable broker, using exit stops, and practicing risk management.
This Forex service can be found at the following web address: https://www.mql5.com/en/market/product/14300