TS Currency Power Scalper is an EA created in April 2020 by developer Jian Chen. TS Currency Power Scalper is an expert advisor based on trading multiple currency pairs (Forex).
When you start running this EA, the first thing you will do is scan the price changes of all major currencies and crossed currency pairs, and determine the strength of each currency. Then it is traded on the strength of the short-term currency/ trend reversal. This is the introduction to the "TS Trading Strategy Currency Power EA".
TS Currency Power Scalper has strict risk management:
For each currency pair, only one position is allowed. There is no network negotiation and no Martingale strategy is involved. Each open position has a stop-loss, which you can set in the EA input parameter. Since it is a multi-currency EA, it is not suitable to be tested on the MT4 Strategy Tester. Your performance in the Strategy Tester is not real performance.
TS Currency Power Scalper is very easy to use, you can consult the following links:
The most relevant thing is to establish the value of the input parameter "One Symbol Mode" to "false" when running the EA in the real/demo environment.
To run TS Currency Power Scalper, the steps are very simple:
The key steps are,
Añadir al Market Watch todos los símbolos de los pares de divisas principales y cruzados, incluidos: EURUSD, GBPUSD, USDJPY, AUDUSD, NZDUSD, USDCAD, USDCHF, EURGBP, EURJPY, EURAUD, EURNZD, EURCAD, EURCHF, GBPJPY, GBPAUD, GBPNZD, GBPCAD, GBPCHF, AUDJPY, NZDJPY, CADJPY, CHFJPY, AUDNZD, AUDCAD, AUDCHF, NZDCAD, NZDCHF, y CADCHF.

Attach the EA to any card. You will need only one EA instance on an MT4 terminal.
Important: Set the value of the input parameter "Mode of a symbol" to "false".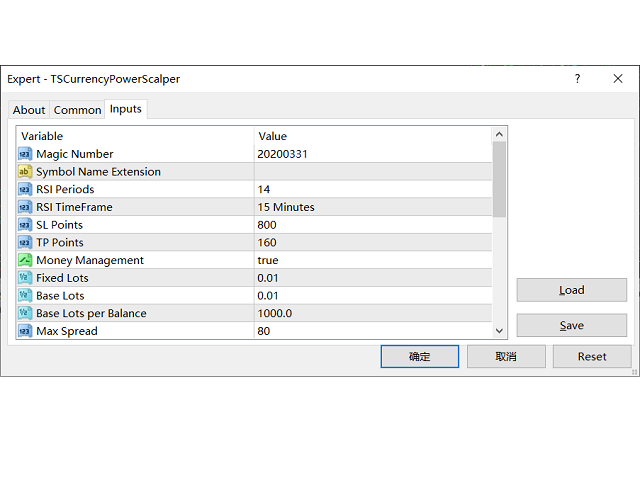 When it's the first time you run EA and EA cannot find the required data. It will open the appropriate M15 cards and close them automatically. If symbol names have a suffix, please don't forget to put it in the proper input parameter.
In short, we are talking about an EA of which we do not have information because the developer has chosen to avoid it. Moreover, since it is a newly created tool, it lacks opinions from users who have been able to test it. We always like to value the user experience as it gives us a broader view of the quality of the product.
As in any EA, it is recommended to use a VPS or virtual server while the EA is working. If we don't have VPS, we'll have to keep our computer on 24/7. It is also important to choose a good broker, who provides us with an ECN account and has low latency to ensure that the commands that the robot opens are executed in the shortest time possible.
It is advisable to download the demo version in order to get familiar with the tool and to be able to test it even if it is in a demo account.
If you want to purchase this robot, you have it for sale on the MQL market at a price of 180 USD. It is also available for rent at a price of 50 USD for one month, and 100 USD for 3 months of use.