Trading Crypto using the Morning Star Pattern
The Morning Star pattern is a three-candle candlestick pattern that signals a bullish reversal and appears at the bottom of a downtrend. It signals a trend slowing down and a large bullish move laying the foundation for a new uptrend.
Identifying the Morning Star Pattern
Identifying the Morning Star on cryptocurrency charts requires more than just identifying the three main candles. It also requires knowledge of the previous price movement. The pattern should be identifiable if these five things occur: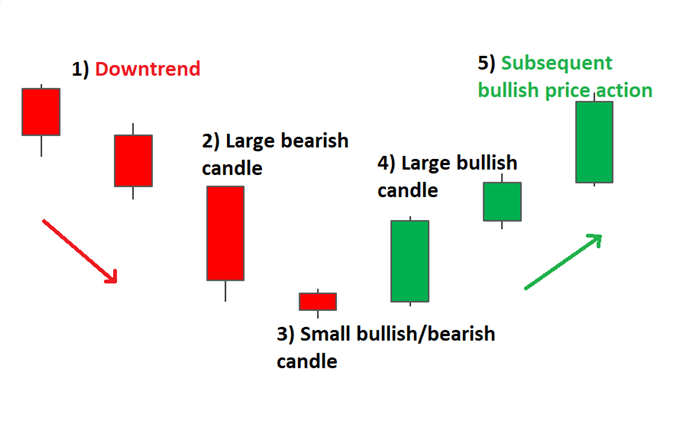 The market should be posting lower highs and lower lows prior to the Morning Star formation.
The large bearish candle shows up as a result of large selling pressure as well as a continuation of the existing downtrend. Traders should be looking to take only short positions as there are no signs of a reversal yet.
The second candle is a small-bodied candle (sometimes even a Doji candle) is the first sign of market showing downtrend fatigue. This candle often gaps lower and makes a lower low. It does not matter whether the candle ends up being bearish or bullish, as it is only supposed to represent market uncertainty.
The first real sign of bullish pressure is this exact candle. It should be a big green candle followed by an increase in volume.
After a successful reversal, traders will start to enter long positions as the market posts higher highs and higher lows. However, make sure to manage the risk through the use of well-placed stops-losses.
Trading the Morning Star Pattern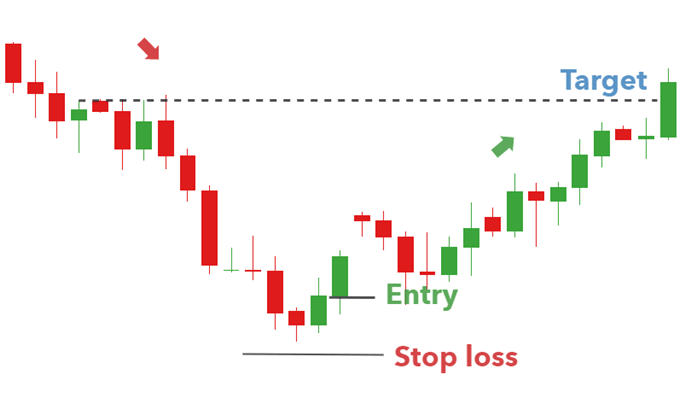 The chart on the screen shows us the formation of a Morning Star pattern, where an established downtrend is leading up to the formation of the Morning Star reversal pattern.
Once the formation has completed, traders are looking for an entry point at the open of the next candle. If a trader is more conservative, they could delay their entry point until they are satisfied with how the pattern plays out.
Targets should be placed at previous resistance levels or previous areas of consolidation. Stops-losses should be placed right below the recent swing low. As there are no guarantees of this pattern playing out correctly, traders should always maintain a positive risk to reward ratio to avoid taking any substantial risk of ruining their portfolio.
Morning Star Pattern reliability
The Morning Star pattern, just like any other candlestick pattern, should be used alongside other trading tools available to the traders. Even though this pattern occurs frequently and has a fairly high chance of playing out correctly, one has to take all precautionary measures to protect oneself from the risk.