MACD Divergences can be found within the indicator section of the MQL5 marketplace, there may be other indicators with similar names so we have added a link below to help avoid any confusion. The indicator was first uploaded on the 12th of July 2018 by its creator Seyedfazel Hosseini, there have been a number of different updates, the most recent was on the 11th of June 2019 and is currently at version 3.4.
Overview
MACD Divergences is an indicator that has been designed for use with the MetaTrader 4 trading platform, the indicator has been designed to help find all the regular and hidden divergences within the markets. The indicator can function on multiple timeframes however it is not recommended that you use it on anything under the M15 timeframes.
The indicator is able to detect price pivots and will then check the corresponding value of the pivots on the MACD indicator when a divergence is detected, the indicator will plot bylines on the chart and oscillator.
There are some settings and parameters that can be changed to slightly alter the way that the indicator functions, some of them include whether to use fast or slow EMA, how to apply it and whether to show the line, you can also change the colors for divergence lines, thickness, style and whether you want there to be any alerts.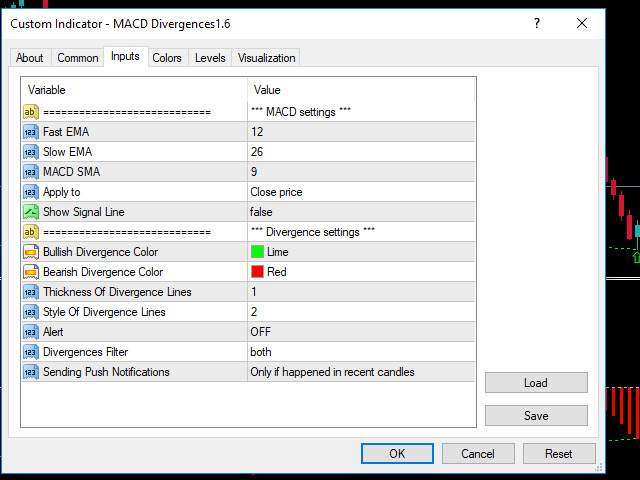 Service Cost
The MACD Divergences indicator is not available to be purchased outright, instead, you are required to rent it, you can rent it for a period of 1-month which will cost you $15 per month, you are also able to rent it for a year which will cost you $39 per year. There is also a free version available, you can download it and test it out, it is fully functional but will only work on the EURAUD pair.
Conclusion
At the time of writing, there are 8 reviews available which are giving the indicator and overall rating of 5 out of 5 stars.
"Simple and very effective. This indicator recognizes highly probable divergence, draws it out, and notifies you from different time frames. It gives me an edge in scalping and an extra confirmation for reversals. By far one of the best and most useful indicators on the market. A+"
"Perfect Indicator, It's really admirable. Simple and efficient. I have not used divergences in my trades before, But now it's my first plan for trading and I am very pleased. thank you, author."
"Indicator is worth it…. nice Reversal recognizing working good so far"
So as you can see, the reviews are very positive, there are also a lot of comments on the indicator, the creator has been replying to them promptly and being very active which is a great sign as to the sort of support that you would receive. We would highly recommend that you download and try out the free version, while it may only be able to use it on the EURAUD pair, but it will still be a good way to ensure that it is what you are after before paying for a rental.
This Forex service is currently available in the MQL5 marketplace: https://www.mql5.com/en/market/product/30390