Mad Pro is found within the Experts section of the MQL5 marketplace. It was uploaded by Yury Emeliyanov on the 3rd of April 2020, it was uploaded as version 41.0 and has not received any further updates.
Overview
Mad Pro was created to be used with the MetaTrader 4 trading platform and is an expert advisor. It can currently be used with the EURUSD currency pair and on the M30 timeframe.
The EA works by looking at moving averages and will open up trades when certain criteria are met. It will close trades when the price reaches either 29 points above or below the top or bottom price of the previous week.
The EA does not provide permanent loss limitations and the strategy does not use take profits, so you may want to monitor the EA rather than leaving it as a fully automated system.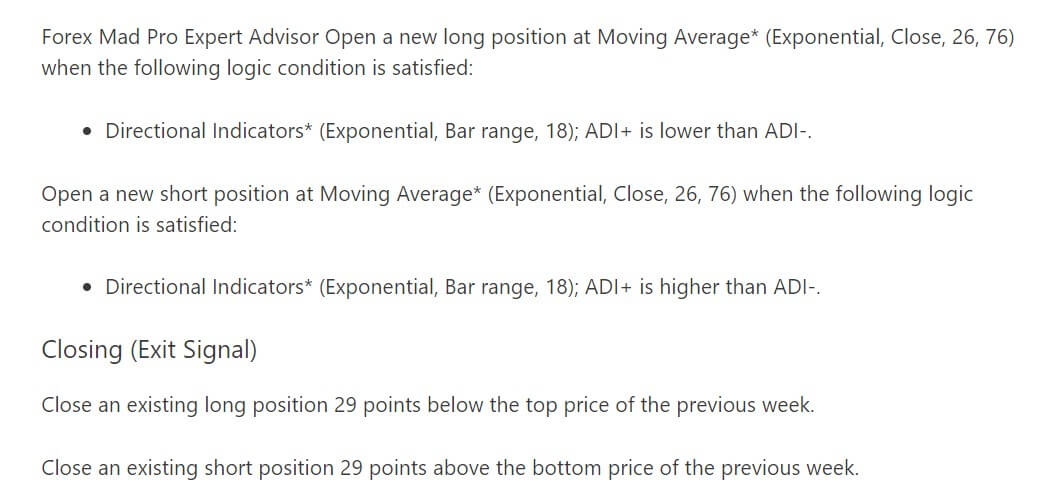 Service Cost
The Mad Pro expert advisor will currently cost you $50 to purchase it outright, this will give you up to 5 activations. There is also another option to rent the EA, this can be fone on a monthly basis for $15 per month, for three months it will cost $20, for six months it will cost $25 and for a one-year rental, it will cost $30.
A free demo version is available and can be sued wit the strategy tester within the MetaTrader 4 platform.
Conclusion
There are no reviews or comments for the EA at the time of writing this review, this makes it hard for us to see whether people are finding it useful and whether or not it is doing what it is meant to be doing. Due to this, we would strongly suggest getting in touch with the developer. This is a way to make sure that it will function the way you need it to, it will also make sure that the developer is still around and will be able to provide support should you decide to purchase or rent the EA.
This Forex service is currently available in the MQL5 marketplace: https://www.mql5.com/en/market/product/47991