Is Bitcoin sucking the life out of the Forex market?
Thank you for joining this forex academy educational video.
In this session, we will be asking if bitcoin is having a negative impact on the forex market by reducing the volume of transactions?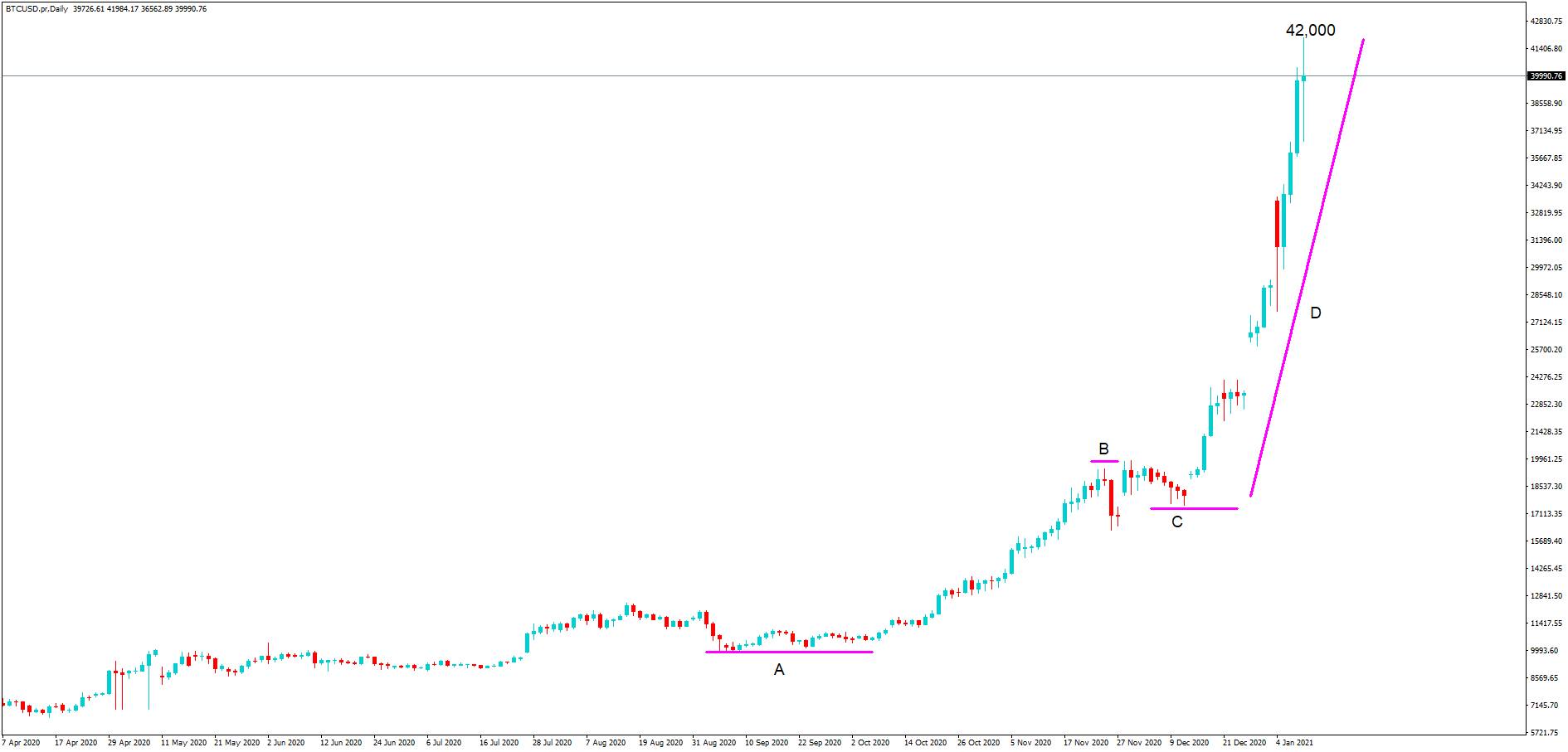 In this daily chart of bitcoin to the US dollar, it was only back in October that we reported that bitcoin had found a support line at 10000, and at the time of writing, we suggested there could be a surge up to and above 12,000 by the end of 2020. A retest of the previous high in 2017 around the 19,500 level, shown here at position B, would have then been on the cards.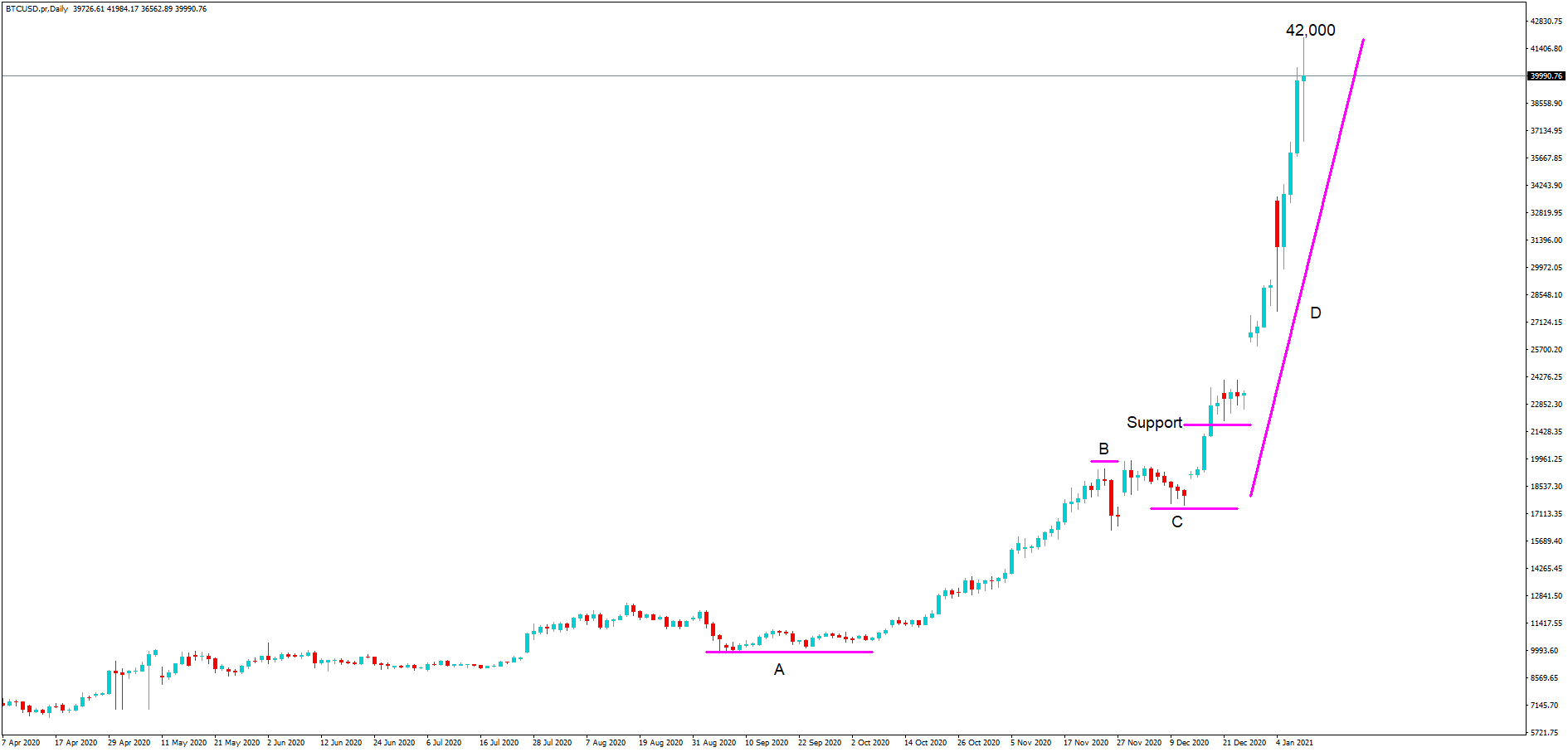 Here we can see a somewhat muted pullback to position C, but the 2017 crash to the 3,000 level was not repeated, and the price went on to find support above the key 20K exchange rate.
The acceleration during position d up to 42000 was a purely speculative fuelled bull run,  where most of this move can be put down to companies such as PayPal, the CME  clambering balls, the bitcoin euphoria bandwagon, and countries such as Switzerland  opening its arms too to companies in the bitcoin space.  These factors only go to legitimise bitcoin's space in the investment market arena and where it has called a modern-day gold Rush with day traders in a spare room buying on the CFDs market, hedge funds, and banks and other institutions clamouring aboard the bull run in fear of missing out.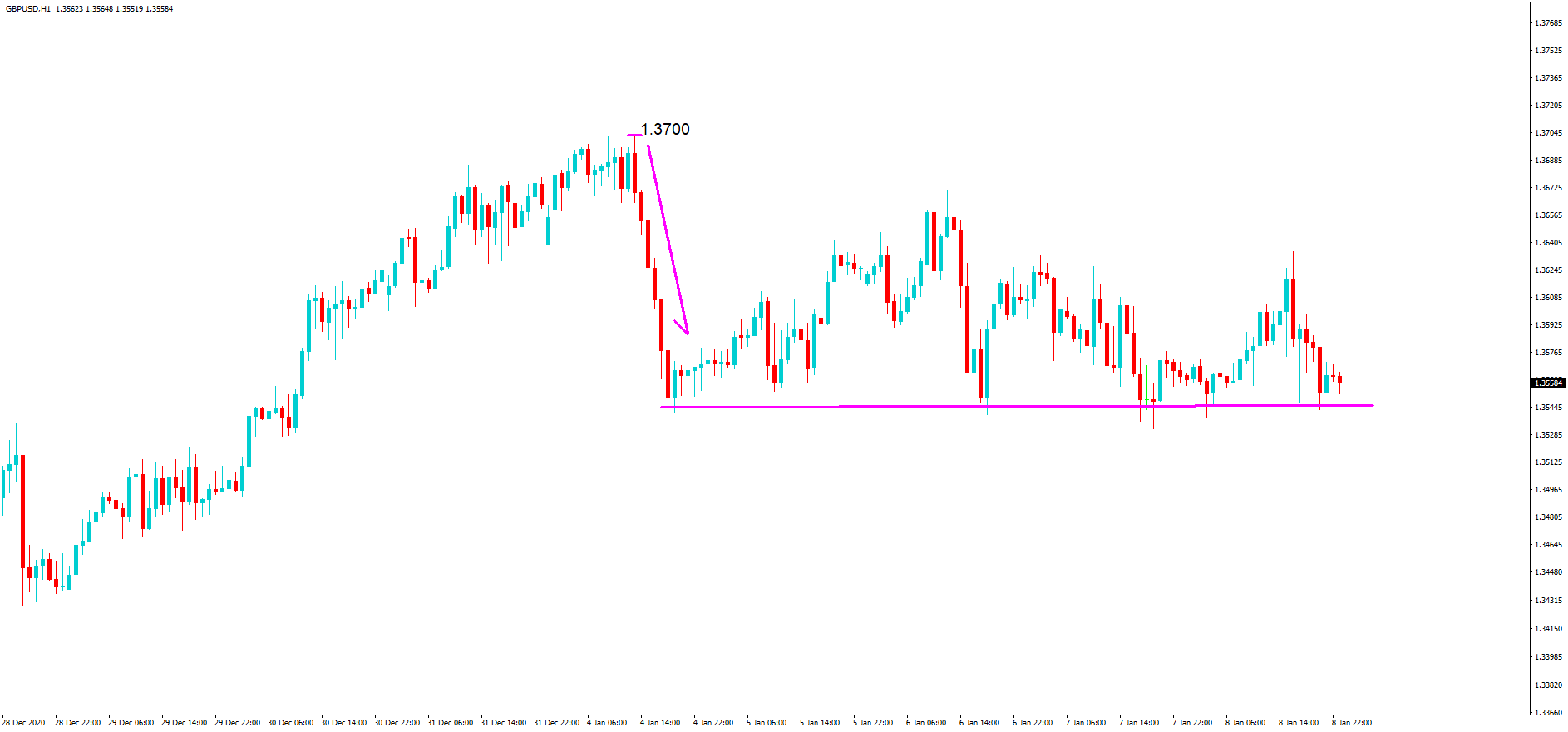 A potential side effect of this incredible move higher and interest in the bitcoin space may well be the reason why the currency markets seem to be flattening out. Certainly, cable,  seen here with its recent top of 1.3700, since leaving the European Union with an eagerly anticipated free trade agreements in place,  has flatlined since the beginning of January.  And while some of this might be attributed to the increased rates of Covid spreading through the United Kingdom, one has to wonder if some traders in the forex space are throwing caution to the wind to buy bitcoins while side-lining currencies.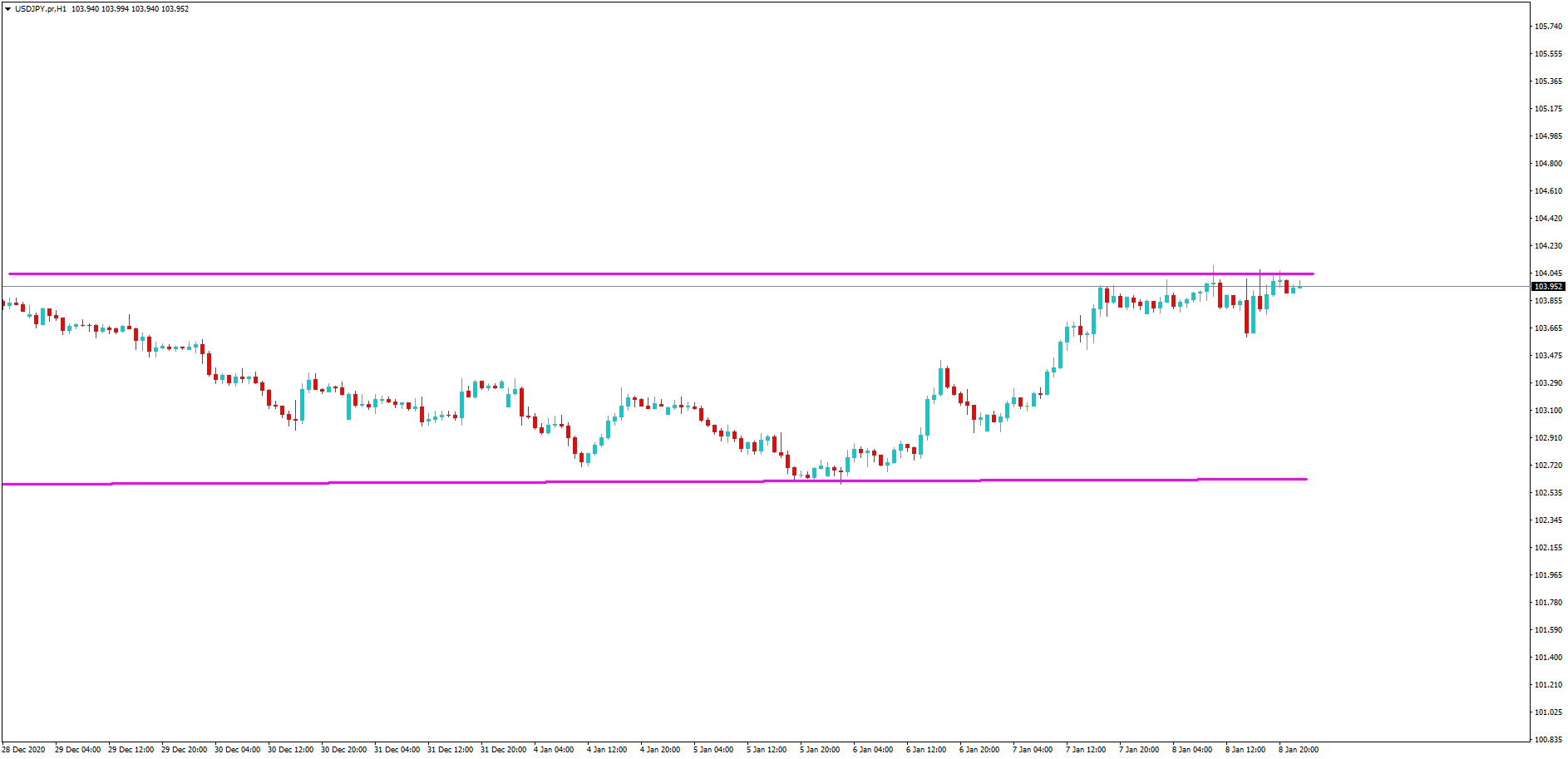 The flatlining of the cable exchange rate also coincides with the most volatile period of buying activity for bitcoin, and this period is also reflected in this one-hour chart of the US dollar to Japanese yen, which is also trading within a fairly narrow range of just 146 pips during a similar timeline.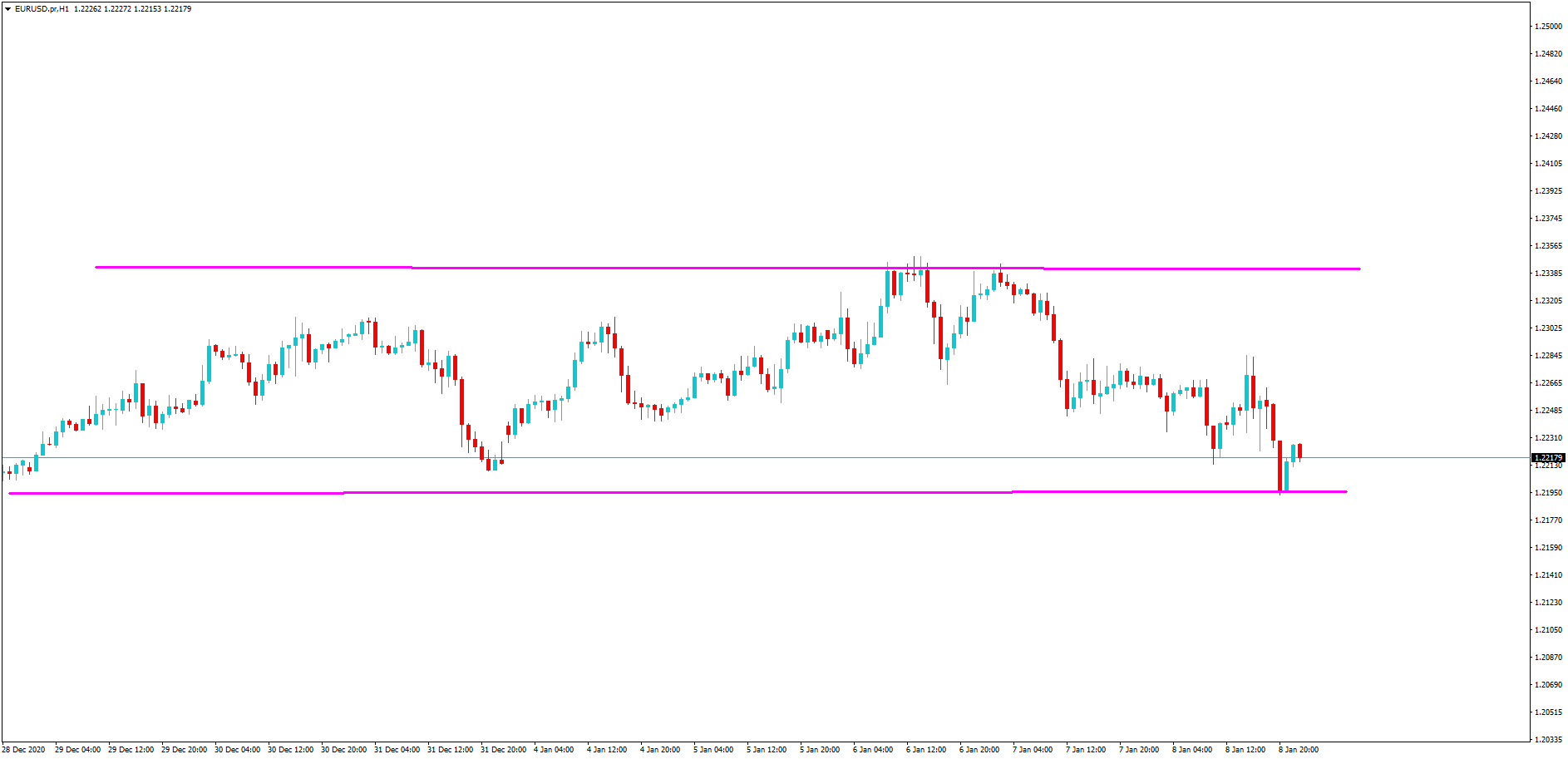 Again, this is repeated with the euro US dollar pair over the same timeline price is relatively flat and consolidating within a fairly narrow 145 pip range.
The similarity between the timelines of activity and flattening with the forex pairs while exponential growth in bitcoin to the upside cannot be ignored.  However, is this trend, if based on our hypostasis correct, likely to continue?
It is completely natural for professional traders to bail out of one asset class a jump into another if they see potential to make money.  This is what training is all about recognising opportunities and jumping aboard.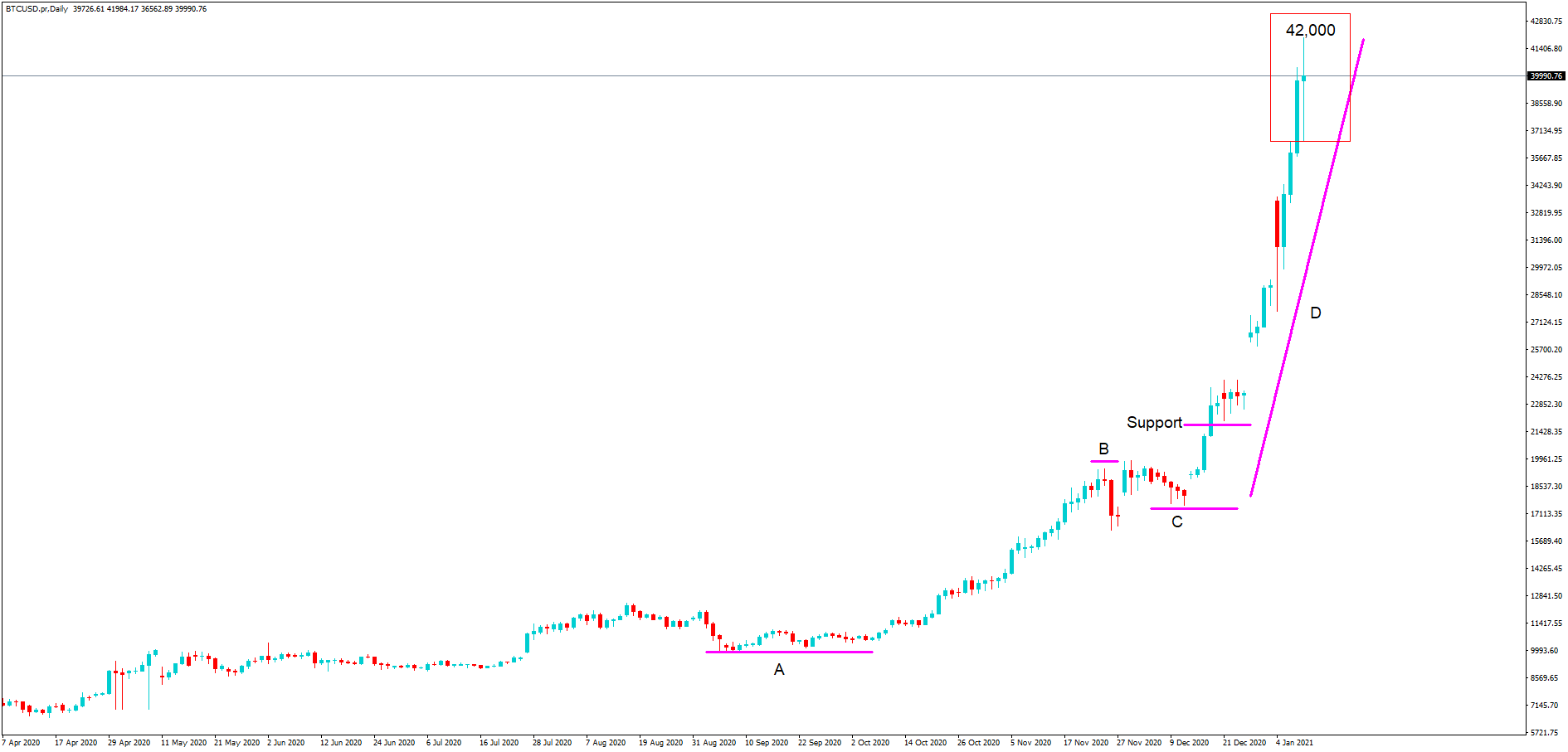 Before we consider if this is likely to continue, let's go back to our bitcoin US dollar daily chart, where we have highlighted the most recent candlestick.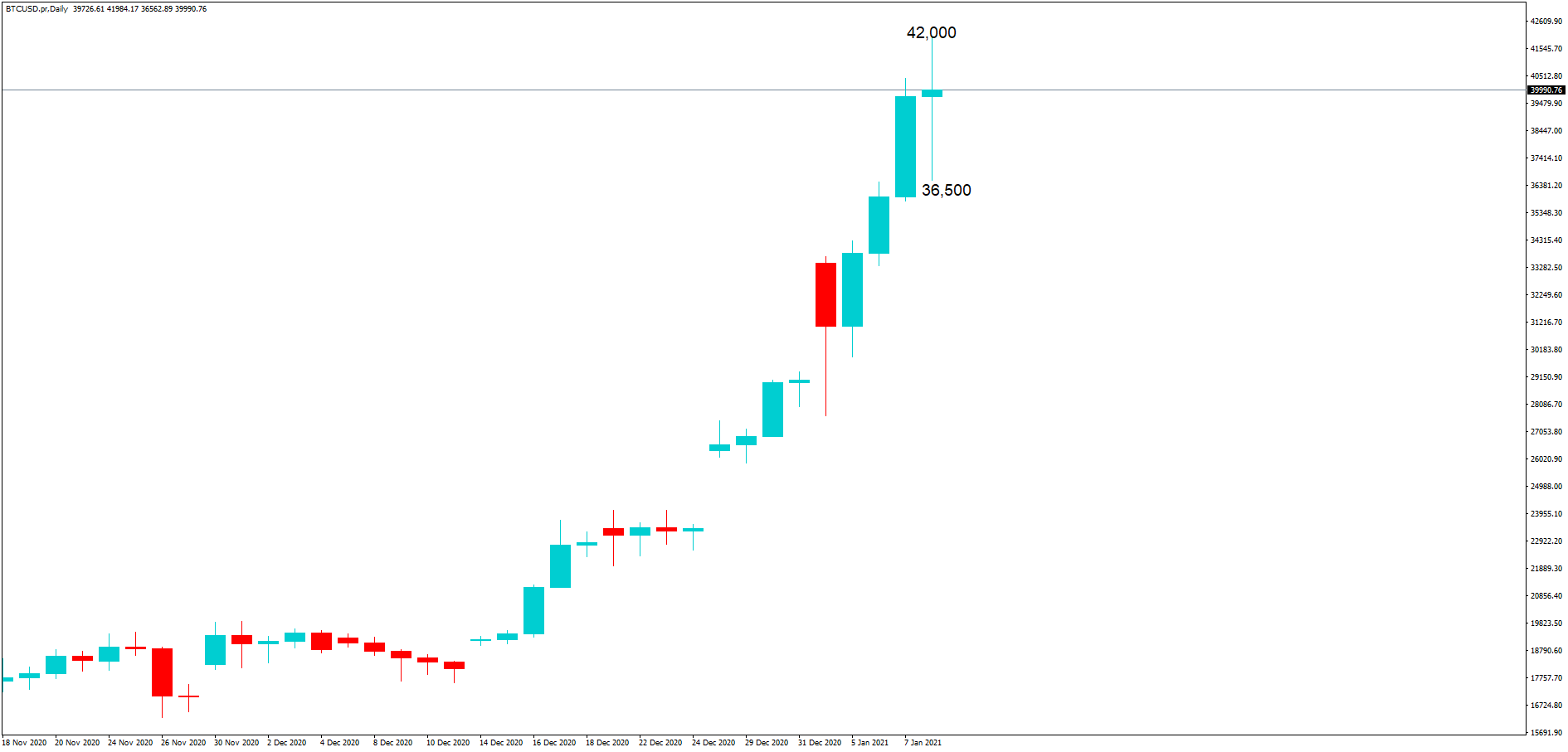 This one single daily candlestick on the 7th of January shows a range between 42,000 at the top and 36,500 at the bottom, which is a huge 5,500 dollar move in a single date.
If institutional or retail traders get it wrong, the consequences can be grave, with enormous losses piling up. The problem at these levels is that traders will be wondering if this incredible bull run has reached the top of the market and is due for a crash, with memories going back to 2017 where bitcoin to the dollar crashed from 19,500 to just above 3000 in a short space of time.  Here we are seeing swings of over 5,000 points in a single day,  which is unnerving,  making it dangerous to trade. 
And this is why many investors in bitcoin will be dubious about buying at the current levels, which might see some inflows back into the forex currency space, with other investors In digital currencies looking for more opportunities with potential for long-term growth.
PLEASE LINK https://www.youtube.com/watch?v=GEtlPyBDU3g
A few months ago, we reported on a new digital coin with its own ecosystem: the AXIA Coin, which might be a front runner for alternative investments in digital currencies.  We understand that the company is close to launching, so please watch out for updates, which we will bring you soon. Meanwhile, you can find more details about the AXIA coin at www.axiacoin.org.  
 Meanwhile, watch out for extra volume creeping into the forex space, causing currencies to break from their current consolidation trends, as we have demonstrated here.