Monster Dash Harmonic is an indicator created in September 2019 by developer Paul Geirnaerdt. This Indicator is based on harmonic patterns. It recognizes all major patterns. Monster Dash has a panel that displays all detected patterns for all symbols and virtually all time frames in presents them in an easy-to-navigate format. Users can add their own user-defined patterns. The indicator can open and update the charts with the pattern that are found.
Overview
The default settings for this indicator are optimal the vast majority of the time, but users are free to adjust them to suit their specific needs. Color settings are for those who 'went to the dark side' (black backgrounds) and do not prefer white backgrounds.
The major general setting options are as follows:
-Pattern Checking: Sets the frequency to detect and update patterns. This works independently of the time frame of the chart.
-Excluding Symbols: A list of symbols to exclude pattern recognition. The tool looks at all the symbols within the Market Watch window.
-Minimum Accuracy Percentage: The minimum adjustment percentage for pattern discovery.
-Minimum Price Proportions: Orders the indicator to reach all the minimum proportions, users can select this option if they want the price. When approaching all the minimums,  ratios can provide better patterns.
-Visualize Pattern Projections: Visualize the patterns that have been projected.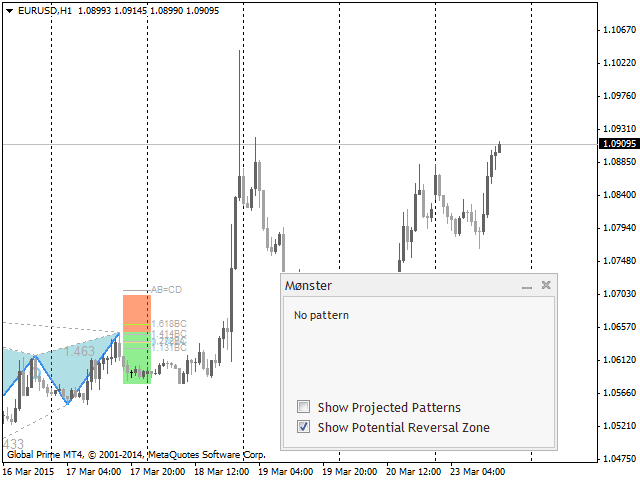 -Check MN1, W1, D1, H4, H1, M30, M15, M5, y M1: Setting to include the time frame in harmonic pattern recognition.
-Off-Line Time Frames: Establishes a comma-separated list of all offline time frames. Useful for medium Renko graphics.
-Display Command Column – Display a column with a button to open a chart.
-Chart Template – Set the template name to display the table and activate it.
-Display Alerts – Disconnect all alerts.
-Display Screen Alerts – Set as true to display screen alerts.
-Email Alerts – Set the email alerts option.
-Push Alert Notifications – Configure push alerts.
Service Cost
The indicator is available in the MQL market at a price of $79 USD (reduced from the previous price of $169 USD). You can also rent for 6 months for $59 USD, or try the free demo version.
Conclusion
What we are dealing with here is a very complete indicator of harmonic patterns, perhaps the most comprehensive of those analyzed so far. If you want to acquire a pattern indicator, this may be your best option. User feedback on this tool is very positive and everyone seems to be happy with how this indicator works.