GT247 is a subsidiary and a juristic representative of Purple Group Limited, which is listed on the Johannesburg Stock Exchange. The firm is an authorized Financial Services Provider operating under the Financial Sector Conduct Authority (FSCA) of South Africa holding FSP License No. 46315. The brokerage claims have been around for nearly 20 years and have a trading desk with over 100 years of cumulative market experience. In the GT2547 review that follows, we'll take a closer look at what traders can expect from this FX broker.
Account Types
There isn't much information present in regards to the accounts, it would appear that there is only a single account. The website does not indicate much about the trading conditions of this account but we have found the following:
Up to 1:80 leverage
0.01 minimum trade sizes
Multiple tradable assets
Single trading platform
No deposit limits
No platform charges
Low spreads
Platforms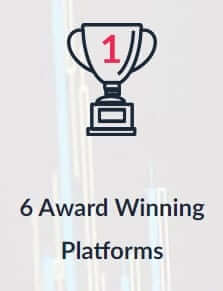 GT247 states that they offer 6 different platforms when in reality they offer a single platform (MetaTrader 5) which has multiple versions for different platforms such as desktop or iOS devices.
MetaTrader 5 (MT5) is the younger brother of MetaTrader 4 (MT4)m developed by MetaQuotes Software and released in 2010, MT5 is used by millions and for good reason. Offering plenty of trading and analysis features to ain in your trading. Additional services expand the functionality of the platform making its capabilities almost limitless. MetaTrader 5 offers the built-in Market of trading robots, the Freelance database of strategy developers, Copy Trading and the Virtual Hosting service (Forex VPS). Use all these services from one place, and access new trading opportunities. MetaTrader 5 is also highly accessible with it being available as a desktop download, application for iOS and Android devices and even as a WebTrader where you can trade from within your internet browser.
Leverage
Leverage can be selected up to 1:80 as a maximum, it can range from between 1:1 as a low up to 1:80. This can be selected when opening a new account.
Trade Sizes
Trade sizes start at 0.01 lots which are also known as a micro lot, trades can increase in increments of 0.01 such as 0.02 or 0.03. It is unknown what the currently maximum trade size is for GT247 but it normally sits between 50 lots and 100 lots and we don't recommend doing trades bigger than 50 lots so it is easier for liquidity providers to execute the trades instantly.
Trading Costs
We can not give any concrete information in regards to trading costs, there are spreads but there is no mention of what they are, there is also no mention of commissions so we are unable to comment on this section of the review in regards to actual trading costs. We can say that there are swaps involved, these are wither charged or awarded for holding trades overnight. If an account is left dormant for more than 12 months then a fee of $10 per month will be charged to any balance until a trade is made or the balance reaches 0.
Assets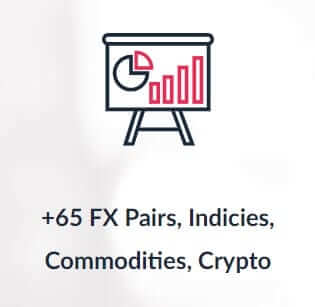 The full extent of assets and instruments available on GT247 is not apparent to us. There is mention of there being over 65 fx pairs, indices, commodities, and crypto to trade, however, there is not a breakdown of what they are.
Spreads
Spreads exist, that is about as much as we can find, how much they are, what they start at and if they are fixed or floating is still a mystery to us. This is quite vital information for potential clients so it is a surprise that they are not clearly marked or any information stated on the website regarding them. The demo account offers spreads around 1.7 to 2.2 pips on the EUR/USD pair which is ok if the main account does not charge any commission.
Minimum Deposit
While there is no set minimum deposit, when starting an account we would always recommend depositing at least $500 as this allows you to use the proper risk management and gives more potential for profits.
Deposit Methods & Costs
If you wish to deposit with USD into your account you will need to use a bank wire transfer, it seems like this is the only method available. Should you wish to use ZART, then you need to use a credit or debit card. This is extremely limiting and not the most confidence-building thing to see. No information regarding bank transfer fees, but there is a fixed credit or debit card fee of $0.11 and also a fee of 2.3% on top of that.

Withdrawal Methods & Costs
Not much information from GT247 in regards to this, we assume the same methods for depositing are present for withdrawing but there is no mention of fees so we can not comment on them at this time.
Withdrawal Processing & Wait Time
Information on withdrawals times and processing times is not available on the website. Any requests made after 2 pm will be processed the next day, and that any withdrawal requests must be more than 14 days after the most recent deposit. This is a very strange rule and not one you see very often so be sure to take note of it should you wish to receive your funds quickly. Once payments are processed, any card withdrawals normally take between 1 and 5 business days and bank transfers normally between 3 and 5 business days.
Bonuses & Promotions
There is no information on the website in regards to any promotions or bonuses so it would seem like there are currently none available./ This does not mean that there won't be in the future so be sure to keep an eye out if you are interested in joining GT247.
Educational & Trading Tools
There are a few different things available from GT247 in regards to getting some information or analysis. They are all pretty simple but if you are just starting out could be helpful to read. There is market news where you can get some information about what is happening in the markets. There are also research notes on different topics such as Non-Farm Payrolls and other major events, there is also a basic economic calendar available but there are more in-depth ones available out there on the internet.
In terms of education, there is an educational series to help teach you about certain aspects of trading such as their "Mastering the Fibonacci Retracement" or "Know Your Candlesticks & Candlestick Patterns" entries.
Customer Service
Customer services are open 5 days a week and are closed at the same time as the markets over the weekend. They open at 0:05 in the morning and close at 23:45 for a 20-minute break.
There are a couple of different ways to get in touch, you can call them directly using a couple of different numbers depending on the department you want to get in contact with. There are also postal addresses should you wish to send a physical letter. You can also use an email address should you wish to send your queries that way.
Demo Account
Demo accounts are available from GT247 but this was not made very obvious on the website. You can sign up and use similar trading conditions to what the main accounts will most likely use. These demo accounts last for 28 days and are then deleted, you can, however, open up a new one once your current one ends.
Countries Accepted
We could not locate information in regards to which countries are accepted and which are excluded. If you require this information we suggest getting in contact with the support department.
Conclusion
There isn't really enough information available from GT247 to make up a complete opinion of them, while their site looks good and the information they do provide is promising, there just isn't enough of it for us to fully understand the service that is being offered or to be able to give a full recommendation, so this one is up to you to decide.
We hope you like this GT247review. Be sure to check out some of the other FX broker reviews to help find the brokerage that is right for you.