Grid King can be found within the Experts section of the MQL5 marketplace, there may be other expert advisors with similar names, so we have provided a link below to the one that we are looking at. Grid King was uploaded by Wim Schrynemakers who is the creator, it was first uploaded on the 10th of November 2018, there have been a number of updates, the most recent update was on the 19th of March 2020 and this brought he, expert advisor, up to version 8.90.
Overview
The Grid King is an expert advisor designed to be used with MetaTrader 4, it does what its name suggests, it is a grid system expert advisor. The expert advisor has been optimized for 19 currency pairs, and its main focus was safety, the expert advisor tries to remove the margin call risk that many grid systems suffer from through a hedging strategy.
Some of the key features of this expert advisor:
Minimum recommended starting capital: 500$ (using cent account)
Very stable growth curve as a result of smart averaging techniques
"Safety First" approach in the development
Optimizable for any market
ONLY grid-system on the market that passes 18 years of stress-tests on historical        data on multiple pairs
Fully automatic
Not sensitive to spread, commission, or account type, but of course a low spread          ECN broker will work better and is recommended!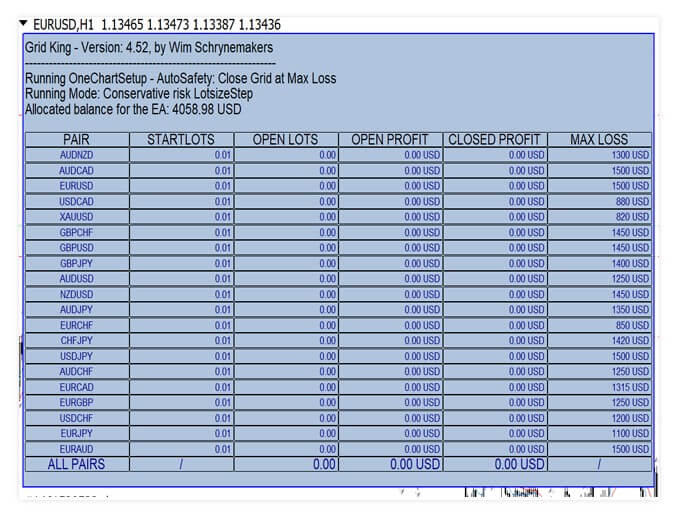 Optimized pairs: EURUSD, GBPUSD, USDCAD, USDCHF, USDJPY, EURJPY, GBPJPY, AUDUSD, NZDUSD, EURAUD, EURCAD, EURGBP, AUDNZD, EURCHF, AUDCAD, AUDJPY, GBPCHF, AUDCHF, CHFJPY, CADJPY, CADCHF, GBPCAD, NZDCAD, NZDJPY, NZDCHF, GBPNZD, EURNZD, GBPAUD, and XAUUSD.
You can use the same magic numbers on different pairs. But the 2 different strategies must use 2 different magic numbers. There is also a large number of parameters that can be changed, there is full documentation available around these, you should be able to optimize the expert advisor to match your exact needs.
Service Cost
The Grid King is quite an expensive expert advisor, it will currently cost you $500 to purchase, this will give you unlimited access to the expert advisor. TIf you do not want to spend that much at once, you are also able to rent it, you can rent it on a monthly basis which will cost you $250 per month, you can also rent it for three months for $350 or for six months which will cost you $450. There is also a free demo version available, this will have some limitations and we believe that it can only be used on a demo trading account.
There is also a budget lite version of this expert advisor which costs a little less but also has fewer features.
Conclusion
The Grid King has 42 reviews, the overall rating from these reviews is 4 out of 5 which is not a bad score at all.
"The Grid King is about risk management Grid with Martingale EA. Noe of EA has this level of defensive system. The author is one of very few honest challenger. Be realistic and patient." – A 5-star review.
"Been running GK since 4th April on ECN and Cent account. Decent profit, stable, really good EA. (5*) update 2019-May-27: Grid King hit 2 stop-losses with trailing TP, still in profit (but not much), stable. (5*) update 2020-Mar-18: Stopped because of too many SL for me. The account did not wipe, but I have stop using all grid strategies altogether, not just GK." – A 2-star review.
"Although I had a stop out (EURAUD) after a couple of days of use (something that can always happen) I still believe this is (to my knowledge) the only martingale EA to go with. Clear (and acceptable) stop-out levels combined with a multi-currency approach. Great support and frequent updates that makes the EA getting better and better. At this moment I run all (15) the currencies on the "very conservative "lot size step" risk factor. After a couple of months, I hope to switch to the conservative setup." – A 5-star review.
So there is a mix of reviews, many positive ones but there are also some negative ones in there, due to the nature of the expert advisor there will be people using settings that are too risky which can cause the expert advisor to blow an account. There are a lot of comments, the creator of the expert advisor seems to be responding to them all promptly which is a positive sign. Due to the cost of the expert advisor, we would highly recommend that you download the free version, this will only be usable on a demo account but it will give you a good way to test out the expert advisor, to make sure it is safe for you and that it does actually function properly prior to making a large purchase.
This Forex Indicator is currently available in the MQL5 marketplace: https://www.mql5.com/en/market/product/33065