FirstShot was uploaded by Evgeniy Zhdan to the MQL5 marketplace, it was first uploaded on the 29th of January 2018 and was subsequently updated on the 18th of February 2020 and is currently at version 2.2.
Overview
The FirstShot expert advisor can be used with the MetaTrader 4 trading platform, it was designed as a trend scalper, the EA will not use martingale strategy. The strategy behind the EA will look at the volatility level changes within the markets over certain periods of time, it will look for times when there has been an unusual amount of movement and will then begin trading.
There are a few recommended timeframes and pairs:
GBPUSD on the M5 timeframe
EURUSD on the M5 timeframe
USDJPY on the M5 timeframe
Gold on the M5 timeframe
In terms of parameters, there are a few available to alter, they include things like the commend on orders, maximum risk, maximum orders, take profits, take losses, MA periods, to enable trailing stop,s the step of the trailing stop, max spreads, max slippage, magic numbers, and more.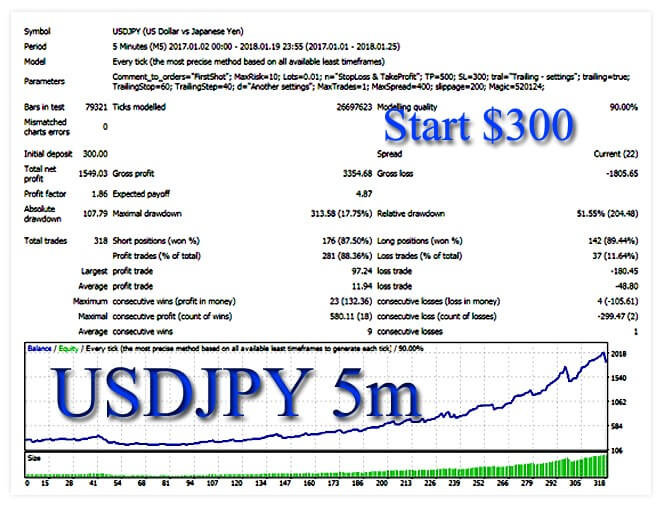 Service Cost
The expert advisor can be a little expensive, it will currently cost you $950 to purchase it outright, giving you unlimited access. Many more expensive pieces of software on the MQL5 marketplace often have an option to rent it, but this option is not available with the FirstShot expert advisor.
There is a free demo version, however, the limitations of the free version are not known, it may only be usable on the strategy tester, due to the price of the expert advisor we would recommend downloading and trying out the free version regardless.
Conclusion
There are four reviews available for the FirstShot Expert Advisor, they have given the EA and overall rating of 3 out of 5.
"Great Advisor. I bet on Gold, Pound, and Euro. Trading is excellent! Who puts bad reviews? Learn to install advisers))" – A 5-star review.
"Great profitable adviser!" – A 5-star review.
"Rubbish" – A 1-star review.
So a mix of opinions but not a lot of information to work with, there are also 8 comments, the developer has been replying to a few of them but not all, the most recent comment shave not had any responses which could mean that the developer is no longer supporting it, we would advise you to send any questions you have to the creator if they reply it will mean that they are still supporting it and it will ensure that the expert advisor is right for you, do this before purchasing as it is a relatively expensive EA.
This Forex Indicator is currently available for purchase in the MQL5 marketplace: https://www.mql5.com/en/market/product/27478