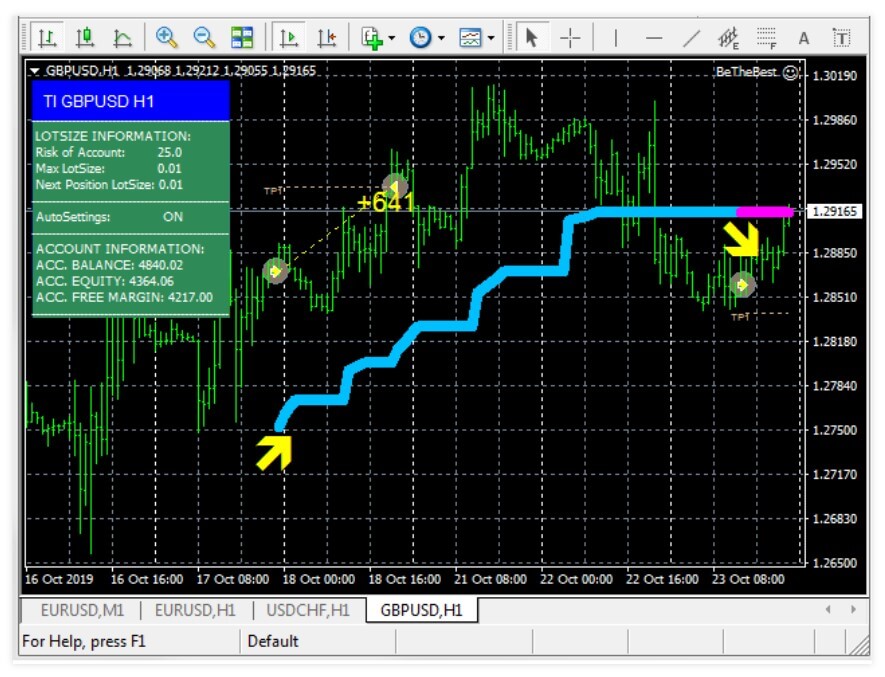 BeTheBest is an expert advisor that can be found on the MQL5 marketplace, there is a link to it below so you can see exactly which expert advisor we are looking at.
https://www.mql5.com/en/market/product/42933
Nauris Zukas the creator first uploaded this expert advisor on the 24th of October 2019, it has been updated a few times, the most recent update was on the 10th of March 2020 and this brought the expert advisor up to version 4.0.
Overview
BeTheBest is an expert advisor that can be sued with the MetaTrader 4 trading platform. The expert advisor is based on an indicator called the TrendImprovement Pro indicator, the expert adviser was designed to use this indicator and to make it into an automated trading system.
There are two ways to use the expert adviser:
AutoSettings = true – in this mode, the expert is prepared to work on a 1-hour chart (1H). In this mode, any parameter changes will not affect results. The expert opens positions only at the beginning of the 1H bar. Charts above 1H will not give correct results, because if a signal from the indicator appears, the expert will wait for a new bar to open positions.
AutoSettings = false – allows you to work with your own parameters on any chart.
There are a whole host of settings available that can alter the way that the expert advisor works, some of these include the maximum number of history bars, the averaging period, the RSI averaging period, loss rate percentage, price action filter, maximum lot size, risk value in lots, magic number identifiers, and more.
Service Cost
The expert advisor will cost you $399 to purchase, it is quite expensive but once purchased you will have access to it indefinitely. If you do not want to purchase it, there is also an option to rent it, you can rent it for one year which will cost you $199. There is a free demo version available. However these free versions often have a limitation added to them, but the website does not indicate what the limitations could be.
Conclusion
There is just one review available which has given the expert advisor a 5-star review.
"Update: 12-Jan-20, One month and my live account in profit by about 30%. Thank you! Good backtest results."
As there is just the one review available, we would highly recommend that you download and test out the free version, this will give you a better understanding of the way the expert advisor works, but will also ensure that you are able to get it up and running properly before making any actual purchases.