EA Volcano is currently located within the Expert section of the MQL5 marketplace, it was developed by Oleg Pavlenko and was first uploaded to the marketplace on the 6th of March 2020, it received its most recent update on the 5th of April 2020 and is currently at version 2.4. This EA can be accessed at https://www.mql5.com/en/market/product/47006
Overview
EA Volcano as the name suggests is an expert advisor that can be used with the MetaTrader 4 trading platform, it was designed as an EA that will enter into the markets during trends by using built-in trend indicators. The description indicates that the EA does not use some of the riskier strategies such as martingale or grid strategies. It will close out trades using take profits or when the trend reverses.
When adding the EA to the chart, it will add two new panels onto the chart window which can be used for opening and closing orders, the two panels can help you to trade manually, semi-automatically, or to help the EA with drawdowns by hedging positions.
The EA was developed to work with the EURUSD currency pair and on the H1, H4 or D1 timeframes, this is what it has been optimized for but it can still work with other currency pairs, it just may not be quite as effective. It is also recommended to have a balance of at least $100 and leverage from 1:500.
There are also plenty of parameters and settings available, these can be changed to alter the way that the EA functions. Some of the available options include the language used, maximum spread, maximum slippage, to use notifications, which timeframes to use, the moving averages method to use, take profit and stop loss levels, whether to use fixed lots, the maximum number of open orders or trades, trailing stops, colors, fonts, and man more options are available.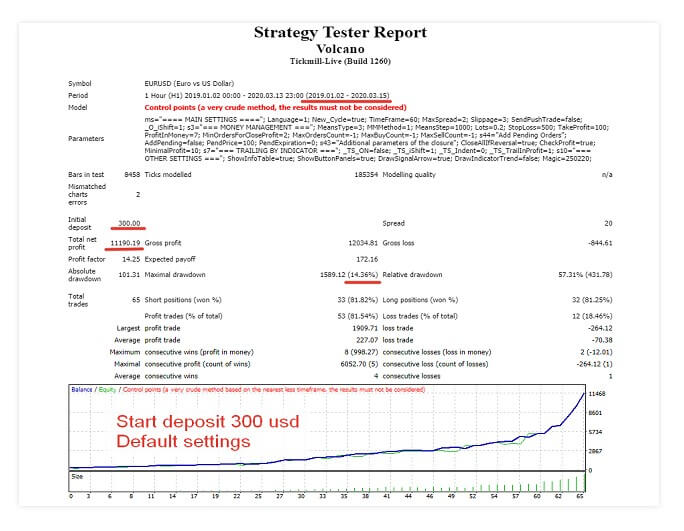 Service Cost
The EA can be purchased outright for the cost of $50, this is a single payment that allows you to activate the Ea up to 5 times. Unlike many of the other EAs on the MQL5 marketplace, there is no option to rent this EA so purchasing it is the only option available. There is a free demo version available, but this can only be sued with the strategy tester within the MT5 platform and not on a live account.
Conclusion
The EA Volcano currently has 5 user reviews which gave given it an overall rating of 5 out of 5.
"Very very good EA and Oleg have strong patience and assistance!" – A 5-star review.
"I just bought it, in the tests very well, we will see now live" – A 5-star review.
"Excelente EA , recomendado." – A 5-star review.
So the reviews are all very positive which is a great sign that it is performing how it was described. The comments within the reviews also speak about the good support being offered by the developer, this is reiterated within the comments section of the site as there are plenty of comments that the creator has been replying to promptly, again, another great sign as to the sort of support that you will receive should you decide to purchase this EA.