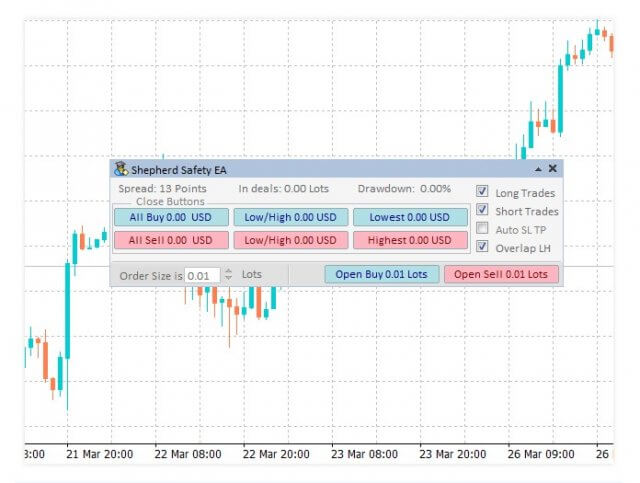 The Shepherd Safety Expert Advisor was published in September 2017 by the well-known creator Alexander Nechaev. Nechaev has over ten products available and all of these products have very high ratings online, including the EA we will be looking into today. This product has had a number of updates and it is currently on version 4.0 that has added filters and updated processing of the advisor panel buttons. Based on user reviews we found online, we highly suggest that you read through this short article to find out if this product can help you trade more efficiently and successfully.
Overview
The Shepherd Safety EA is compatible with the MT4 platform and it is suitable for any instruments and any timeframes. The main functions of this product are; opening and maintaining new market orders, turning unprofitable orders into profitable ones by using an internal loss handling algorithm and trade filtering. If for some reason, the additional order opened by the utility does not result in a profitable trade, a Stop-Out is provided. Users can choose to use this product as a supplement to their trading strategies or as a self-operating trading system.
Service Cost
The cost of this product is relatively cheap, especially when taking into consideration the positive reviews left by users. If you're looking into investing in this expert advisor, it will cost you $30 to purchase it or you can choose to rent it out for $10. The creator has also included a free demo for those who would like to test the product out before purchasing or renting it.
Conclusion
The feedback for this product is overwhelmingly positive. Some comments left by users are "I trade manually with this tool and I can say I have no doubts about its powers", "For $30 it's a present, Actually, it's an insane deal for this price" and "I can't believe how good this EA is, if you are struggling as a manual trader then this is the perfect tool for you!". Apart from positive comments regarding the product itself, users also commend Alexander Nechaev for his creativity and the interest he takes in ensuring his products are the best that they can be.
If you're interested in starting using an EA to help you with your manual trading, we believe this product can be highly beneficial, especially at the relatively low price tag it currently comes with!
This Forex Indicator is currently available in the MQL5 marketplace: https://www.mql5.com/en/market/product/25418