The EOS prices develop a bullish sequence following the Elliott wave structure of a leading diagonal pattern, which began on the March low at 1.4200.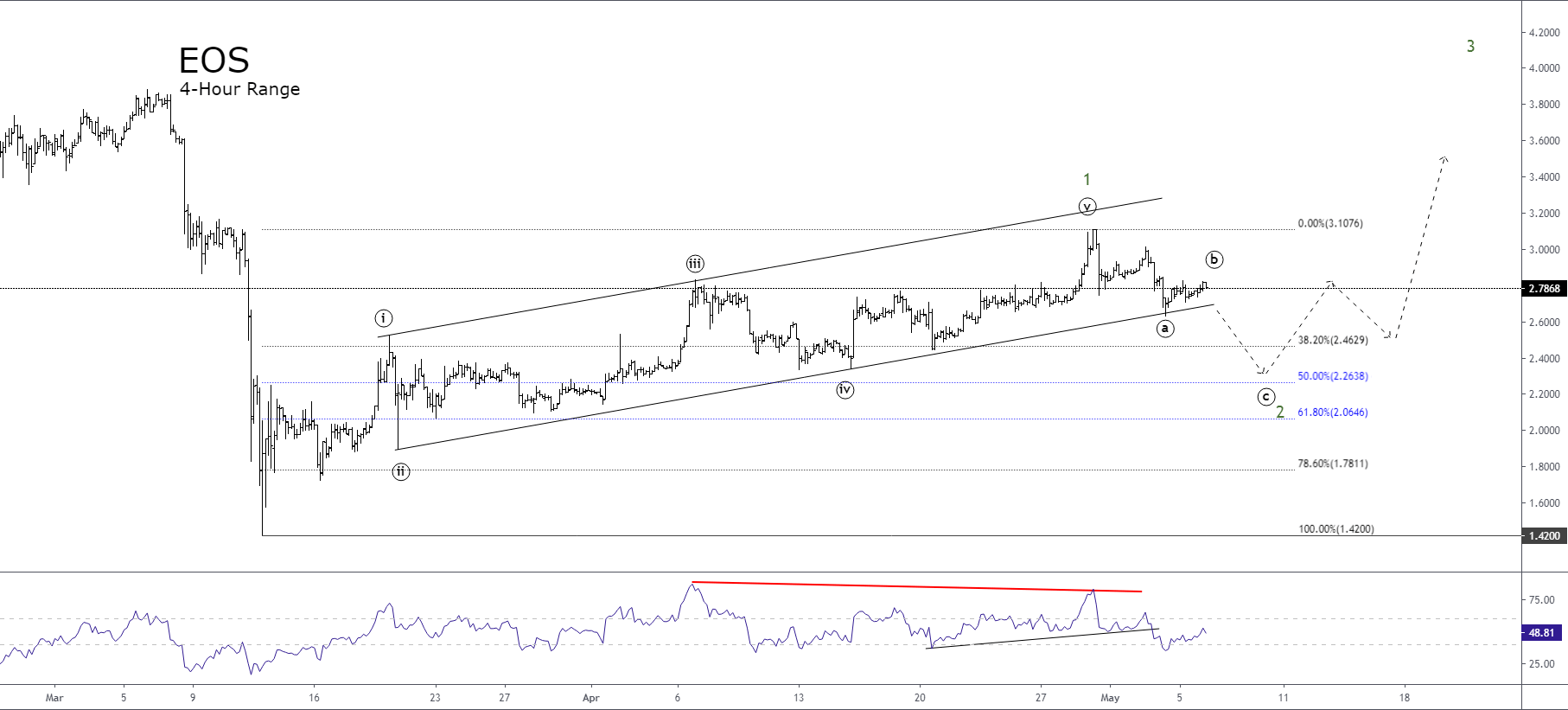 The price action developed by EOS and reflected in its 4-hour chart, shows the cryptocurrency testing the baseline of the leading diagonal pattern, which links the end of the waves ((ii)) and ((iv)) of Minute degree labeled in black.
According to the textbook, a leading diagonal pattern is an impulsive structure having five internal segments, which are subdivided into an internal sequence 3-3-3-3-3. This pattern tends to appear on the first wave of an impulsive series.
So far, EOS completed a five-wave bullish sequence of Minute degree. This impulsive wave began in the March low at 1.4200. At the same time, this structural series gave rise to a higher-grade impulsive wave corresponding to the wave 1 of Minor degree labeled in green.
Following the wave theory described by R.N. Elliott, since EOS completed an impulsive movement, the market must perform a corrective sequence of the same degree and in the opposite direction to the previous move.
From the previous chart, we observe the price action developing a corrective downward movement. Within its internal structure, we recognize that the sequence in progress could correspond to a wave ((b)) of Minute degree identified in black.
This movement, which is composed of a three-wave internal structure, is moving on the baseline of the leading diagonal pattern. A bearish breakdown would activate the wave ((c)) in black.
Once EOS completes this three-wave sequence, it will end the wave 2 of Minor degree, and consequently, the price action will give way to a third upward wave.
According to the alternation principle between the impulsive waves, considering that the first wave has a lower momentum, the third wave could have a higher momentum than the first one.
In conclusion, in the short term, our preferred positioning remains on the bullish side, which will be confirmed once the Minor degree wave-2 is finished.