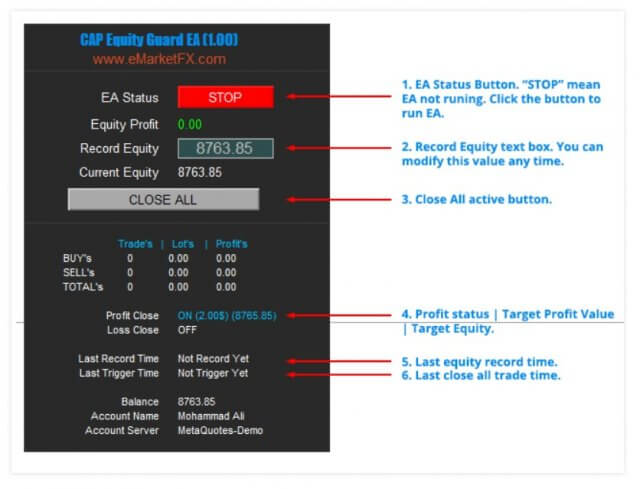 The CAP Equity Guard EA can be found within the utility section of the MQL5 marketplace, we have provided a link below to the exact software that we are looking at.
https://www.mql5.com/en/market/product/2117
The utility was created by Mohammed Ali and was first uploaded on the 20th of December 2016, it was last updated on the 12th of November 2019 and is currently on version 4.2.
Overview
The CAP Equity Guard is an expert advisor for the MetaTrader 4 trading platform, it is used to constantly monitor the equity of the active trades with the aim to help prevent drawdown.
A number of expert advisors' functions:
It monitors your entire trading account.
Easy to use! Just drag it to a random empty chart.
It will work perfectly if MetaTrader 4 restarts.
It can be workable with your existing EA.
Visual, mail, and push alerts.
It can remove your external EA after the target equity hits.
There is a range of settings available to alter the functionality of the expert advisor to suit your own needs, some of these parameters include stoping the EA, the profit type, profit value, loss values, when to close trades, when to delete pending orders, to stop after a trigger, to enable popups, to enable email or mobile alerts, slippage settings, and many more.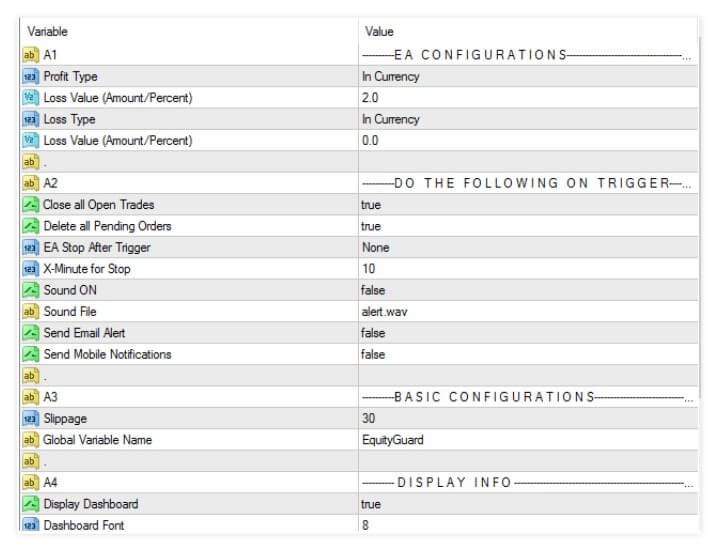 Service Cost
The expert advisor will currently cost you $30 to purchase it outright, this will give you unlimited access with no restrictions. There is also the opportunity to rent it, you can do this for $10 per month. A free demo version is also available, it will have some limitations but they are not currently known to us.
Conclusion
There are currently three reviews available for the CAP Equity Guard Expert Advisor, they are all positive giving 5 stars each.
"With the new update 4.20 (new setting "When Trigger Hit") this is a very smart, professional, and useful tool. Good contact via mail with the developer with fast response."
"very useful EA, you just need to fix the alert to work"
"This is the best net worth deposit suspension EA, thanks very much to the author for his great invention. You are the best, thank you very much."
The reviews re all positive which is a good sign, there are also a number of comments, the creator is replying to them promptly which is good to see and also offers a dedicated email address for support queries. As always, we would highly recommend that you download and try out the free version of the expert advisor, even with the limitations, it is a way to test it out and to ensure that it does actually do what you need it to do.